After organizers were forced to shift a planned Black Lives Matter peaceful protest online that was set for June 6 at the Nodaway County Courthouse due to a "concerning" number of threats, one Maryville resident decided June 4 to protest by himself.
Hayden Taylor, a Maryville resident and an employee at a local grocery store, was on break at work June 4 when he heard the scheduled protest in Maryville had been shifted to a virtual event due to the barrage of threats. As he digested the news and chatted with friends at work, he decided to protest anyway.
Taylor went to the courthouse and protested alone after work, until he was joined by several other residents who noticed him standing along Main Street with a sign, and by Jessica Piper, an English teacher who saw a post he made on Facebook.
Taylor didn't broadcast his presence at the courthouse, outside of the Facebook post he made inviting friends to join him. He didn't check in with the law enforcement leaders. He just showed up June 4, and he's vowed to protest for at least 46 minutes starting at 4:30 p.m. eight days in a row — honoring the eight minutes and 46 seconds its believed Minneapolis police officer Derek Chauvin kept his knee pressed against the neck of George Floyd in the incident that killed the unarmed black man May 25, sparking demonstrators like Taylor to protest in all 50 U.S. States.
"I'll always stand up for those that can't, or that are going to face too much hate and violence just because of the way they look," Taylor said June 5, standing outside the west doors of the courthouse, as a car driving along Main Street honked in support of protesters. "Seeing all these people, I think, you know — it's freaking awesome, man. It really is."
One day after he started protesting alone, Taylor was joined by more than a dozen residents along the sidewalk in front of the courthouse June 5, with the number of protestors fluctuating throughout the afternoon but at times nearing 20 in total — all of whom were white.
Among the residents joining Hayden in protest two pastors from a church in Maryville. First United Methodist Church of Maryville Pastor Kim Mitchell and Associate Pastor Wendy Deering-Poynter said they came wearing their stoles — neckwear adorned by protestant clergy — to help support the movement and ensure the protest remained peaceful.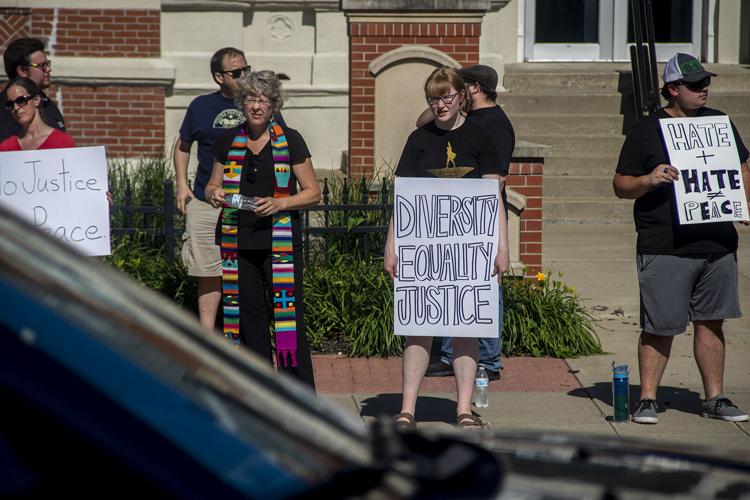 Four days after U.S. Attorney General William Barr had peaceful demonstrators in Washington D.C. teargassed and dispersed to make room for a photo op for President Donald Trump in front of a historic church, the pastors said they hoped to help ensure the church's involvement in protests was centered on God.
"The church should not be used for political reasons, but the church should step out of the building and stand up for everybody to have freedom — true freedom," Mitchell said, before reciting a Bible verse, Micah 6:8. "It's about justice."
For the second day in a row, Nodaway County Sheriff Randy Strong made an appearance at the protest, checking in with demonstrators and engaging in an with about how to help end police brutality. Strong said as long as protestors continue to gather, a representative from the Sheriff's Office will check in every day.
Amid growing racial tension both nationally and locally, Strong said he's committed to keeping an open dialogue with those calling for reform. He said Nodaway County deputies receive racial profiling training and have been trained to reposition their restraints if citizens they're causing harm to those they're restraining. He condemned the incident that took Floyd's life in Minneapolis.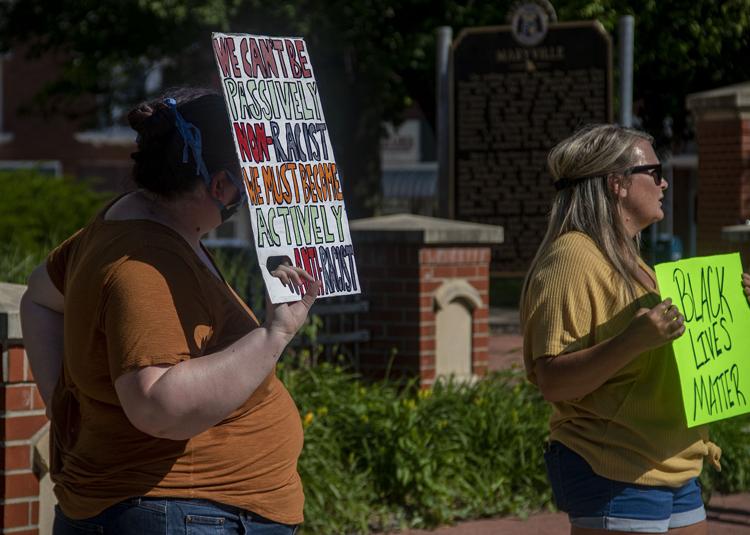 "If you look, there's a lot of law enforcement agencies that are standing up now and going, 'No, that was wrong. What happened to (Floyd) was wrong,'" Strong said. "I think that's — that message, I want to resonate at. We all thought it was wrong. … It's time for it to stop. We can't live like this."
A day after the large protest scheduled for June 6 was shifted online, Strong said he still expects a large number of people, who are separate from the original organizers, to gather at the courthouse this weekend.
And a day after the original protest was shifted, Strong said he questioned a county resident who made threatening comments on Facebook, which contributed to the planned protest's virtual shift. Strong said he couldn't yet confirm whether the individual questioned is Jay Straub, who warned on Facebook that the demonstration would "get very ugly" if protesters "step out of line."
Strong said he doesn't expect the resident he questioned to be a threat at any potential upcoming protests and that it's still unclear if the threats made on Facebook will bring with them criminal charges.
"That doesn't mean that somebody else isn't gonna pop up," Strong said. "But those individuals are not the spokesperson for the good people in this county."
Strong said he believes — and hopes — that any additional protests over the upcoming weekend will remain peaceful. One resident, a young white woman who walked out of Simply Siam amid the protest across Main Street June 5, yelled across the roadway to the protesters to see when, and if, they'd be protesting again.
"Are you guys still gonna be here tomorrow?" the resident asked.
"Yes," said Piper, the English teacher who first joined Taylor June 5. "We'll be here."
"Great," the resident said. "I'll see you guys tomorrow."