Senior Asma Hassan gripped the microphone a little tighter than usual, and with a shaking voice looked senators in the eyes, reminding them of six college students who took their own lives on a neighboring college campus. She had just heard the Wellness Services plea for sustainability a final time before a make-or-break vote — one that passed almost unanimously two minutes later.
The 97th Student Senate approved in a 33 "yes", 3 "no" vote Feb. 25 to increase the designated fee toward Wellness Services an additional $4.65, which would go into effect the 2020-21 academic year.
The vote came after a 14 minute discussion leading to an emotional testimony from Hassan, who spoke at the meeting as, what she called, a student concerned for campus wellness, outside of the Student Senate president role.
She touched on the importance of services and necessity of sustainability for the office, comparing the situation to a similar case at Truman State University where services were cut and six suicides later happened on its campus.
"Because they lost their wellness services they lost, also, six lives — six students," Hassan said. "I don't want to be in that position."
After hearing these talking points, the Student Senate approved the proposal from Student Affairs and the senate fee committee. The formal suggestion will be seen by the Board of Regents at its March 3 meeting.
If the Student Senate approved fee is passed by the Board of Regents, students would pay $11.75 per credit hour toward Wellness Services, a price tag that would match what students are already paying toward Campus Recreation. This means students would begin to pay $164.50 a semester or $329.00 per academic year toward Wellness, a number based on the average undergraduate student taking 14 credit hours a semester.
There were several avenues Student Senate could have taken for a fee increase, which Off Campus Representative sophomore Joseph Etheridge presented to the floor. These options included five different increase increments: $2.00, $3.80, $4.00, $4.50, $4.65, as well as the option to not approve an increase in the fee.
The $3.80 increase was the second most appealing choice to the majority of senators after the $4.65, which inevitably passed. However, the $3.80 interval would have provided almost all of the same services for students minus an extra staff member and shorter sustainability projections.
Representative senior Jacob Wheeler said he believed the $3.80 raise in the Wellness fee would be adequate for the Wellness Center. Etheridge's presentation included that at $3.80, the Wellness Center would be sustained for five years.
According to Student Affairs, the $4.65 fee increase will be sustainable for at least six years taking into account inflation and rising cost of healthcare nationwide, which is a leading cause for the fee increase proposal.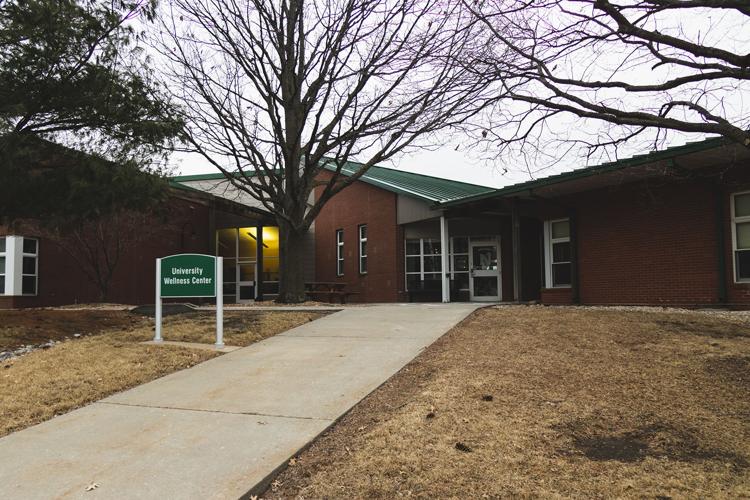 Hassan sat in with the ad hoc fees committee, which hears proposals and conferences with Student Affairs before official suggestions are brought before the Student Senate to consider.
She said after hearing concerns from the Wellness Center, she learned employees at Wellness Services are underpaid for what they provide, and the full $4.65 increase is the most accommodating and sustainable proposal brought forward.
"I think they should get paid for what they do," Hassan said.
Even as staff are underpaid for their work and service to students, salaries and benefits are the largest financial burden on the Wellness Center at its current operational state.
The fiscal year 2019 budget shows a total of $1,194,819 in salaries and benefits for just the Wellness Services side of operation. The clinic side shows an additional $118,535 in salaries and benefits paid to employees in the Wellness Center.
The office sees a continual deficit each year with the rising cost of healthcare, as seen in items as simple as cotton swabs and gauze and as complicated as medical professional's benefits. Even with the proposed fee increase, there is no definite way to predict the cost of providing for college student healthcare in the next decade.
Vice President of Student Affairs Matt Baker spoke to Student Senate at its Feb. 18 meeting and said the issue of rising costs correlating with lack of funding at wellness centers is not unique to Northwest and is not possible to hire out of.
"If we had 80 counselors on reserve, we would still have a problem with rising mental health issues," Baker said.
Baker went on to explain that since future costs are unpredictable, the possibility of another fee increase is present and something senators would have to consider.
Baker also said the wellness fee has changed and increased over the years for two reasons: specific unmet needs and additional services by the request of students in former years.
Since the wellness designated fee was implemented in 2006, Student Affairs has asked for an increase twice, once in 2014 and now in 2020, all because of rising costs parallel to lack of funding.
Baker said though the fee has increased, and there is a possibility for it to do so again in the future, the funds are going toward services students are vocal about wanting and are in need of.
"I can assure you that the Wellness Center leadership thinks about every dime they spend for the betterment of our students," Baker said. "I promise it will be spent well and appropriately."
Though the $4.65 increase is only sustainable for a projected six to eight years, Hassan and the 33 senators who voted to approve the fee increase were confident the highest option was the best choice.
"I am pushing for the full $4.65. … (Truman State University) lost their wellness services because they did not act accordingly and they did not act now in the present moment," Hassan said.
At the Feb. 25 senate meeting, Student Senate Vice President senior Kirayle Jones said he met with some peers who would like to see extended hours at the Wellness Center, a service not included in the $4.65 increase proposal.
"Some things come up on the weekend, and so just having maybe a few hours on Saturday and a few hours on Sunday would help alleviate that time," Jones said.
Wilmes heard questions similar to Jones' from other senators concerned about sustainability and services offered with the fee increase at the Feb. 25 senate meeting, several of which had no definitive answers.
"We would have to go back and do the calculations of what it would take to make (extended hours including weekends) work," Wilmes said. "I guess the answer is yes, but we couldn't say what that would look like as of now."
Student Media Representative senior Coralie Hertzog conducted a survey and presented the results to Student Senate before the Feb. 25 vote that included 30 students' opinions on what they would like to see happen with the proposed Wellness fee.
Hertzog said 53% of students who participated in the survey said they would be OK to see the fee raised $4.65 but would also like the fee to go toward specific things in the Wellness Center.
Hertzog said 86.67% of the students surveyed said they want this fee to go toward adding more counselors. This was followed closely by the desire for more general health practitioners, then more preventative outreach and women's health care. Grants and renewal of them were last in the order of what students would like to see the fee go to.
Assistant Director of Operations for Wellness Services Evan Rand has worked with the office since 2010 and has seen the rising concern for specified needs being met for students. Much like the requests for certain specialized counselors, Rand said the office has been tasked with providing diverse services while maintaining a sound, sustainable operation.
"Eventually it just gets to a point where you're steadily rising costs meet with your decreasing income and balance," Rand said. "Throughout the course of that we have been able to manage with the same fees schedule, which you wouldn't necessarily see in a private clinical setting."
Rand said he is confident in the most recent fee increase proposal to sustain the Wellness Center and the services it provides. After sitting in with the ad hoc committee evaluating needs of the Wellness Center, he said the largest concern is finding a sustainable model for wellness, so the office is not frequently coming back to Student Senate to discuss needs.
The $4.65 proposed and Student Senate approved fee increase is expected to allow Wellness a longer duration of operations and meet rising needs of students and college healthcare.