Maryville High School started the 2020-21 school year Aug. 25 with in-person classes.
Like Northwest, Maryville High School has guidelines in place to help slow the spread of COVID-19 such as mask mandates and social distancing measures. Strict limitations are also being put into place at school activities and sporting events.
Superintendent of the Maryville School District Becky Albrecht said there are 31 students in quarantine. Seven in preschool through fifth grade, six in middle school and 18 in high school. However, Albrecht said these students were already quarantining before school started.
There has been one positive case among the student body that the school district is aware of and 12 students have been quarantining as of the end of the day on Aug. 25.
"We have a few other students today (Aug. 26) that are being tested or didn't come to school because they were sympatmatic," Albrecht said.
Albrecht said the school district is wanting to remain transparent with the public about the numbers and is aware that there is a risk, but precautions are being taken.
"We are doing the best that we can," Albrecht said regarding the precautions the district is taking.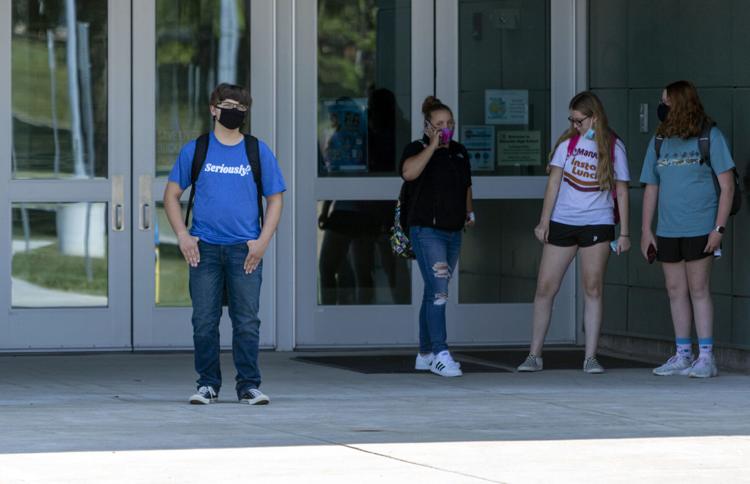 Despite the increase in numbers, the school year at Maryville High School is going to look similar to the new normal that everybody is living in today.
"Students and teachers will wear a mask continually throughout the day," Thom Alvarez, principal of Maryville High School, said over the phone.
Alvarez said that the school will be following the mask order set by Maryville back in July. This order states that all people over the age of 10 are required to wear a face mask when in public and social distancing is not possible.
Other precautions include socially distanced seating charts in classrooms, prohibiting eating in the cafeteria, having hand sanitizer stations and not allowing outside guests into the building.
"We're not doing a big, mass, cafeteria-style lunch," Alvarez said, "Kids will be eating in their (class)room."
In order to retrieve lunches, students will go to the cafeteria in three different groups in order to limit the number of people in the cafeteria at once. After getting their lunch, students will be asked to return to their classrooms and not linger in the hallways.
Lingering in the hallways is also not allowed at the beginning of the day when arriving at school. Students are asked to go straight to their first hour class and every class after that as scheduled.
The seating charts are also going to play a role in contact tracing if an outbreak were to happen.
"We always have seating charts in class," Alvarez said, "but now we're asking them to turn those seating charts in so that if there ever was need for contact tracing, we'd have that information fairly quickly."
While some school districts in the surrounding area have canceled fall sports, Maryville is pursuing a way to make it work so that student athletes can have fun and participate. 
According to Alvarez, the main difference between sporting events this year and past years is going to be the amount of people that are in the stands.
"We've limited fans in attendance to participants' immediate family," Alvarez said.
Alvarez explained that this wasn't a Maryville High School decision, but it was the whole athletic department that put it into place.
Maryville students, much like in St. Joseph, were given the option to enroll in school either in person or online. With this option in place, the vast majority of students have decided to return to school in person as opposed to the latter.
"Less than 10% of our kids chose online," Alvarez said.
Even though coronavirus has impacted a lot of people in a lot of places, Maryville High School is determined to remain in person for as long as they can in order to give the students a normal learning experience.
"We feel like in-person classes with the teacher, the students and the desks is what's best," Alvarez said.
Alvarez said he is happy to have the students back in the building and is excited to not stare at empty hallways again. He said he wants to make the most out of this year and is determined that it can be as fun and exciting as any other school year while still keeping faculty and students safe.
As of now, there is no specific protocol for if positive cases start to rise in the school. If it happens, Nodaway County will give further instructions to the school district.
Andrew Wegley contributed to this report.