Before Maryville can make a decision on how to reopen or lessen the toll on local operations restricted by COVID-19 social distancing measures, the city is waiting to hear the results of 98-resident coronavirus tests provided by the Nodaway County Health Department on April 28.
The Missouri Department of Health and Senior Services reached out to eight different localities across the state to increase testing of residents, Nodaway County being one with lower testing numbers. According to Tom Patterson, administrator of the NCHD, the request for additional testing came alongside Missouri Governor Mike Parson's "Show Me Strong" plan for reopening, which was released April 27. In accordance with the state's plan, resources for 200 tests were provided to the NCHD.
The NCHD reported 63 residents pre-registered for the coronavirus testing, via a website set up by the state. Some who pre-registered were no-shows, but a total of 98 people were tested for COVID-19, since the health department also welcomed several residents who were not pre-registered.
By a little after 11:00 a.m., 75 residents had been tested, or 38% of the 200 tests made available to county residents. When the NCHD finished testing at 2 p.m., a total of 98 residents had been tested, making use of just 49% of available testing.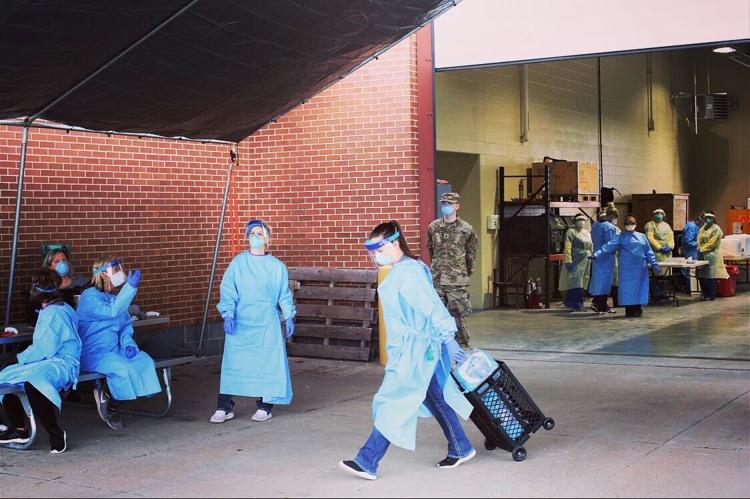 Patterson said the Missouri Department of Health and Senior Services reached out to the county health department April 23 asking if it could have everything set up by the following week. 
"We had to work fast," Patterson said. "But luckily, I am able to enjoy working with people who know what they are doing, who acted quickly to make this happen."
Over the next four days, Patterson and his colleagues at the health department gathered necessary resources, personnel and made the official announcement of it holding mass testing for 200 residents.
Using swab tests, nurses and other healthcare workers from Mosaic Life Care in Maryville, as well as health care workers from Albany, Missouri, and other surrounding areas, suited up in personal protective equipment — including masks, gowns and gloves — to test community residents for the coronavirus.
Members of the Missouri Army National Guard, Tri-County Health Department, Holt County Health Department, University Police Department, Maryville Public Safety and Community Hospital-Fairfax were also present in helping coordinate the state-requested testing of residents.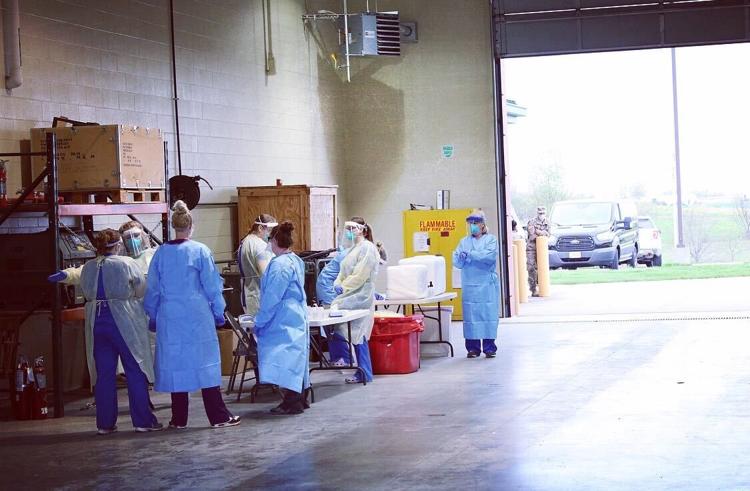 At no surprise to personnel who gave the tests, paperwork and screening before people could be tested was more daunting than the tests itself. But those who pre-registered were able to be tested quickly without hiccups, and unlike other places of testing, residents did not have to be symptomatic to be tested.
Even with COVID-19 testing being a preparation-oriented task, as far as keeping workers and patients safe, the paperwork and having to present certain symptoms has been an unwavering prerequisite for residents wanting answers to their concerns.
Tom Patterson said the move to allow people who don't have symptoms to test is beneficial to the community. 
"They were able to test even if they didn't necessarily feel sick," Patterson said. "Sometimes the symptoms in these things take a while to show and people may have it without necessarily knowing (or feeling) like it."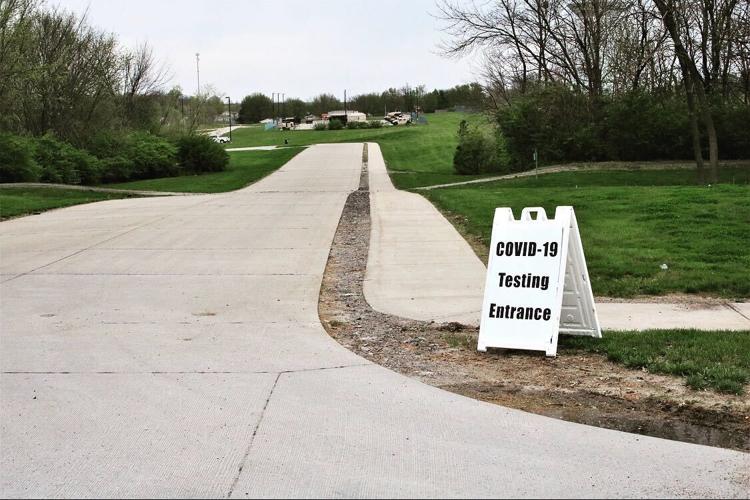 When the NCHD announced it would be testing residents, several community members took to Facebook, expressing both support and concerns against the April 28 mass testing. 
Concerns with the legitimacy of testing when there are no symptoms present, the quality of tests themselves and the seriousness of the coronavirus were all discussed by county residents in a group created for local needs during social distancing.
Based on community members' responses, the apparent biggest concern was whether or not people should test if they don't present symptoms.
After related community concerns, City Manager Greg McDanel wrote on Facebook an overview of the city's approach, as of April 28.
McDanel wrote that Parson's press release specified towns can continue to make more strict regulations as they see fit, depending on their local conditions concerning coronavirus. 
He also wrote the City Council's discussion will closely resemble those of the state and federal governments. 
"With more testing being provided today alone than in the entire county to date, it makes sense to wait until Thursday to provide further local guidance," McDanel wrote.
Tabitha Frank, the public health nurse supervisor of the NCHD said a main reason for conducting the mass testing was to gather accurate local data.
"This is an initiative from the state of Missouri, to get a snapshot of what real risk there is to the state," Frank said. "Testing these local communities give a better picture of what is going on in the state."
Frank said the NCHD is hoping to get more data in order to better analyze local needs.
The same structure of testing will be held from 8 a.m. to 2 p.m. April 29 at the Albany Fire Station, 23 Century Circle in Albany, Missouri.