ST. JOSEPH, Mo. — Stephanie Campbell held the front door to her new boutique open for a line of women gathered outside, 'support local' reusable shopping bags lining her arm.
Nineteen days earlier, Campbell signed a lease agreement to expand Blue Willow Boutique, founded in Maryville, to St. Joseph, Missouri. On Oct. 19, she hosted Blue Willow Boutique's grand opening.
Campbell decided at the end of August to put the expansion of Blue WIllow Boutique up to fate. She received a green light on every avenue. The white-interior building in the heart of downtown St. Joseph had another business owner with first dibs, but they declined, and Campbell got the space. Her first-choice store manager accepted the position a week after offering.
Store Manager Libby Bolin graduated from Northwest in May with a marketing degree. Bolin, coming from a family of small business owners, said she couldn't resist the job offer, having small business values and St. Joseph loyalty in her blood.
"This was an opportunity I was never going to find again," Bolin said. "I knew that I would be doing good things, and I would love to see downtown prosper."
Blue Willow Boutique's grand opening drew in a steady trickle of customers and window shoppers. Among them were loyal supporters from Kansas City, Missouri, and Maryville.
Mother-daughter duo Shirley Schmidt, from Maryville, and Rebecca Schmidt, from Kansas City, waited in line for 20 minutes for Blue Willow Boutique's debut in St. Joseph. They each left the store carrying stuffed brown shopping bags.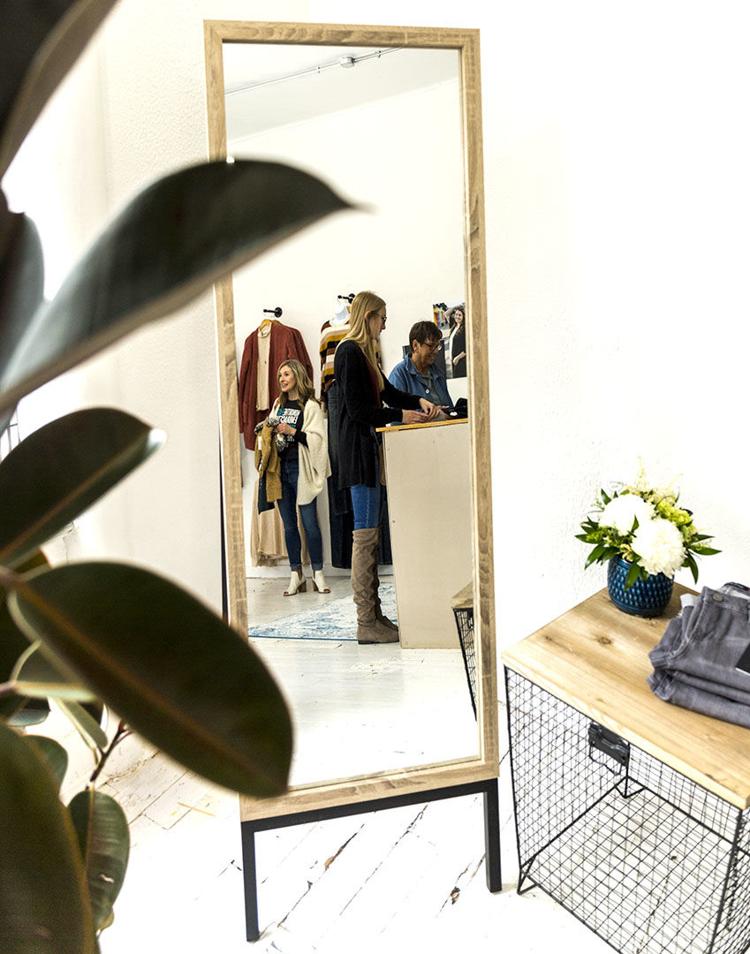 Rebecca Schmidt often visits her mom in Maryville, where she came to know Blue Willow. Instead of traditionally shopping online when she's not visiting her mom, Rebecca Schmidt now has a Blue Willow closer to home.
"They have some different things that I haven't seen in the store in Maryville. The style is a little different. It's more rustic in Maryville," Rebecca Schmidt said.
Blue Willow Boutique in St. Joseph has nearly all the same products as the homey-feeling Maryville location, Campbell said, but the mood of the up-scale building gives the clothing a different feel.
"The stuff is the same, but it doesn't look the same in the spaces. It's fascinating to me," Campbell said. "The colors are the same; the clothing is 90% the same."
Campbell will primarily be at Blue Willow in Maryville, as the store approaches its third anniversary this November.
Bolin will learn the ins-and-outs of everyday floor work at Blue Willow Boutique in St. Joseph, open from 10 a.m. to 6 p.m. Monday-Saturday, with Campbell mentoring her on the business side.
"I have always wanted to work in a small business and maybe someday own my own," Bolin said. "If I want to be in small business, then I need to stay in small business."
Campbell, a big believer in downtowns being the heart of the city, said she chose to open another store in St. Joseph because she saw a need to be filled.
The mission behind Blue Willow Boutique's brand and clothing isn't about the clothing at all, Campbell said. It's the idea to uplift women through hardships that come with life; a place that people leave feeling better than they did when they first walked through the front door.
"I'm not here to sell sweaters," Campbell said. "The relationship we create with women and the difference we make in a community is what we're after."