Members of the community, candidates and their supporting family and friends gathered together for the Greater Maryville Chamber of Commerce Candidate Election Forum in the Maryville High School Performing Arts Center March 31. 
Candidates running for the Maryville R-II School Board, Nodaway County Health Board and Maryville City Council were first asked to introduce themselves and why they are running for office. Six days before the election, candidates then answered a series of questions provided by media partners of the Maryville Chamber of Commerce and the community.
SCHOOL BOARD RACE:
James "JR" Kurz
Concluding his introduction, Kurz admitted to being aware of his supporting action committee attacking other candidates via Facebook. Kurz, who does not have a Facebook account himself, said he was originally unaware of the attack, and that although he is not associated with the group, he apologized for the committee's foul actions. 
Kurz has been a financial advisor at Edwards Jones for 17 years and he is the president of the St. Gregory Barbarigo Catholic School Board.
Being a longtime businessman, Kurz said he hopes to bring the business community even closer to the school district for support. 
"I have a passion to helping the youth," Kurz said in his opening statement. "I could never be a teacher … I couldn't do that every day, but I do love helping coaching the youth, being involved with the youth, and I think it's important to be an example for the youth, especially my daughters, and one of the best ways to do that is to serve."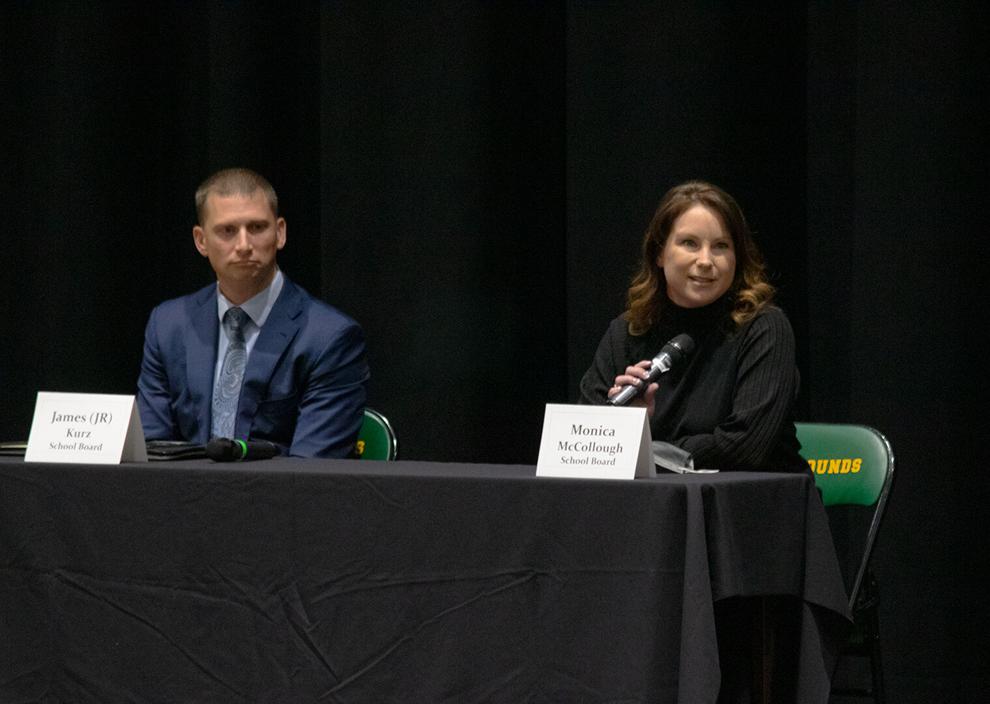 He said the school board's biggest obstacle is returning to a sense of normalcy in a safe way following the aftermath of COVID-19's impact on education. Kurz said he hopes that, if given the opportunity to serve on the school board, he will be able to continue to support educators and staff, improve and advance in technology and improve school facilities wherever applicable.
 "If we're not getting better, we're just falling back," Kurz said.
Monica McCollough
McCollough is a licensed massage therapist and owns the Therapeutic Massage of Maryville. She said her customers will tell others of her roots in care and compassion. The Kansas City native met her now husband through her time at Northwest. The two settled down in  Maryville where they currently live with their three children.
McCollough was appointed by Gov. Mike Parson to serve on the state board of therapeutic massage. She said this experience has given her grace and understanding of what it takes to serve on the school board.
"I hope to be able to continue, not only for my own children, but to serve for every children coming after ours," McCollough said.
She said one of the larger challenges the school board faces is the alarming amount of children in the district that qualify for free or reduced lunches. 
According to the National Center for Education Statistics, 33% of students' households in the district qualify for Food Stamps or SNAP benefits.
"Where I challenge us as a community is to be better and do better," McCollough said. "And so those are ... the foundational issues that impact every aspect of learning moving forward … that we continue to provide excellence and education, but also taking care of the core foundational aspects of the human being, because without that, we're not going to do a good job of educating."
McCollough also said the school board must build strong relationships and hopes to reciprocate open-minded, collaborative teamwork. She said being a team player will allow the school board to work toward creating learners who want to help the community thrive or who go onto great things in their next communities and be incredible leaders within those communities.
Jill Baker
Jill Baker, a senior instructor for Northwest's School of Education, said she is a life-long educator who was raised by educators. Baker is a board member of the Home and Health Board of Trustees, Maryville Young Players and Mosaic Maryville Hospice. 
Two of her three children attend the Maryville Public School district. 
"It is an incredible belief that I have an obligation to serve my community," Baker said in her opening statement. "This community has poured into our family in ways I cannot even commemorate."
In her introduction, Baker said that there has been some social media activity involving her and invites community members to talk with her and take time to get to know her personally.
Several times throughout the event, Baker reiterated her beliefs that people who run for school board, and have an agenda already established, are the wrong people to run for the position. She said if anyone were to have an agenda, it should be the heart-felt and deep commitment to serving the community.
Baker said that being on a school board is an act of service, rather than a political act. She said the most important purpose of serving on a school board is giving back to the teachers, superintendent, administration and staff.
As a potential member of the school board, Baker said she hopes for professional conversations among board members to continue. She said that any further enhancements made to the school district should provide more opportunities to children.
Traci Westfall 
Traci Westfall has been a special education teacher for 29 years. She has taught in school districts and around Maryville and has been a coach for several sports. She introduced herself by speaking on her family's deep roots in teaching and her own passion for teaching.
Westfall said she loves the community, wants to give back and has time on her hands to serve on the school board.
"I love kids, I have a passion to watch kids succeed," Westfall said. "I love watching kids do great things. One of my favorite things … is watching them graduate and seeing that success ... There's nothing like that."
She stressed the importance of making sure children are getting caught up academically after a year of COVID-19. Westfall also said that the board needs to continue teaching children that anything is possible.
Agreeing with McCollough on the biggest concern in the school district, Westfall said children who are unable to afford meals should be provided with free breakfast and lunch. She said this was the first year she hasn't had to bring food to children and make sure they weren't hungry.
Westfall wants to get the community involved with its schools as much as administration and students. She said with more collaboration and listening, the school district has the ability to get brighter each day.
"Ultimately, that's what we need to do, is what's best for the kids, what's best for the teachers, and that's going to make us the best school district we can be."
 _____________________________________________________
CITY COUNCIL RACE:
Ashlee Hendrix
Hendrix is a senior graphic designer for Northwest's marketing and communication. She is the president of the Ally Affinity Group, an adviser to Alpha Sigma Alpha, a secretary of the Maryville Public Arts Committee and a member of the Downtown Maryville Improvement Organization.
After graduating from Northwest in 2008, Hendrix moved to Olathe, Kansas, but returned to Maryville in 2016, saying there's "no better place to raise a family."
Hendrix said being a good listener makes her a good candidate for City Council.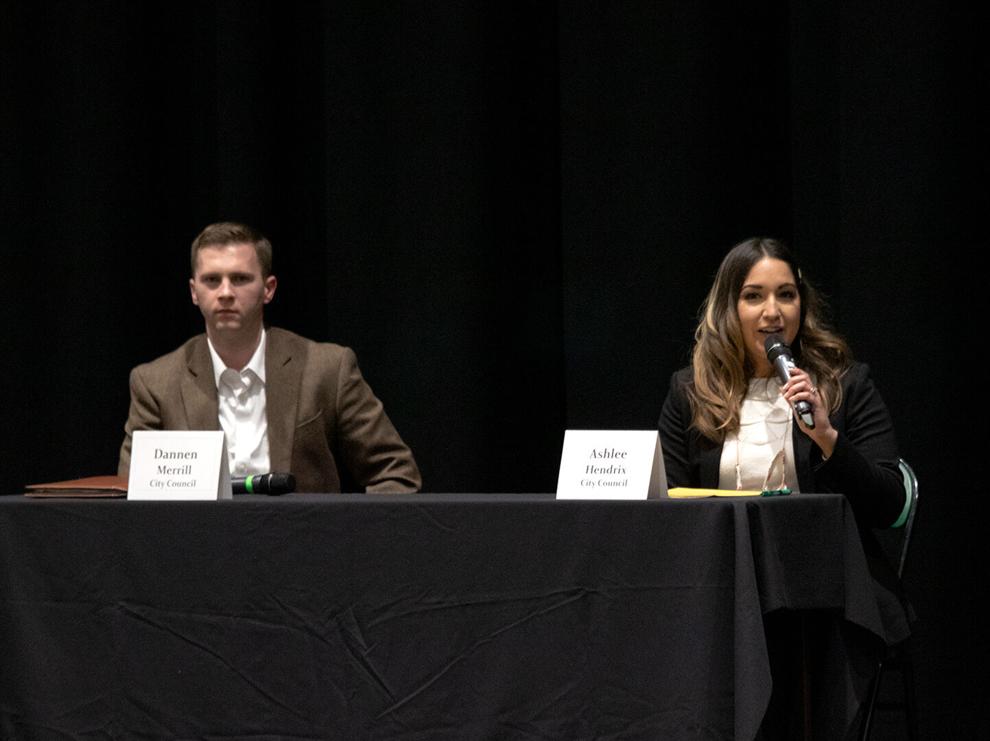 During her introduction, Hendrix mentioned that she wants to bring the fun pieces of Kansas City to Maryville. She said multiple times throughout the night that hiring someone to be a city communication liaison would greatly benefit the city. Hendrix said quality communication and listening to one another, instead of calling out each other on social media, can solve many problems in the community.
A big mental health advocate, Hendrix admitted to being a victim of depression during the forum.
"Running for office, I hope that I can make more people feel included in that community and in that support," Hendrix said.
She said some people who move to Maryville feel like outsiders due to their racial backgrounds. Hendrix said she wants to change the negative output of the community by making the city more including and loving to one another.
"I had someone tell me the other day they didn't want to buy a house here because they'd been treated so poorly with the racism in this town and — we're losing people," Hendrix said. "We're not growing because of people … treating them poorly."
Hendrix said there needs to be more diversity and inclusion on the various boards and groups in Maryville. She suggested offering microaggressions training and implicit biases as a solution to this issue.
One community question posed to each candidate was "what is the most important city issue.".  Hendrix quickly brought up the water supply. She said she believes a new water treatment plant needs to be constructed, despite the costly expenses, large investment and many years it would take to build this type of facility.
Dannen Merrill
Dannen Merrill is a certified public accountant and partner at Marsh, Espey & Merrill, P.C. Merrill grew up in Maryville and attended Northwest after graduating from Maryville High School.
Merrill said that with his background as a CPA and his experience working with local governments, he is a good fit for the City Council.
"I see that we got challenges ahead of us as a city, particularly with our budget and infrastructure, and I think I'm best suited to help us navigate that in the coming years," Merrill said.
Aside from the water supply issues, Merrill said another important issue is the outdated buildings in the city. He said that it seems a lot of these buildings — the City Hall, public safety building and the water plant — were constructed in the 60s and 70s. 
Merrill said if given the opportunity to hold a position on the City Council, he wants to listen and learn. He said the main thing he hopes to get out of holding a position would be to make a lasting impact for future generations to set them up for success.
When asked by the community about the $3.5 million gap in the South Main project, Merrill said the city needs to look at budgets. He said talking with engineers, focusing on needs versus wants and looking at ways both are economically feasible and timely, can help make plans for the project run smoothly.
In terms of diversity, Merrill said he believes being open to listen and find a common ground is a start toward becoming more accepting and understanding of one another.
"When you're looking for someone who's ready to hit the ground running day one, I've got that prior experience to be able to add to the team right out of the gate," Merrill said.
John McBride
John McBride, a logistics specialist at Nucor-LMP,  introduced himself as a Christian, husband, father and veteran. McBride is also an event coordinator for Breaking Chains Concert and an Ark of Freedom board member.
McBride said he is running for a position on the Council due to his desire to serve.
"I think providing an avenue on the council to hear the citizens and residents of Maryville, and what they'd like to see is probably the most crucial thing," McBride said.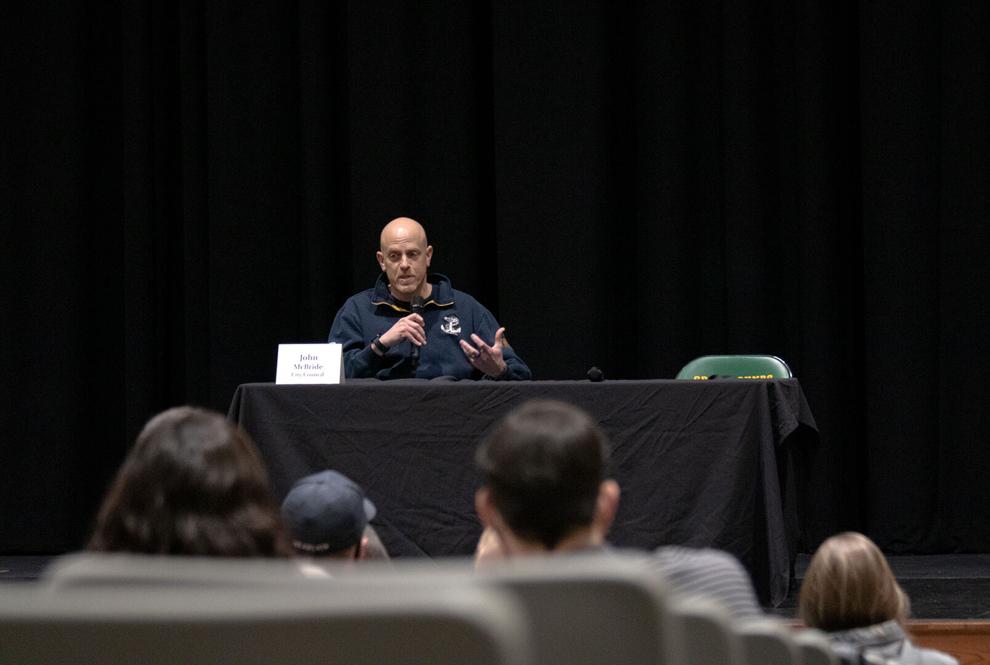 Throughout the discussion, McBride emphasized his lack of experience working in the government, but said the only requirement for him to run was being a citizen.
McBride said the South Main project financial issues can be solved by trimming back on other places of the city budgets. He said he would place his focus more on infrastructure and foundation, rather than beautification projects.
"That's what's important to me, and I think that's what's important to a lot of people in this town: The foundation," McBride said. "We could put a new roof on a house, we could put windows on a house, but if the foundation is bad, none of that stuff is going to matter."
Touching on other issues within the city, McBride said he agrees with the city plans of constructing a new water plant.
Growing up in Virginia Beach, Virginia, where McBride said he had friends of all different races, living in different places. Working with people from different backgrounds through the military, he said, also allows him to influence diversity and inclusion within the city. 
If elected to City Council, McBride said he hopes to learn how the budget is put together, what oversight is included in the budget, and improve visibility of that with citizens of the community.
City Council Candidate Tim Jackson did not attend the forum.