Three days removed from the Iowa caucuses, no victor has been declared. Former South Bend, Indiana, Mayor Pete Buttigieg and Sen. Bernie Sanders, I-Vt., sit neck-and-neck with 26.4% and 25.7% of the delegates, respectively, with 96% of precincts have reported, according to the New York Times tally at 10:12 p.m. Feb. 5.
With such a narrow margin and results still coming in, there are no definitive results propelling candidates through the next three of four major democratic primaries.
Iowa is lauded for its "first in the nation" status, holding its caucuses before any other states' presidential primaries. A victory in Iowa usually gives the winner a boost of momentum through the rest of the nomination process.
The last four people who won Iowa have gone on to be the nominee, and three more winners of the five years before that.
A caucus resembles a town hall more than a typical balloted election. Voters discuss and debate, trying to coax their friends, family and neighbors to support their candidate.
Junior Anthony Maldonado is from Council Bluffs, Iowa, and caucused for the first time this year. He said he originally went in with the intent to caucus for Sen. Elizabeth Warren, D-Mass.
At each precinct, voters make a first choice. However, candidates who don't have at least 15% of that precinct's voters after the first round are not viable for the second round unless voters for the non-viable candidates come together for one candidate to push them over the threshold.
This is what happened in precinct CB19, Maldonado said. Former Vice President Joe Biden and Warren supporters realigned to Sen. Amy Klobuchar, D-Minn., to make her viable at the precinct.
With so much riding on the evening of Feb. 3, the country turned its gaze to the state into which candidates have poured millions of dollars and thousands of volunteer hours over the last few months.
Watching live feeds closely as 8 p.m. approached, the democratic candidates, their campaign staffs and their supporters waited anxiously for the results to trickle in. They waited and waited. They waited for something that would not arrive.
As an untested app failed and calls flooded into the Iowa Democratic Party's boiler room from 1,700 districts, party officials clammed up.
"This is simply a reporting issue," read a statement from the Iowa Democratic Party Monday night. "The app did not go down, and this is not a hack or intrusion. The underlying data and papertrail is sound."
But no results were announced, and no promises were made about when they would arrive beyond some time Tuesday.
According to the New York Times, the app used to report precinct results was developed by for-profit tech company Shadow Inc., with an employee who worked on the app saying it was put together in two months.
There is no indication that the app was vetted by cybersecurity experts or tested on a large scale. According to the New York Times, Director of the Department of Homeland Security's cybersecurity agency Christopher C. Krebs said the Department did not evaluate the app's security.
According to CNN, precinct chairs were not required to train with the app at all, and the New York Times reported only a quarter had successfully downloaded the app. By 8:15 p.m., the app showed a high error rate.
When the app failed, the precinct chairs attempted to call the hotline used in previous years, but the lines were overloaded and hold times extended past 90 minutes.
With no results, candidates were left with nothing but speculation and fragments of stump speeches to offer waiting supporters.
"From our indications it's going to be close," Biden said. "We're gonna walk out of here with our share of delegates. We don't know what exactly it is yet, but we feel good about where we are."
Sanders and Warren both said it was too close to declare any victories. Buttigieg, however, made the boldest declaration — or gamble, depending on perspective.
"Tonight, an improbable hope became an undeniable reality," Buttigieg said. "So we don't know all the results, but we know by the time it's all said and done, Iowa, you have shocked the nation. Because, by all indications, we are going on to New Hampshire victorious."
Before the caucuses, Buttigieg was polling third with 16.8%, according to RealClearPolitics' poll averages.
"I thought that it was a little strange that there had been no results being released when I left but was unaware that there had been any problems," Maldonado said in an email. "Since this was my first time caucusing, I didn't know that that wasn't normal to not have any results at that point in time."
As media outlets attempted to make sense of the app situation, their live-results graphics remained blank until 4 p.m. Feb. 4. The Iowa Democratic Party released the results from 62% of precincts. Biden — who was polling in second that morning — was in a distant fourth.
Buttigieg sat on top at 26.9% with Sanders following close behind at 25.1%. Warren was firmly positioned in third with 18.3%.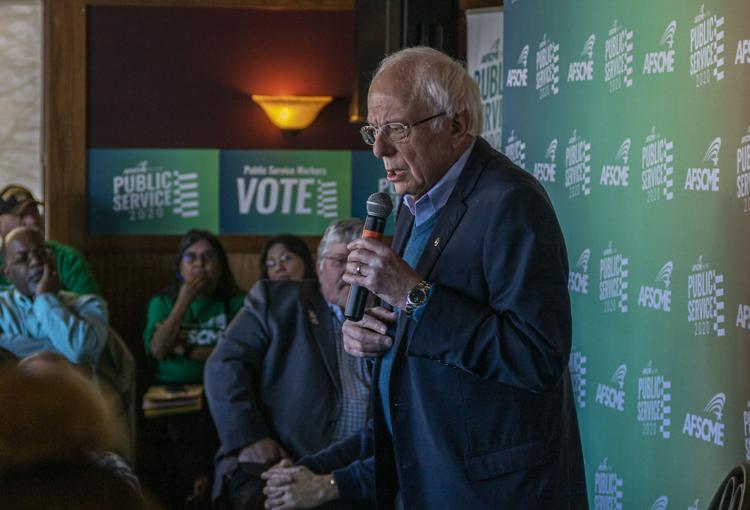 With a less than 2% lead, it was too close to call anything. When delegates started pledging, Sanders and Buttigieg had an even 10 each.
Later Tuesday night, another wave of results came in with 71% of precincts reporting. The gap between Buttigieg and Sanders narrowed by 0.1%, but the ranking order remained the same.
In spite of the uncertainty, the candidates have moved on to New Hampshire, starting the process of town halls, stump speeches, advertising and door knocking all over again in preparation for the debate Feb. 7 and the primary election Feb. 11.
Following that, the candidates will move on to the final two essential primaries in Nevada and South Carolina before the month is out.
In spite of the political steamroller's ever-forward momentum, this year's Iowa caucuses have not been a failure in a vacuum.
According to the New York Times, the Nevada Democratic Party has decided against using Shadow's app in its caucuses like it originally planned. Conspiracy theories have bloomed in the absence of transparency from the Iowa Democratic Party, suggesting the app was hacked or the race is rigged against Sanders or Biden.
According to the Washington Post, the party said the further delays in reporting results are for the sake of accuracy, but the country still awaits definitive answers.
"I honestly felt as though the Iowa Democratic Party did not handle this in the best way possible," Maldonado said in an email. "I think that after this whole debacle, it is going to be hard for the IDP to continue to make the case for using the caucus system. … Additionally, I think that this whole thing is going to cause people to lose faith in the IDP."