With last winter having especially harsh weather and this winter possibly following suit, facility services has taken extra precautionary measures on campus to keep students safe on icy sidewalks.
Director of Facility Services and Custodial Manager Tina Frueh said this semester, Facility Services installed more chains across staircases — like those on the south side of the J.W. Jones Student Union leading to the second floor — to prevent students and employees from using those stairs until they have been cleared.
"Normally, we would put up cones because we don't want anyone slipping and falling down the stairs," Frueh said. "We blocked some of the stairs we blocked off so we could focus our primary labor force into certain areas."
After a morning of pouring rain Jan. 10, the temperature rapidly dropped below freezing, covering all the sidewalks on campus in a thick layer of ice. Landscape Manager Shane Baumgart said during incidents like these, the snow clearing team focuses on clearing main sidewalks and entrances first.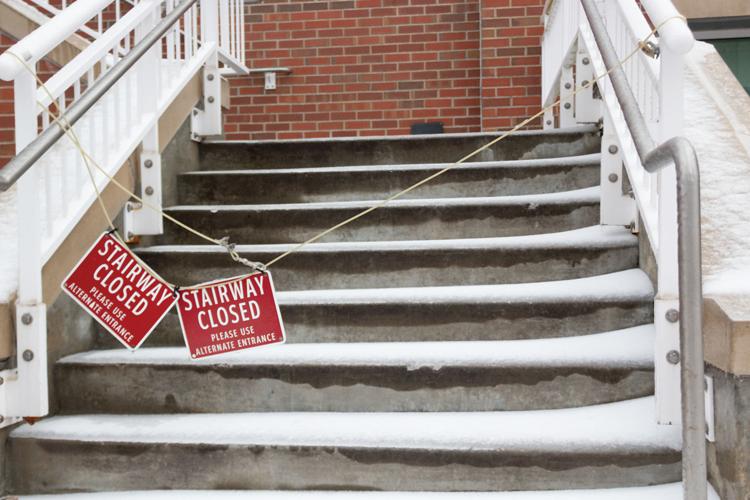 With 20 miles of sidewalks and 40-50 acres of parking lots on campus, Baumgart said it takes extra time to clear ice rather than snow. Between Jan. 10 and Jan. 12, snow clearing crews were manually busting ice off of sidewalks.
"It took all our crew a couple of days (to clear the ice)," Baumgart said. "We work very hard and take safety very seriously, but I could triple my staff and we would still struggle at times."
Baumgart said he spoke to a student about potentially incorporating winter weather safety into freshman orientation since students from warmer climates can be unprepared for ice and below-zero temperatures.
"Inform them more about winter, like don't wear dress shoes," Baumgart said. "Or I see a lot of people walking around on their phones. … You gotta watch where you step. We try to do our best, but it's really hard to treat every single square inch."
He said he also sees students walking up and down stairs with their hands in their pockets, leaving nothing to catch them if they slip and fall.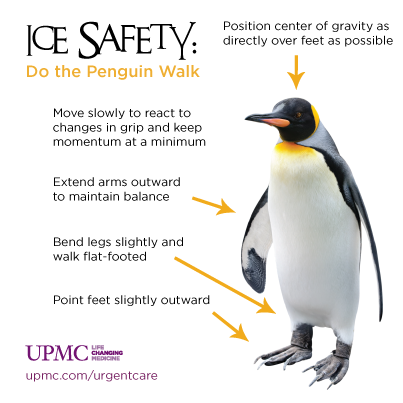 According to the Occupational Safety and Health Administration, insulated and water-resistant boots are essential for safely walking on ice and snow. It also recommends taking short, slow steps — or "penguin walking" — in order to react quickly to changes in traction and maintain balance.
For extreme cold, OSHA recommends wearing at least three layers of clothing in wool, silk or synthetic fibers, which insulate better than cotton, with the outermost layer being water resistant. It says staying dry is important because moisture can increase the rate of heat loss from the body.
"Once we hit a certain point, facilities, whether they're in landscape, custodial, maintenance, I mean that's our primary function to make sure that it's safe for everyone," Frueh said.