A road tucked away on the north end of Maryville leads locals to Calvary Chapel, a welcoming building and Christian ministry where Maryville City Council candidate John McBride spends many hours of his week. Sitting in the middle row of chairs and facing the altar, McBride thinks back to a message he might have heard here during a Sunday morning or Wednesday evening.
"The man who builds his house on the sand and the man who builds his house on rock," McBride said.
This outlook, McBride said, is what he wishes to apply to city government, if elected — recognizing a solid foundation and building upon it. 
McBride, 50, has thought about running in local government for several years. But the timing felt best for this election, in April 2021, when the city is nearing a year of pandemic-related issues and amplified concerns have flooded the inboxes and gathering places of Maryville's City Council. 
With at least 30 years experience working in manufacturing, McBride describes himself as a boring candidate. He has no flashy catch phrase or campaign slogan that touts public service experience. McBride, rather,  prides himself on being a voice less heard.
Before Maryville
McBride grew up a "Navy brat," moving around to different areas when he was young. He lived in Virginia until about 6th grade, then moved to Braddyville, Iowa. 
Growing up, McBride was interested in public service and politics but didn't have a lot of opportunities to be involved. He enjoyed a class called American issues, where national topics of interest were discussed and examined.
Early on in school, he wanted to go to college and become a lawyer, but with both of his parents and grandparents serving in the military, eventually, that choice just made sense. 
Right out of high school, McBride joined the Navy and was stationed in Japan. He also served during the Gulf War and was deployed amid an F-18 squadron on the USS Midway, a naval aircraft carrier that completed two tours of duty during Operation Desert Storm and Operation Desert Shield. 
After he finished his service in the military, McBride wasn't sure what to do. Eventually, he landed a manufacturing job at AKS Precision Ball Co. in Clarinda, Iowa. After AKS, McBride worked at Kawasaki Motors Manufacturing Corp. in Maryville and then got a job with Nucor-LMP doing logistics. 
McBride, who has lived in Maryville for 10 years, said he has watched the town change and has seen its residents adjust to change. Now, McBride said he's running for a City Council seat for more reasons than just making a positive impact on his community,
"I just didn't want to take that approach of, 'I'm just a guy that loves my town, and I want to make it a better place,'" McBride said. "I wanted to explain why and where I stood."
On the issues 
McBride said that while the COVID-19 pandemic affected people all over the world in vastly different ways, it has provided Maryville residents a closer look at issues that concern them. 
"This past year we've all lived in kind of a bubble," McBride said. "When you can't get out, when you can't take a road trip two states away, I think it brings more focus on where you're at and what's going on in your immediate vicinity."
A Facebook page called the Maryville and Nodaway County Resident Council surfaced in fall 2020, initially intending to create a platform for unheard voices. The group would later battle misinformation and have to moderate to keep discussions civil. McBride, an early member of the group, has been a champion of encouraging people to channel concerns in a constructive way. In order to best understand the group's members, he created a poll to see what those in the group cared about most.
"I think with the City Council in the small town of Maryville, I think you need input from everybody," McBride said. "That kind of drew me to it, that there is an opportunity to make a positive difference in my town."
McBride, like many in the group, has been one of the more outspoken individuals staunchly against the face-covering ordinance, which was recently extended through April. Alongside this issue, he said he sees local water quality, improving infrastructure and limiting government waste as top issues facing the Maryville community. 
Though he has publicly criticized the City Council for these issues, McBride commended the work the city has done in the past year tackling the complexity of local water taste and odor issues. He said he would like to build upon those strides. 
Two items that perhaps mean the most to McBride, though, are improving city roads and being fiscally conservative with taxpayer dollars — issues he said the Council could improve on.
"You see a lot of aesthetics throughout the community, which are great and draw people in," McBride said, referring to recent tourism projects in the community. "But we don't want to lose sight of where our foundation is. Our foundation is our water system, our roads, our sewer system."
McBride said increasing visitors to the town is a benefit he would like to build on but improving city roads and the water system would sit higher on his public servant checklist.
"That's the stuff that's user-friendly to us; that's the stuff we work with because we live here," McBride said. "The nice looking elements, the aesthetic things are great, but I don't want to sacrifice the foundational things in place of those things."
"Coming from the outside in, you know, something might look really awesome and then you get inside and you're like, 'My gosh I need a four-wheel drive in here,' you know," McBride said.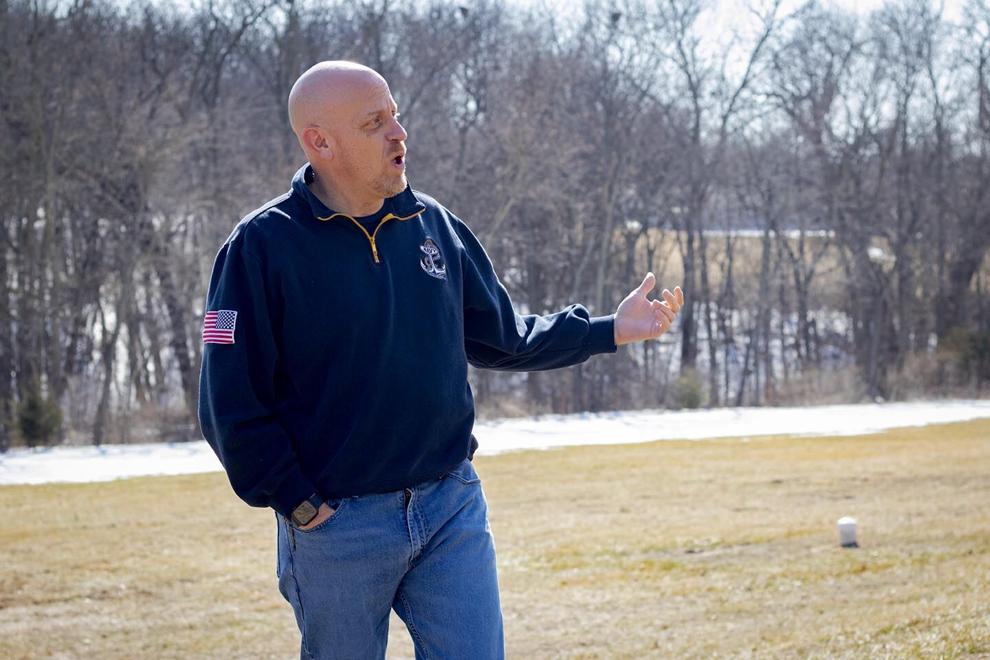 Though McBride has been critical of the city's focus on revitalization, the City Council has not lost sight of the kind of foundation McBride hopes to seek out. In the past five years, issues of recurring potholes and seeking out ways to solve other ongoing issues with roads in the community have been a focus of public works. The city budget continues to win awards, and the Council seeks public input on the kinds of issues locals are passionate and recently more vocal about. 
McBride said to curb this issue, he encourages a high local voter turnout so a variety of voices are heard. 
Community service 
Aside from being passionate about local and national politics, McBride is known in the community for a concert-based ministry he began a few years ago. 
Breaking Chains Concerts brings in Christian music artists and speakers with a focus of "breaking spiritual chains." For a short time after leaving the military, McBride battled depression and addiction. He eventually created the concert series with the help of his peers in an effort to help those in the community fighting the same battles. 
"There's a second level of Maryville; there's a second level of every town that not a lot of people see, and there's a lot of young people and a lot of adults that are trapped in substance abuse, alcohol, depression," McBride said. "God was able to break those chains for me, so it was put on my heart to be available for people and reach out like that."
In the past, the group held concerts with popular christian artists at the Pavilion on Northwest's campus and at Calvary Chapel. While the ministry could not hold concerts last year due to COVID-19 mitigation, McBride said he hopes shows will continue this year.
Because of this presence, McBride was also asked to serve on the board of a similar kind of ministry called Arc of Freedom, which is just getting its start in Maryville. 
Another aspect McBride is known for in the community is his work at Nucor-LMP. Coworkers describe McBride as a person who takes pride in teamwork and communication. 
Chad Leonard, logistics supervisor at Nucor-LMP, spoke highly of McBride and his work for the company.
"He is very passionate about anything he does. He is all in on anything he does," Leonard said. "And that really fits the Nucor mold. We are all teammates; that's just part of our culture, and he sets the culture at Nucor-LMP very well."
An amplified voice
McBride said there isn't much that would make him stand out from other candidates running for the two empty council seats this April. He said he identifies as a blue-collar person who wants to improve Maryville for its own residents. He doesn't want to "toot his own horn," he said, but he wants people to know where he stands on all issues, even the ones residents might not care about as much. 
"I try to be as honest and forthcoming as I can be in what I believe and what I feel," McBride said. "I'm actually hoping that doesn't set me apart."
"I'm hoping that everybody who's running and everybody that's currently on the Council - I hope that's a characteristic they all embrace, because they may not agree with me, I may not agree with them, but if people know where you stand, it makes it a lot easier. I think when we vote for City Council, whether you agree with someone or not, you want to be able to trust them."