Candidates running for office in Nodaway County made an appearance in front of voters at the 2020 General Election Candidate Forum, where contested roles saw questions from a panel of moderators and the audience.
Those running for positions of public administrator, south district commissioner, county sheriff and one congressional candidate running for Missouri's 6th District in the U.S. House of Representatives were all in attendance. The event, hosted by the Greater Maryville Chamber of Commerce Oct. 20, had in-person and virtual attendance options for candidates and the audience.
At the socially distant, masked-up event, each candidate was given the chance to introduce themselves and share why they think they are the best fit for the position they are running for. Unlike a debate, candidates did not address their opponents as much, but focused on questions provided to them. 
Public administrator 
First to speak was Diane Thomsen, the Democratic candidate who has served as the Nodaway County public administrator for the past 12 years. Seeking her fourth term, she focused her opening statement on why she first ran and how the position has evolved throughout her time in office.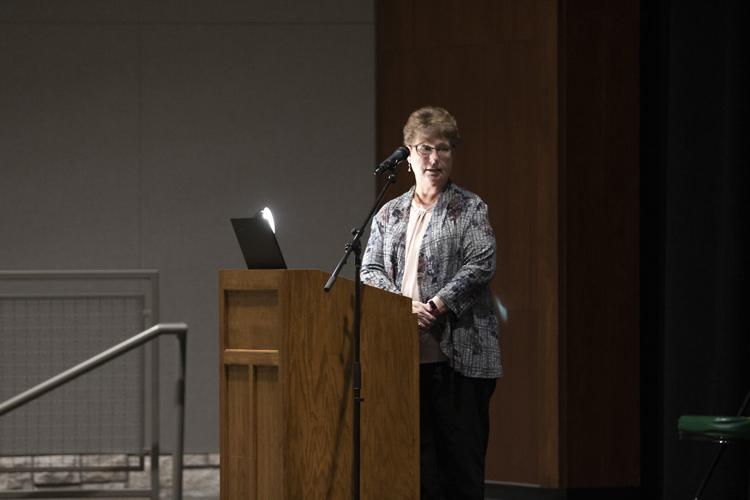 "During that first term, it was a part-time job, and then when I was reelected the second term, it became a full-time job because of the number of cases that I had," Thomsen said. 
As of Oct. 20, Thomsen is overseeing 71 cases but has seen more than 90 at one time. Along with an increased caseload, the probate code for appointments has changed within the last year, making the appointment of public administrator a last resort.
With these changes, Thomsen said she believes her background in working with a law agency for more than 20 years has added to her ability to adapt, since working with the courts is often part of the job.
Taking questions from the panel, she also shared how she was able to save the county money while in office.
"I have had a good relationship with the family that own the law firm there, and they were kind enough to let me stay there, have an office there and use their office equipment," Thomsen said. 
This, Thomsen said, helped provide for a quick turnaround for documents in the filing system used, and free office equipment saved the county money that would have been spent on those kinds of items.
While the county did provide an office for the public administrator within the administration building, Thomsen, if reelected, wishes to continue operating like she has been to continue to save those funds. 
Thomsen's opponent, Dee O'Riley, did not attend the candidate forum.  
South district commissioner 
As Thomsen left the stage, Scott Walk, the Republican candidate for southern district county commissioner stepped up to the podium to introduce himself.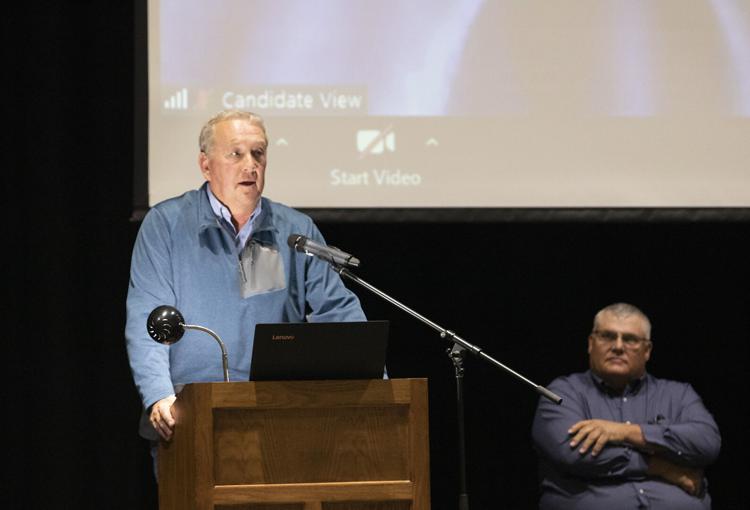 Walk talked about his education, earning an undergraduate degree in agriculture education and a Master of Science in agronomy and horticulture. Before running for office, Walk worked at Northwest for 32 years, 10 of those being in agriculture research. He later became the health and safety manager for Northwest, a position he still holds.
While going to school, Walk also worked as an appraiser in the Nodaway County Assessor's Office for 17 months. 
Walk's opponent, Robert Lager is a self-employed farmer. Lager also attended Northwest, graduating with a Bachelor of Science in general agriculture. 
Lager is serving on community service and betterment boards in the county, including the Nodaway County Cattlemen's Association and the Nodaway County Soils and Water Conservation District. Lager also serves as the treasurer for the Nodaway County Fair Building. 
Lager was also a member of the Senate Bill 40 Board, which aims to help those with disabilities in the county, for more than 20 years.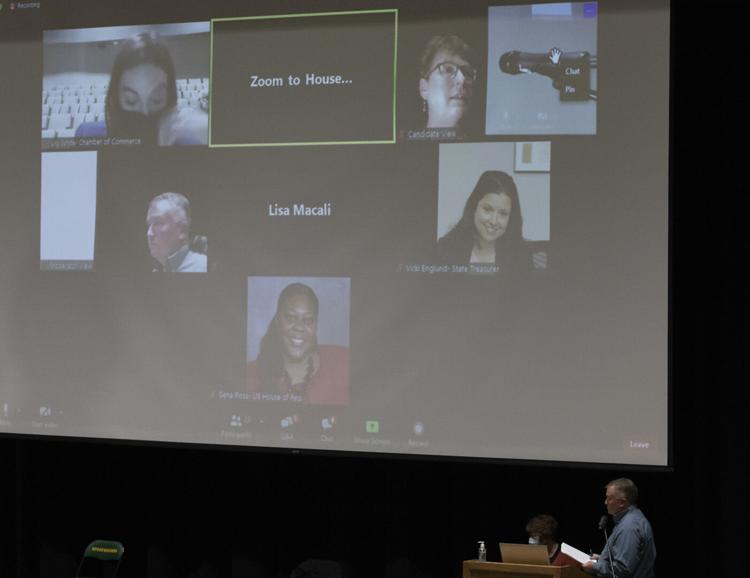 Both candidates were asked by a moderator, "What is the most important role of a county commissioner, and how are you best equipped to deliver that element more so than your opponent?"
"The most important role of the commissioner is to be a fiscally responsible, knowledgeable servant of Nodaway County in the south district," Walk said in his response. "You have to know what you're talking about. … You have to be able to listen to the facts of what's out there and make a decision. Not only are you a servant of the people in the south district, but you are their leader."
Walk said he is more qualified than his opponent based on the wide variety of jobs he has worked, where he was tasked with working issues out between people to find common ground and get a consensus during decision-making.
"Most important part of this job, I think, is keeping the county in a fiscally responsible (budget) ... to keep the county running as smooth as possible," Lager said in his response. "I feel that with my experience in farming, my farming operation over the last 40 years, I think I've been very fiscally responsible. … With all the boards and different organizations that I've been involved in, I think that will help me in keeping the county running as smoothly as possible."
Bob Steins, the current south district commissioner, will not be on the ballot Nov. 3.
Nodaway County sheriff
Candidates for the local sheriff's race, which county voters have been arguably fixated on, took the stage following Walk and Lager. Sheriff Randy Strong began with his opening remarks.
Much like the rest of his campaign, when addressing the audience, Strong focused on his accomplishments while in office. He cited consolidation of the 911 call center, now known as Northwest Regional Communications Center, improving relations between local law enforcement and reinstituting the Northwest Missouri Major Case Squad, among others.
"Reelect me and I will continue the DARE program in our rural schools, focus on effective investigation and follow up on reported crimes, continue investigating local drug dealers and provide my deputies with proper training so we may better serve you all," Strong said.
Strong's opponent, Darren White, spoke on his former experience, including working for ambulance districts and as a sheriff's deputy in Nodaway County beginning in 1985. He said his focus, if elected for sheriff again, would be on service to the entire community.
White said he and Strong have common ground in that they have both served the people of Nodaway County for most of their adult lives. During his time in office even, White said, there were components of his administration that match Strong's.
"Drug arrests — we all do them. Every law enforcement agency does them," White said, citing a time when his administration arrested 50 people at one time. "DARE, we had it in schools too."
Moderators asked the sheriff's candidates several questions, but one that took the most time for both candidates to answer was "give some examples of your plan to patrol Nodaway County to deter crime."
Strong said his focus for deterring crime would remain the same — looking at crime trends to determine problem areas, taking advantage of hidden cameras, utilizing other agencies in the area for collaboration on suspects and talking to community members.
White said, if elected, he would continue the approach he had when he was sheriff from 2009-2016 — deputies patrol in smaller communities more often.
"Actually have the deputies go out into the smaller communities, park their cars, get out, walk around shaking doorknobs, leaving notes for people who weren't there," White said. 
This approach, White said, gave assurance to county citizens and sent a message to those involved in criminal activity. 
White was also asked what he felt was the No. 1 thing missing from the sheriff's department today from when he held office. 
"From the people I've talked to, from some of the guys that have worked up there and left, … there's a system in place where everybody is always under the scrutiny of a microscope, and there's fear that if you actually step out and do your job. There will be reprisal for that," White said. 
Strong, in contrast, said he felt the number one improvement he made in the office was the quality of deputies. 
"Their training is enhanced, their report writing in the cases they submit to the prosecutor is better, and the way we treat the public is much more professional," Strong said. 
White was also asked two submitted questions by the audience, the first being "Considering some past cases, how do you feel you would handle sexual assault cases if reelected? Would you handle them the same or would you handle them differently?"
"We always handled sexual assault cases professionally," White said. "In fact, during my time in office, we actually had deputies attached to the Northwest Missouri Cyber Crimes Task Force, which focused on child predators, child pornography, things like that, and we had very good record of dealing with sexual assault cases."
White was then asked what other law enforcement jobs he has held in the past three years. 
"Shortly after the 2016 election … my father died after a 23-year battle with cancer, which put me in a position where I needed to be more involved with the family business and have stepped up to run that," White said. "I think that while I have not been working actively in law enforcement in the last three years, I think it's a moot point."
The Missourian published profiles on both White and Strong in the weeks leading up to the candidate forum.
Missouri 6th Congressional District 
Gena Ross joined the Zoom portion of the event, introducing her platform to represent Missouri's 6th District, which includes Maryville.
Ross, a professor at Kansas City Kansas Community College, worked for previous Missouri State Sen. Claire McCaskill as a constituent services representative.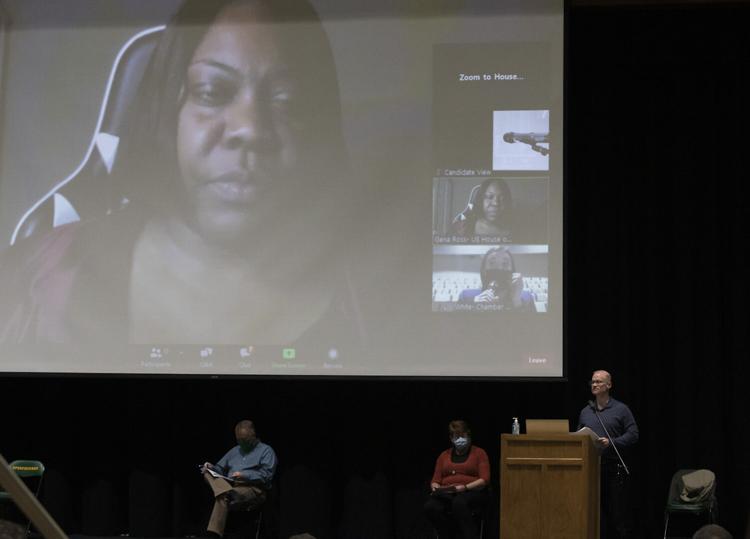 Ross said she has a passion to serve people, and her focus is on healthcare for all, education, infrastructure and agriculture. 
"With 36 counties, I don't want anyone left behind. People first; democracy first," Ross said. 
One moderator asked Ross what her priority would be if elected, to which she responded "healthcare."
"Quality, affordable, no discrimination with pre-existing conditions," Ross said. 
Ross was also asked to explain one issue important to her that Missourians should care about but is not prevalent on the campaign trail.
"Climate change. Climate change is one that I know young people really stress a lot," Ross said. "It seems like it has been ignored several times by my opponent — the incumbent — has voted against several things that are for climate change (measures)."
Ross also spoke on her approach to holding office at the national level, following a question from a moderator about bringing parties together to accomplish things in congress. 
"I'm not going to look the other way and ignore that I have constituents in need," Ross said. "All parties aside, represent people. Ninety-nine and a half won't do. You can't just represent one. It has to be 100, no matter what party, and I would just stand on that."
Current Missouri 6th District Rep. Sam Graves was not in attendance.
Future events 
Two additional candidates who will appear on the ballot were scheduled to attend the forum but did not end up making it to the event either in person or virtually. 
Lily White, executive director of the Greater Maryville Chamber of Commerce, said that even with a few technical difficulties with the virtual attendance hub, she hopes the event was informative for voters.
"This year has just been harder with COVID-19. Some of the candidates just aren't making it out, and we aren't seeing as many in-person candidate forums occurring," White said.
The Greater Maryville Chamber of Commerce will host a state chamber lobbyist Oct. 29, to discuss amendment phrasing and extend an invitation to candidates who could not make the Oct. 20 forum.