Four years after ousting former Sheriff Darren White and electing former Maryville Public Safety detective Randy Strong, Nodaway County residents showed up in record numbers Nov. 3 to reaffirm the decision they made in 2016, re-electing Strong by more than 4,500 votes to serve as sheriff until 2024.
In a race that pitted the same two candidates from 2016 against each other for the second cycle in a row, a contentious campaign season gave way to a blowout at the ballot box. After earning 5,049 votes in 2016 and beating White by less than 1,000 votes, Strong, a Republican, tallied 7,155 votes this time around, winning all 17 of Nodaway County's precincts and capturing more than 73% of the vote.
White, a Democrat, tailled 2,618 votes this election cycle, according to unofficial election results from the Nodaway County Clerk's Office. White's vote total marks a sizable decrease from his 2016 tally, when he won 4,386 votes, and signals a firm stance from county voters who have rejected White's candidacy two election cycles in a row after he served as sheriff for eight years from 2009-2017.
Strong watched the results trickle in from a crowded private room at A&G Restaurant, where more than 30 people gathered to support the sheriff, sipping water or beer, wearing "I Voted" stickers and eating cake to celebrate both Strong's reelection and his birthday. He turned 65 Nov. 3, celebrating to the tune of a landslide victory in a race he always expected to win.
"I just didn't know how it was gonna turn out," Strong said just before 9 p.m. Tuesday night, after all 17 county precincts reported, leaving the sheriff with an insurmountable lead as county officials counted more than 2,000 absentee ballots. "I felt we were gonna win, but this kind of support — I think we were able to bridge the gap between the two parties. I think we brought Democrats in as well as Republicans, and everybody knows that I don't play that game, and so that makes me feel good that we had the Democratic support and Republican support. We'll just take care of the people."
Strong expressed gratitude to Nodaway County voters, more than 76% of whom turned out to vote in the Nov. 3 election. He repeated the word "humbled" three times in an interview with The Missourian that lasted fewer than four minutes.
"I'm just so appreciative of them," Strong said of the county's voters. "It's just a great feeling. And we'll do the best job we can for them."
After indicating to The Missourian that he would be available for a post-election interview, White did not respond to messages or phone calls on Election Night.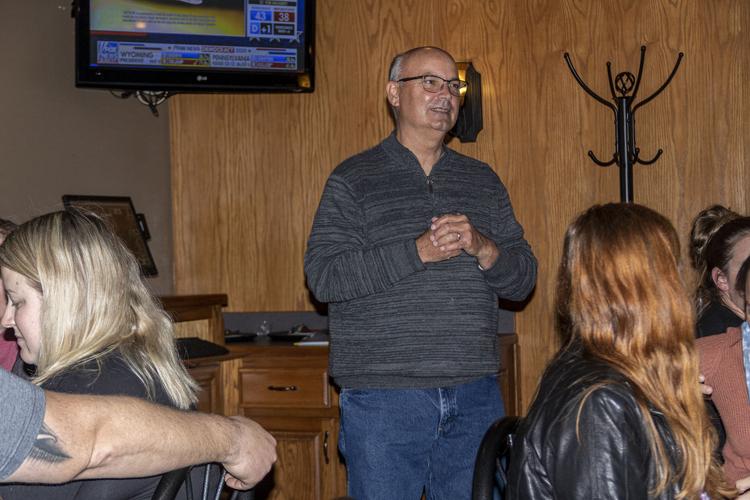 Both in the lead up to Election Day and throughout much of the evening, Strong was confident in his reelection campaign. As county officials counted votes, his confidence only grew.
"We're looking good," Strong said at 8:30 p.m., as results trickled in from around the county that he's served for the last four years. Some supporters started to gather their belongings and head towards the restaurant's exit after learning that Strong held a 3,000 vote lead with 12 precincts reporting.
Much of the room had their eyes glued to their phones or to each other or to the flatscreen TV in the corner of the room, where Fox News analysts relayed the latest on the presidential race capturing the attention of the nation, and at some moments, the attention of the private room at A&G.
Strong's eyes, though, were largely fixed on the black iPhone he held in his left hand, as he paced the room at times, tracking the latest results in the election he was running.
By 8:51 p.m. Tuesday evening, all the Nodaway County Clerk had reported results from all 17 precincts, each one of which voted overwhelmingly for Strong. Five minutes later, Strong was giving a brief, impromptu speech to supporters at A&G. He was heartfelt, but not quite emotional. He thanked them for their support at the ballot box and on the campaign trail. He promised to continue serving the county as he has for the last four years.
"Thanks everybody," Strong said, as he kicked off his unscripted remarks. "Looks like we got it."
"Happy birthday," one supporter shouted back.