Joined by several state military officials and a local representative, Missouri Gov. Mike Parson attended a Veteran's Day ceremony in Northwest's Valk Center Nov. 11. An exhibit detailing military experiences and the newly renovated Veterans Commons became the centerpiece for conversation and rotating speeches on the day of remembrance.
The exhibit, which earned a ribbon cutting ceremony at the hand of Parson, featured military experiences of students, faculty and staff, as well as artifacts from times of war and other military conflict.
"What a class act this University is. I've had the opportunity to be up here on several occasions and look forward to coming back," Parson said in his speech. "I appreciate what this University represents."
Senior Natalie Coté, an emergency disaster management major, headed the research and presented the exhibit to state officials on Veteran's Day. Coté's extensive research and formation of the exhibit spanned six months, as she read hundreds of Northwest Missourian articles dating back to 1917.
"It may seem like a lot, but trust me when I say we could easily fill eight of those cases with how much information we compiled regarding the University's extensive military history and involvement," Coté said.
The exhibit features material organized thematically and by conflict, with photos pulled from Tower yearbook, B.D. Owens Library Archives and agricultural artifacts. Featured uniforms are on loan from Nodaway County Historical Society.
Walking through, one can see accounts of WWI, WWII, the Korean War and the Vietnam War before coming to information about ROTC and the Show-ME GOLD program. The exhibit concludes with military events post 9/11.
There was so much additional information that could have been included, Coté said, that new exhibits featuring different themes will be rotated in and out every few months; the exhibit will look different in the spring.
After Coté spoke, several others followed, all pushing the message of accomplishments and reflection.
Northwest's Missouri Show-ME GOLD officer in charge, Captain Joshua Wilmes, spoke of the opportunities for students to serve, and the skills it provides them. His program, composed of 48 students, is the largest in the state.
President of the Student Veterans Association at Northwest, TJ Goldizen, spoke about how he helped to form the organization as an outlet for veterans and other students on campus. He said he was astounded at everything the University was doing for Veteran's day.
Goldizen said after the event that he is trying to begin a scholarship for student veterans.
"This day isn't just about myself or these people here," Goldizen said. "Many, many people have served across the globe and it affects countless people related to them."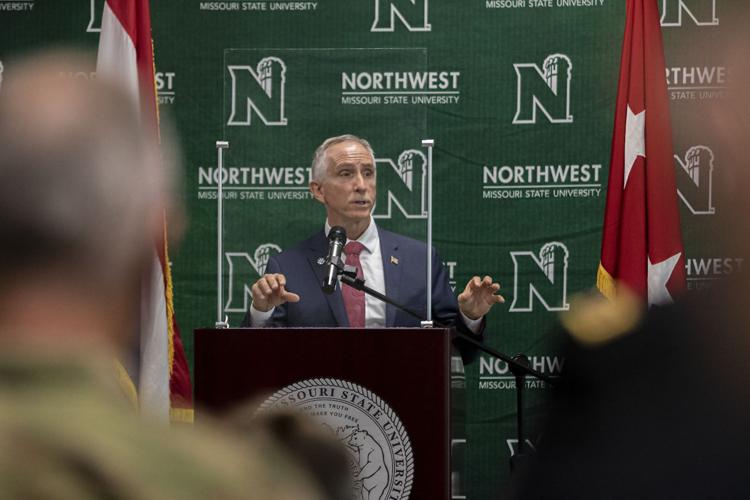 Parson reflected the same idea to those in attendance, reiterating the importance of past hardships for today's freedoms.
"It's much more important than just those soldiers. It's about wives, it's about husbands, it's about spouses, it's about children, mothers and fathers, grandparents that all lived through the life of a soldier," Parson said. "That's what, truly, veterans are about."
The top floor of Valk Center, now Veteran Commons, aims to allow for a space where veterans can comfortably study, network and interact with Missouri GOLD personnel and students. That same space now houses the rotating military exhibit.
Before other notable members in attendance, including Major General Levon Cumpton and Missouri First District Representative Allen Andrews, Jasinski touted accomplishments of the University.
Jaskinski said Parson's tenure as governor, focused on infrastructure improvement and workforce development, has benefited Northwest improvements on campus. Of these, Jaskinski mentioned the Agricultural Learning Center, which took hold of state grants for the $11.4 million project.
To this end, Parson told the Missourian the state was attempting to restore most of the core cuts of state-wide university funding prior to the COVID-19 pandemic.
"We funded K-12 at the highest level it had ever been funded in our state's history prior to the pandemic. And the universities had some poor cuts that we were trying to rebuild then, and then the pandemic hit," Parson said.
"We've been able to release some of that money again, once already. We'll look at it again in December … I have to make sure that we give (Universities) the resources they need to be able to get these young men and women out there into the workforce. So that's a priority."
Along with the ceremony in Valk, Northwest held events in the Carl and Cheryl Hughes Fieldhouse from 7 a.m. to 11 a.m. Nov. 11, including a ruck pack march, push-up and pull-up contests, a water jug relay, soldier attire, military vehicles and photo opportunities.
"What a great way to showcase your support of veterans out here at the University," Parson said. "I think the community and town should always be very proud when the University steps up to make sure they support the veterans across the country."