At a community center room filled to capacity with disgruntled citizens, Maryville City Council passed three ordinances Dec. 14 that aim toward improved water quality — an issue the city has been tackling since Mozingo Lake's inception.
These three ordinances came alongside several other agenda items, including a COVID-19 update and the approval of purchasing an aerial ladder truck for Maryville Public Safety. The meeting was moved to the community center to accommodate the expected crowd of people from a local Facebook group, who commented heavily on the water taste and odor issue.
"The taste and odor issues are limited to what our existing plant is capable of," City Manager Greg McDanel said. "Our first and foremost priority has to be ensuring that the water meets DNR (Missouri Department of Natural Resources) quality… it's also important to know that too many adjustments to the water treatment process can cause other issues."
The community center meeting room met capacity a little under 10 minutes before the regular City Council meeting was set to begin. Citizens in attendance heard an in-depth synopsis of the city's approach to water treatment and COVID-19 from McDanel and Assistant City Manager Ryan Heiland.
"Any adjustments to the water treatment plant may take up to 7-14 days until it reaches you in the system, depending on your location," McDanel said.
While the city water remains safe to drink, the latest response to city water taste and odor issues is a look at powder activated carbon as an element to be used at the treatment facility. PAC's are absorbents widely used by those in the water industry to remove compounds that create poor taste and odor quality. The City Council approved the purchase of PAC's through Jacobi Carbons Inc. Dec. 14. 
In November, the city began experiencing taste and odor issues in the water treatment process as a result of increased levels of geosmin, a non-toxic unharmful compound produced in cold seasons. To combat this issue, the City Council passed a contract Dec. 14 for vegetation services at the lake. This approach examined short term and long term recommendations from HDR Engineering and water experts.
The third ordinance passed in regards to water treatment was to purchase and apply algaecide in Mozingo Lake. While algaecide may not have an impact on current taste and odor issues, it has the potential of minimizing algae blooms like those that occurred last winter which resulted in the presence of cyanobacteria.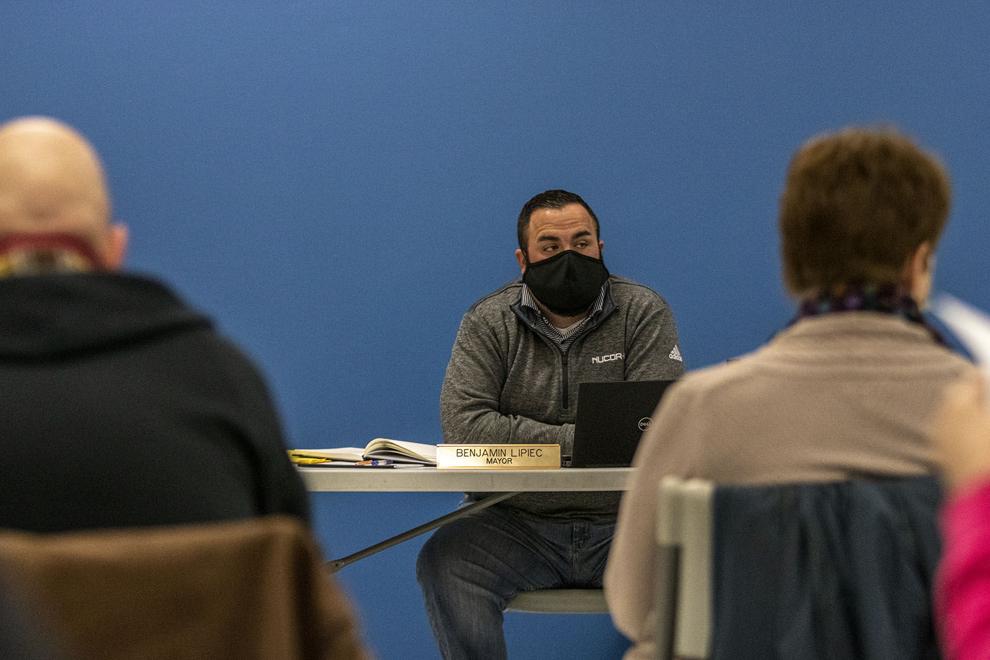 This algaecide is different from those applied in the past and is expected to have a longer duration with a more effective control on algal blooms. While 78% of lakes across the midwest have issues with cyanobacteria, McDanel said, Maryville is working with the Missouri Department of Natural Resources to curb this issue at Mozingo.
Maryville's water taste and odor issue was the epicenter of a prolonged meeting Dec. 14. Citizens who felt unheard in their concerns gave both informed and uninformed opinions to the City Council and water treatment experts in attendance.
Suggestions to local water experts came from restless citizens on the water treatment issue — one which experts said took time to develop and one that, in turn, will take time to resolve.
Councilman Tye Parsons asked how long PeopleService thought the issue of water taste and odor had been developing to get to the damaged point it is now. 
"There was some data collected in the late 90's… where they started tracking the nutrient levels and it's slowly increased from there," Missouri Region Manager for PeopleService George Hulett said in response.
Since Mozingo's formation in 1994, runoff from the surrounding agricultural land has been a large contributor to the presence of nitrogen and phosphorus buildup. The Missouri DNR continues to monitor the nutrient levels of the lake in efforts to slow this buildup.
Hearing comments from concerned citizens, the City Council endured tense moments of frustration from those sharing their thoughts. One city resident, Tim Jackson, talked about his purchasing of a $100 a month Water Doctor filtration system at his local business Title Town Bar & Grill.
Jackson said customers would complain to him about the taste of drinks hooked up to the city water line and stopped ordering them. Now, he pays a fee to have water customers would drink.
"Not everybody in the town chooses to do that but I chose to do that because I want my customers to have good quality water," Jackson said. "Every day, until I put in a Water Doctor, I was losing money."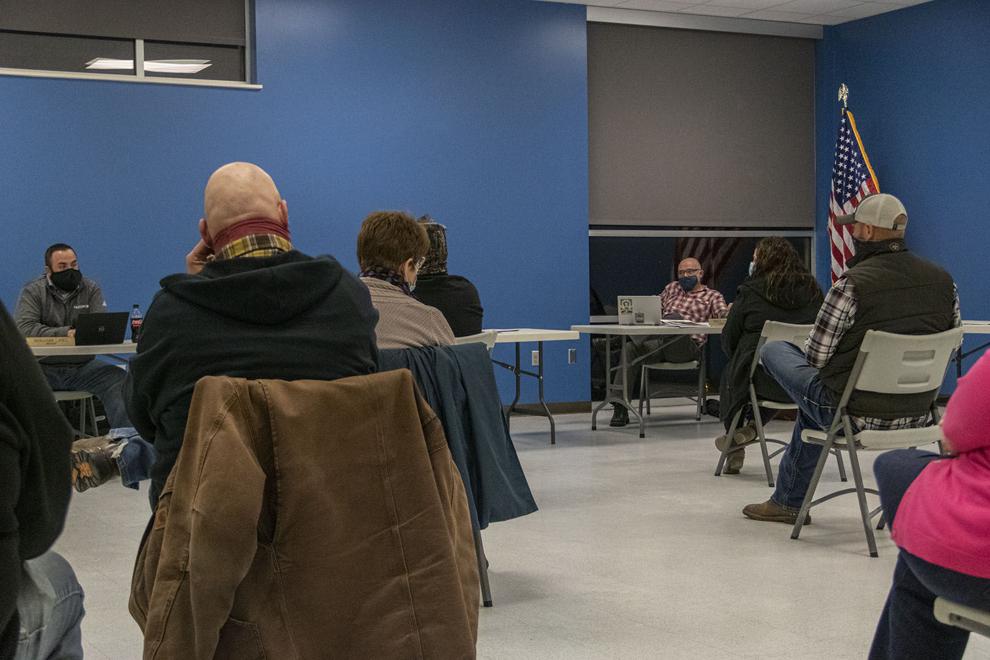 The solution to the ongoing issue of water odor and taste is one requiring a series of actions with no obvious cure-all to pinpoint. Rather, it is a lengthy process that will inevitably take time to cultivate and execute, McDanel noted. While city government is enveloped in a long process and significant financial investment, citizens remain agitated at the less immediate resolution before them.
"There isn't one thing we should do; there are a whole lot of things," Councilwoman Rachael Martin said. "I think that an approach that attacks at every angle of what's going on with our water is the smartest."
COVID-19 update 
The lengthy city water discussion was preceded by a quick COVID-19 update from McDanel. He mentioned that Nodaway County remains in the state's Category 1 level, determining the area an extreme risk for exposure to the coronavirus.
Mirroring state guidance, the City Council discussed a seventh emergency order Nov. 23 and then released it Nov. 24, which extended the municipal face covering ordinance through Jan. 31, 2021. The seventh emergency order also limits social gatherings to 10 or less people, accounts for six feet of social distancing, lowered the face covering requirement to ages five and up, and enhanced enforcement of the local mask ordinance.
Since its implementation, Maryville Public Safety has recorded 219 direct contacts related to face coverings, issued 31 warnings and one citation.
While some citizens have lashed out against the increased enforcement of face coverings, 43 local health professionals from Mosaic Medical Center - Maryville signed and sent a letter to the city showing their support. 
"Since the beginning of the COVID-19 pandemic, we have urged people to protect themselves, their neighbors, and their loved ones amidst the worst global health crisis in generations," one part of the letter wrote. "We sincerely appreciate those who have done their part. We are now experiencing rising rates of infections and hospitalizations that are stretching our resources."
As of Dec. 13, there are 97 positive cases of COVID-19 in the county, 5 hospitalizations and a 1 in 10 rate in population. There have been 18 deaths related to COVID-19.
South Main Corridor Improvement Project update 
The city has been working with several state and federal entities over the past year to finalize aspects of the project, which has been in the making since a 2015 traffic study.
At their Dec. 14 meeting, the City Council approved an agreement with Evergy Missouri West to facilitate underground electrical lines in the South Main corridor. The underground lines serve several purposes, including increased efficiency during winter storms, aiding the ability to construct sidewalks and solving visibility issues. 
The Missouri Department of Transportation, Federal Highway Administration, U.S. Department of Transportation and SK Design Group Inc. all have their hands in aspects of project procedure and approval. Preliminary design, environmental review, utility coordination and pre-Plans, Specifications and Estimates reviews are complete. SK Design is 99% complete on a final design.
New aerial fire truck for MPS
Maryville was awarded a $1.3 million grant and loan from the USDA to assist in purchasing a new aerial ladder truck. The city currently uses a truck from 1981, which is having issues with the air brake system, power steering and hydraulics. The truck no longer meets National Fire Protection Association standards.
The loan grant program has 55% of the truck's price coming from the grant and the remaining 45% will be a loan the city will pay back over 15 years.
Prior to the council's unanimous approval of the ordinance, councilman Matt Johnson, who is also a volunteer firefighter, weighed in on the importance of the new truck.
"This is a piece of equipment that is going to make a difference in this community for 40 years," Johnson said.