The group of protesters, stretched out in a parade of residents that spanned more than 50 yards, rounded the northwest corner of the Nodaway County Courthouse and chanted in remembrance of an unarmed black man who died in Minneapolis May 25 after a white police officer pinned the man face down on the ground and pressed his knee against the man's neck for close to nine minutes.
Despite the fact that the Maryville protest, which kicked off at 3 p.m. June 6, was shifted to a virtual setting after a "concerning" number of threats earlier in the week, hundreds of residents showed up at the courthouse anyway.
The city manager showed up wearing jeans and Nike tennis shoes. The University athletic director showed up wearing basketball shorts and a baseball cap. The head football coach wore flip flops. The University president wore black golfing shorts. A local pastor wore her stole. The University police chief wore his department-issued uniform. So did the county sheriff.
Some wore masks. Some wore sunglasses. Some held signs. Some didn't. But they all showed up — nearly 350 protestors, according to estimates from local law enforcement — to do one thing in solidarity, with both each other and with a nation that has reached a boiling point in the days since the man's death in Minnesota.
"Say his name!" one protester yelled, as the group rounded the northwest corner of the courthouse.
"George Floyd!" a chorus of hundreds of demonstrators echoed in response.
Floyd's name was a part of one of several chants the protesters engaged in as they circled the courthouse for eight minutes and 46 seconds — the time it's believed that Officer Derek Chauvin kept his knee pressed against Floyd's neck before he died last week in Minneapolis.
Becoming the latest city in America to join the wave of protests that has swept the nation, with demonstrations recorded in all 50 U.S. states, the predominantly white crowd at the center of a predominantly white community repeated the chants of protestors nationwide.
"No justice, no peace!" the protesters yelled in their second lap around the courthouse.
"Hands up, don't shoot!" they screamed, marching in streets blocked off and watched over by area law enforcement.
"Black lives matter!" they screamed, before that chant gave way to the end of the marching and the start of a peaceful dialogue organizers hosted on a shaded hill at the northeast corner of the courthouse, where Northwest junior Cayla Vertreese first grabbed a microphone and tried to offer perspective in the 90-degree heat.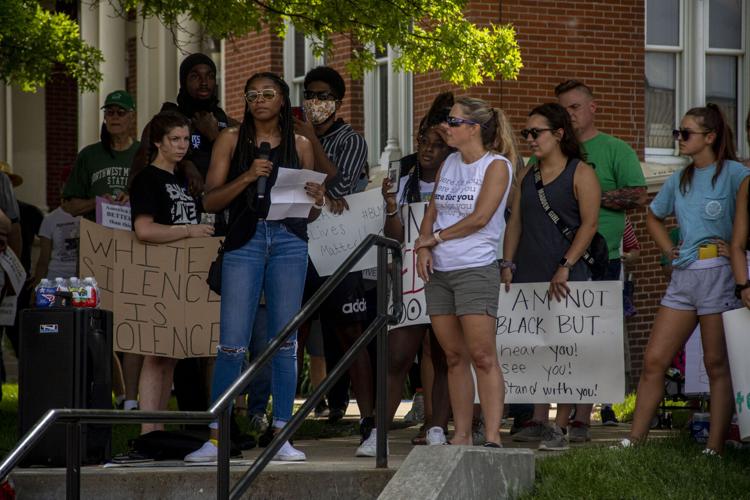 "A lot of our arms were tired from holding up the signs for so long. A lot of us got a little tired of chanting the same thing over and over," Vertreese said. "So I just want you to kind of think — imagine being held under the knee of someone and struggling, calling out for your mother, telling them you can't breathe. And they have no mercy for you at all. Because that's what George Floyd experienced."
The dialogue continued for close than an hour outside the courthouse, where several Northwest students and community members took turns sharing stories and speeches into a microphone, as the hundreds of protesters filled parts of Market and Fourth Streets listening.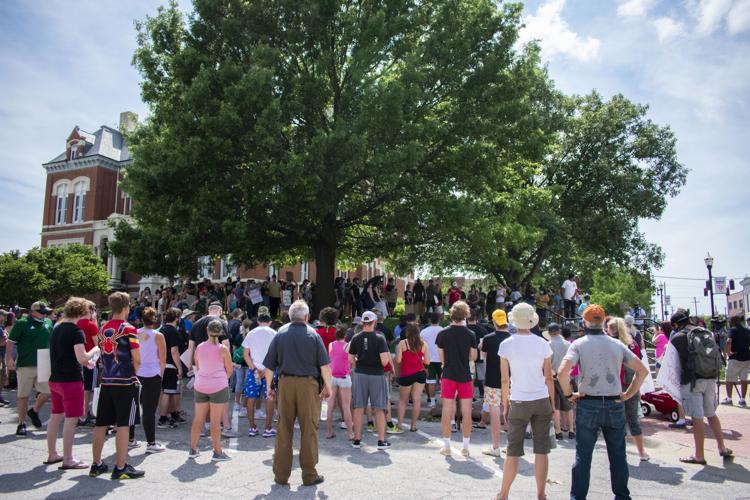 Gathered at the outskirts of the hoard of protesters were more than a dozen law enforcement officers from a multi-jurisdictional team who helped protect protesters amid the threat of violence. Officers from the University Police Department, Maryville Public Saftey and the Nodaway County Sheriff's Office watched over the demonstrators, who gathered in what was ultimately a response to police brutality.
And after violent Facebook remarks threatened to derail the protest days before it ever started June 4, the demonstration remained as peaceful as organizers promised in their first announcements about the gathering June 1. There were no counter-protesters and troublemakers. There was no tear gas deployed. There were no arrests made. Officers didn't issue a single verbal warning.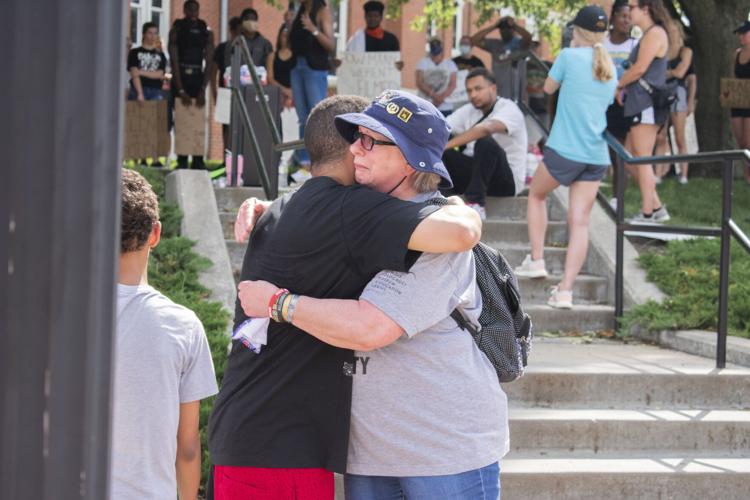 "I think this is a great show of support, as well as momentum that we can really make some serious changes," said Clarence Green, the University police chief, who issued a statement addressing the issue of police brutality June 3. "I'm just really proud of our community. I'm proud of the organizers."
Recent Northwest graduate Natasha Samudzi — one of the event's four main organizers along with Vertreese, recent graduate Emily Madden and Northwest Hope 4 All Coordinator Monica Ziegel — spoke to the crowd about microaggressions she's faced her entire life, about getting called the N-word in the first month of her freshman year at Northwest.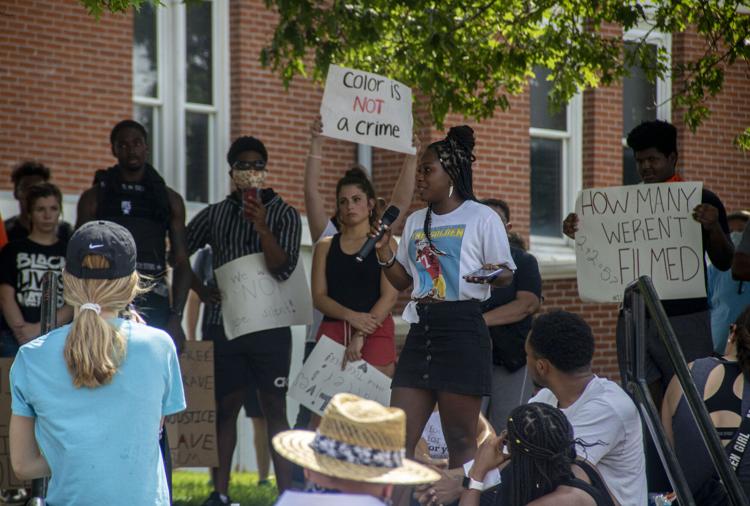 Jessica Piper, a local English teacher, took the mic and said she was at the event "to decenter whiteness," asking white people to make sure they listen more than they talk in the midst of the Black Lives Matter movement. Piper shared a poem, titled 'How to Make a Cardboard Box Disappear in 10 Steps," that she said she's gotten into trouble for teaching to her classes before.
"But until they fire me," Piper said, "I'm gonna keep teaching it."
Elijah Green, a Northwest football player, shared the rage he has felt over the last few weeks. Nyjel White, one of Green's teammates, urged protesters to do more than just protest, to make real change. Zoie Hayward, a Northwest women's basketball player, talked about the value of education in the face of ignorance.
Perhaps the most unlikely speaker to take the microphone outside the courthouse was Pam Peterson, a local grocery store worker who has taken a leave of absence due to her high-risk status of contracting COVID-19. She broke her quarantine for the event because it was important, she said.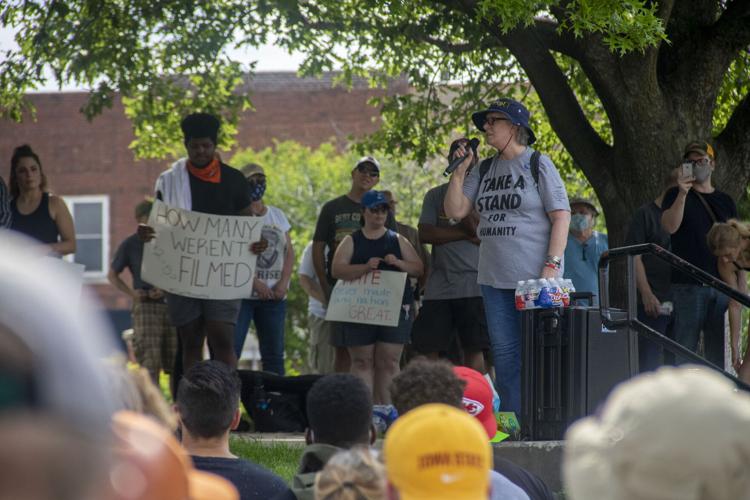 She talked about her father, a police commander who fired unfit officers in the 1970s, who taught her to stand up against racism and bigotry. Peterson said she didn't intend to speak at the event when she arrived. But she wanted to share her story. She wanted to share the hope she gained in Nodaway County June 6 at a protest that was nearly halted by hate two days earlier.
"I'm proud of all you white people who came out here today," Peterson said, her voice breaking. "You give me such hope."