In a red "Make America Great Again" baseball cap sat 69 names scribbled onto small blue pieces of paper. At the end of the of the College Republicans meeting, one of those names would be the new owner of an AR-15 80% lower receiver.
In an effort to heighten publicity, Northwest College Republicans began selling raffle tickets for an AR-15 80% lower receiver Sept. 30. Tickets sold for $10 apiece, or at a discounted price of $5 if purchased while attending a College Republicans meeting. The organization raised $500 from the efforts.
"Sup up my fellow Republicans, let's get rid of this gun," someone at the College Republicans meeting Nov. 4 in Valk 50 said minutes before the meeting began.
College Republicans President junior Jasper Logan led the raffle efforts. He's the one who reached out to Facebook friends looking for an AR-15 donation. He's the one who dug through campus policy, finding no restrictions against raffling off an AR-15 80% lower receiver, and he's the one who drew the raffle winner.
"When I ran to be the president last year, I said I wanted to make our organization known on campus," Logan said. "Make it known that we're active and doing stuff. I think this really accomplished that."
Peyton Jones, a transfer student from Missouri Western, is in his first semester at Northwest and immediately joined College Republicans. He normally attends the regularly scheduled College Republicans meetings but missed for the first time Nov. 4, when his name was drawn as the new owner of an AR-15 80% lower receiver.
Jones had purchased two of the 69 raffle tickets sold.
"I was getting ready to start a flag football game," Jones said. "I looked at my phone, and Jasper sent me a text and said that I won."
The AR-15 80% lower receiver was donated to College Republicans by Robby Theremin from Joplin, Missouri. Theremin knows Logan through working on the Austin Petersen 2018 U.S. Senate campaign together.
Theremin happened upon Logan's Facebook post when he decided to provide the AR-15 80% lower receiver for the raffle. Theremin said the donation was simply "standard operating procedures" for him.
"I'm a gun guy," Theremin said. "I've taught people how to shoot; I enjoy it. I enjoy shooting sports, targets. I don't hunt. I love the machines too. It's something I enjoy doing and enjoy helping other people enjoy."
An hour east of Maryville sits McFall, Missouri, population 91, where Jones grew up hunting with his dad and grandpa — who is a taxidermist, often stuffing deer.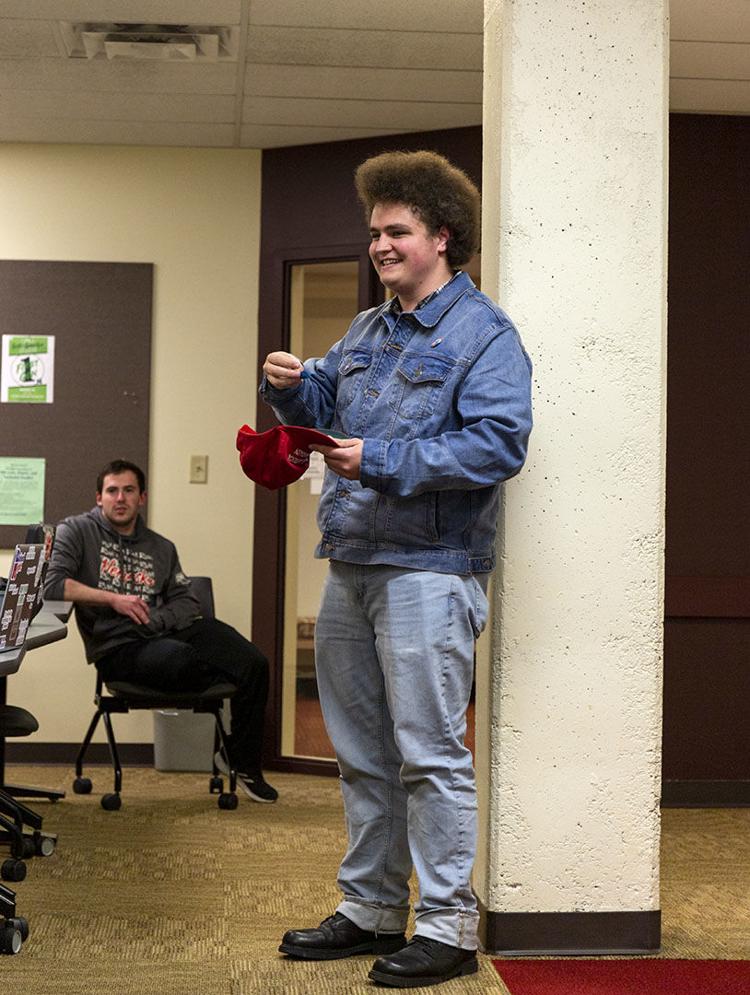 A few weeks prior to the raffle drawing, Jones and his brother bought their first AR-15 from a friend, totaling his gun ownership count to four. Jones said he entered the raffle for the slight chance of winning his own lower receiver. An AR-15, he said, is more-so used for coyote hunting. There are quite a few back home.
"There's a lot of misconceptions about AR-15's and, I guess, guns in general," Jones said. "People just need to do more research before they jump to conclusions."
Theremin already has the 80% lower receiver, market-priced right around $90, and is just waiting on parts to arrive in the mail to finish out the AR-15 before making the nearly five-hour trip north to meet Jones.
"Legally, he has to be the one to finish it. I can't do it for him," Theremin said. "That's considered manufacturing and requires Federal Firearms License, serial numbers and paperwork. So I'll just head up to his place, let him finish it out. I'll loan him one of my uppers so he can test-fire."
College Republicans Treasurer freshman Abigail Shepard said the raffle sale surpassed any expectations the organization had from the get-go. College Republicans had sold 19 tickets by Oct. 21, marking 20 days into the raffle efforts. The organization saw an influx in ticket sales after an article ran in the Northwest Missourian Oct. 24, selling 50 tickets in a 14-day span.
The original intent behind the raffle was to not raise money, though, Shepard said. College Republicans are in a competition with College Democrats, dating back to the Organization Fair Sept. 4, racing to see who can gain the most members.
"I don't know that it accomplished what we hoped in terms of bringing people in. I do know that a lot of people know who we are," Shepard said. "A lot of people have made an opinion on whether they support the raffle or they don't. I think that is good in and of itself because it brings political awareness to campus."
The raffle drew in criticism from alumni on social media and sparked a protest on campus attended by less than 10 people Oct. 30. The protest was organized by Northwest senior Artie Bergren.
Bergren stood at the International Flag Plaza for two hours holding a sign saying "An AR-15 is not the same as a shotgun." The sign was a direct reference to a statement made by College Republicans pointing out that the Northwest trap shooting club has raffled off shotguns in the past.
"It made me very nervous," Bergren siad. "Private sale is one of the main ways that people who are domestic abusers who don't have guns get guns they shouldn't have. That is a loophole that needs to be closed. The fact that the University is incapable of doing anything about this because they have no policy really frustrated me."
Theremin said his whole family owns guns — a lot of them. His wife recently built her own AR-15 from an 80% lower receiver. Both his wife and daughter have built their own AKs, an AK-47 and an AK-74, respectively. Theremin said his gun ownership ratio of bought-to-built is about 10-to-1.
Theremin said he primarily learned how to build his own guns from internet searches.
"I've only built five. I bought, oh God, I lost count," Theremin said.
Jones is just waiting on a text message from Theremin to let him know when the remaining parts to finish out the lower receiver arrive in the mail. Then, Theremin will make the trek to Maryville to teach Jones how create an operable weapon.
It is recommended to get a self-built AR-15 registered, though there is nothing in particular to enforce that notion. Though, if a person not legally allowed to own a gun is found with one, they will be put in prison.
"The art of the ghost gun," Theremin said.