Seven years after supporters famously rallied outside the Nodaway County Courthouse in support of Daisy Coleman, the Maryville teenager whose alleged 2012 rape case was dropped by the county prosecutor, a group of demonstrators gathered steps away from the courthouse doors again Oct. 30, protesting the election campaign of sheriff candidate Darren White. 
Close to a dozen protesters stood outside the courthouse Friday afternoon, chanting to honking passerbys, holding signs that suggested White, who was the Nodaway County Sheriff when Coleman was allegedly assualted, "supports rapists." Other signs served as memorials for Coleman, who died by suicide in August, more than a half-decade after White first led the investigation into her rape allegation, which was later chronicled in a Netflix documentary. Some protesters held signs promoting incumbent Randy Strong's candidacy for sheriff. Others held daisies. 
The protest was led and organized by a pair of women who were friends with Coleman, both of whom met the late activist and tattoo artist after her alleged rape. Skylar Boschen, a student at the University of Missouri-Kansas City, and Sidney Carlson, a resident of Bethany, Missouri, said they started planning the protest close to a month ago after Whtie suggested in an interview with The Missourian that Coleman may not have actually killed herself. 
"That's what started it," Carlson said. "(Coleman's) mom went as far as to send me a picture of her death certificate to be like: 'Do something about this.' Because she doesn't like to speak out about it because of the fact that she's had so much backlash." 
After facing some fallout due to his comments to The Missourian, White expanded on them in an interview with The Maryville Forum, suggesting Coleman may have killed herself, in part, to keep him from winning the upcoming election against Strong, who ousted White in 2016.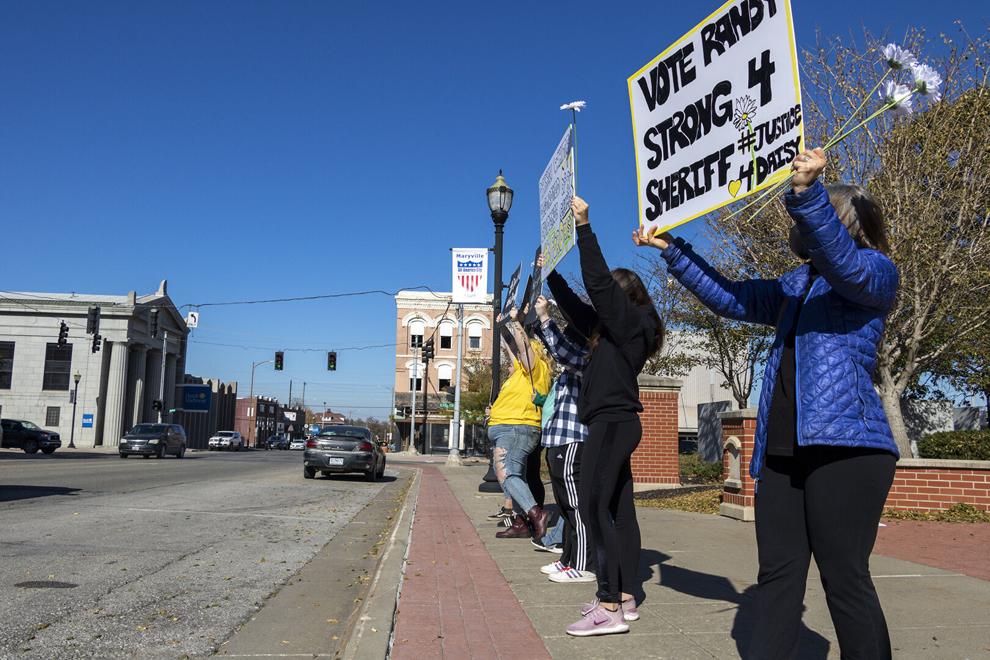 Coleman was 14 years old in 2012, when she was allegedly assaulted by Matthew Barnett, the grandson of a former member of the Missouri House of Representatives.
The case brought national media attention and scrutiny to the same town square where Carlson and Boschen protested Friday, eight years after then-prosecutor Robert Rice dropped sexual assault charges brought against Barnett in 2012. The case was reopened in 2013, though a special prosecutor came to the same conclusion Rice had. Barnett pleaded guilty to a misdemeanor child endangerment charge in 2014, when the case ultimately ended. 
Wearing a yellow t-shirt with the words "No story should end too soon" printed onto the front of it, Carlson said White's comments "disgusted" and "infuriated" her. She first met Coleman after hanging out with her brother, Tristan, before becoming a close friend of the late activist. Coleman gave Carlson several tattoos, and now, there's an unfinished artwork on Carlson's left forearm where she's planning on having the words "Daisy Coleman" tattooed over the top of an array of daisy flowers.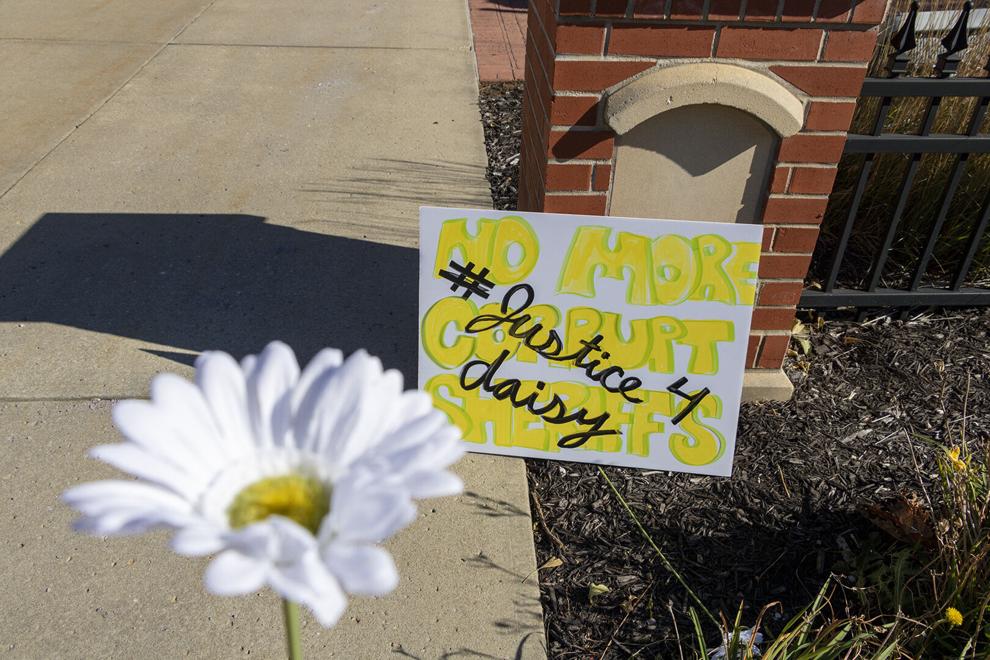 Boschen, who first met Coleman in March of this year after reaching out to Coleman after Boshchen said she was sexually assaulted in January, said White had nothing to do with Coleman's August suicide. Wearing a hoodie with the words "Saving Daisy" on the front, holding a sign that read, "Darren White destroyed evidence of a crime," Boschen said the intent of the protest was to ensure White does not beat Strong in the Nov. 3 election. 
Boschen said the protest's timing was on purpose, taking place four days before Nodaway County voters are set to decide which sheriff candidate will serve for the next four years. She said the protesters hope the election might serve as a referendum on White's handling of the case.
"We just want to get justice for her finally," Boschen said. "Because she never got justice." 
Boschen and Carlson started a petition to help keep White out of office four days before they converged on Maryville to protest. Carlson made a TikTok video earlier this month describing the events that led up to the protest, one that has received more than 60,000 likes. The two women, who aren't registered to vote in Nodaway County, are doing everything they can to ensure White isn't elected. They wish they didn't have to. 
"This just shouldn't even be a thing that's happening," Boschen said. 
"Especially not after she's gone," Carslon said.