Nodaway County voters went to the polls starting at 6 a.m. to vote in an election that has been unlike any other. In Missouri, 827,978 had already voted prior to Election Day. Even in the middle of a pandemic, the polls in the county were still lined with eager voters casting ballots and walking away with "I voted" stickers stamped proudly to shirts. 
The polls are open from 6 a.m. - 7 p.m. and Safe Ride offered free rides for Northwest students to polls from 11 a.m. - 7 p.m. Here's what we know. 
---
County sees high voter turnout and 2 landslide races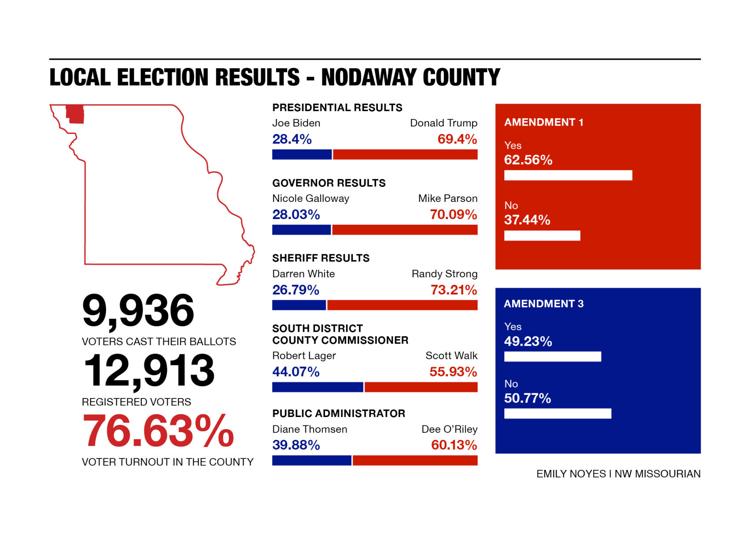 With a 76.63% voter turnout, Nodaway County saw a landslide victory for the incumbent sheriff and a victory for newcomers in the South District Commissioner and Public Administrator races after unofficial results were posted at 9:30 p.m. Nov. 3.
"Voter turnout was big this year," Nodaway County Assessor Rex Wallace said after reading off the unofficial results from each precinct.
Nodaway County Sheriff Randy Strong won the vote by a 46-point margin, receiving 7,155 votes. His challenger Darren White — who served as sheriff of the county for eight years before Strong's tenure — received 2,618 votes.
In the South District Commissioner race, newcomers Scott A. Walk and Robert D. Lager faced off, with Walk prevailing by 10%. Walk is the health and safety manager for Northwest Missouri State University and the manager of Walk Farms; he received 3,128 votes. Lager received 2,558.
Incumbent Public Administrator of 12 years Diane Thomsen was defeated by Republican challenger Dee O'Riley, who serves as city clerk, treasurer and a tax preparer in Hopkins, Missouri. O'Riley received 5,772 votes, and Thomsen received 2,828, a 34-point difference.
Nodaway County had a total of 12,913 registered voters this year, and 2,161 people voted absentee or by mail.
In Nodaway County, 70.09% voted for Gov. Mike Parson — the unofficial winner —, and 28.03% voted for Nicole Galloway.
- SAMANTHA COLLISON | News Reporter | @sammiecollison & KENDRICK CALFEE | News Editor | @calfee_kc
---
With all 17 precincts reporting, and 2,161 absentee and mail-in ballots counted, here are the unofficial results for the Nodaway County elections:
In the South District Commissioner race, Scott A. Walk won with 3,128 votes, and Robert D. Lager received 2,558.
In the Nodaway County Sheriff race, Randy Strong won with 7,155 votes, and Darren White received 2,618.
In the Public Administrator race, Dee O'Riley won with 5,772 votes, and Diane Thomsen received 2,828.
This year, there were 12,913 registered voters and a final voter turnout of 76.63%.
- KENDRICK CALFEE | News Editor | @calfee_kc & SAMANTHA COLLISON | News Reporter | @sammiecollison
---
County poll workers say they saw a large voter turnout 
Poll Supervisor Deb Vaughn said she was pleased with the turnout.
"I don't care how they vote, just vote," she said.
Vaughn was the worker who gave Maily Baker the sweatshirt after realizing her shirt said "F*** TRUMP." Vaughn instructed Baker to leave the sweatshirt on until she had been escorted to the exit.
At least four people were seen wearing "Trump 2020" hats into First Christian Church. Anyone wearing a Trump hat was instructed by Vaughn or another poll worker to put the hats under their shirts while they voted. Vaughn said one responded accusing her of being a part of those "liberal people" but eventually removed his hat.
Two college poll workers were instructed to continuously sanitize booths, pens and other surfaces with lysol or disinfecting wipes. Those who refused to wear masks inside claimed they had a medical condition that prevented them from wearing one. Vaughn even offered to provide them with a disposable mask from a box of 100 masks next to the door. They still refused.
"We were told in our training we can't push or ask why," Vaughn said.
Despite Vaughn's 20 years of experience working at the polls, she said this year's training by County Clerk Melinda Patton was beneficial to prepare for a unique election day.
Patton informed Vaughn that 10% of the county had voted before election day. With that information Vaughn predicted it would take out a large portion of the turnout but said it felt like everyone came to vote today.
- ABIGAIL STARR | News Reporter | @abbeystarr5
---
Poll workers enforce election rules on exit polling, campaigning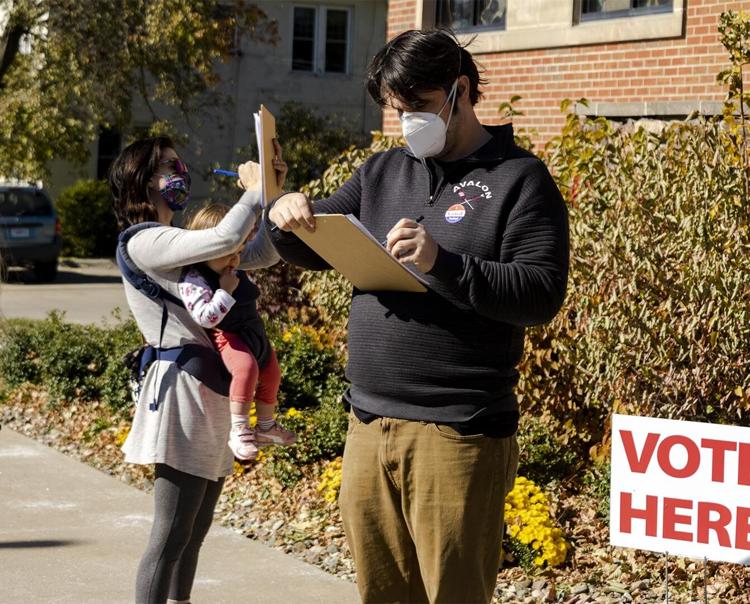 Senior Lauren Earnest sat with two student volunteers handing out her exit polls to voters. The poll consisted of an information page explaining why she was there and why she was allowed there, questions about voter demographics, how voters voted and their opinions on the mask mandate.
Instructor Benson Herrera aided Earnest in maintaining three permits from the city of Maryville, Nodaway county and the state of Missouri to allow herself and other political science students to hand out the bipartisan questionnaire. Earnest said she hopes to be the first undergrad to publish a study on COVID-19.
A poll worker instructed the group they could not be electioneering within 25 feet of the building on three occasions, to which Earnest replied she was not electioneering, only conducting research allowed by the University and the city. The group measured their distance from the door with their feel each time she asked them to move further from the church. The group calculated they were more than 25 feet away. Earnest became increasingly agitated with the poll worker's requests.
"It's not electioneering because we're not pressuring anyone a certain way," Earnest said. "We want them to tell us what they believe not the other way around."
Sophomore Maily Baker arrived at First Christian Church around 3 p.m., wearing a shirt reading a black shirt with read and blue letters reading "F*** TRUMP." The U in the word was replaced with a cartoon image of Trump's face.
When she went into vote, she was told she had to put a sweatshirt over her current attire to be allowed to vote.
"I mean I understand but it's kinda dumb," Baker said. "Biden is the lesser of two evils. His character and policies are better but it's more about Trump's character."
Northwest students Aubrey Rains and Tanner McInney said they voted for Trump because his morals align with theirs.
"Many people fought for our right to vote and Trump defends our military," Rains said.
McInney explained he admired Randy Strong's, the current incumbent, work during COVID-19.
"When officers were offered half shifts and more pay to lessen the risk of them getting COVID-19, Strong worked harder and didn't take the money," McInney said.
- ABBIGAIL STARR | News Reporter | @abbeystarr
---
 Poll workers try to keep up with COVID-19 mitigations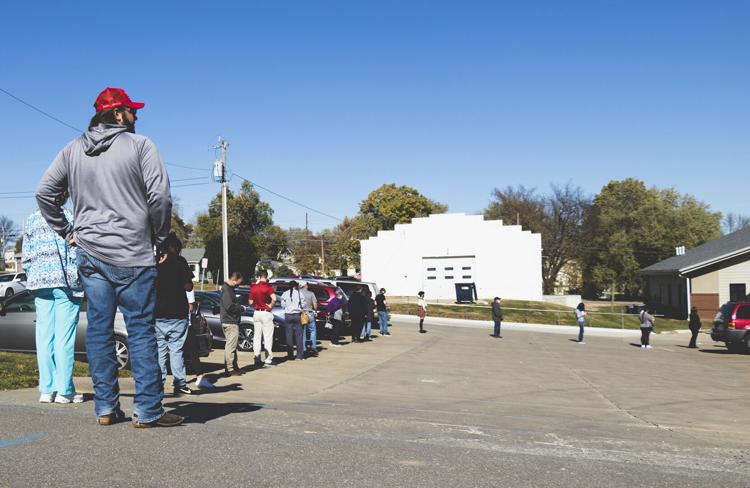 Following a busy morning at First Christian Church, Robert Hutton stopped to take a break to clean the door handles, polling booths and ballot machine.
Hutton said he volunteered to be a poll worker with the hopes of saving an older person from exposure to COVID-19.
"I had it earlier this year, and I'm feeling fine," Hutton said. "I already voted in my county, and I thought I should still fulfill my civic duty on election day."
Hutton said wait times are as little as five to 10 minutes depending on the voter's last name and if they have the proper identification. The ballot machine takes around 15 seconds to process the ballot before it can take another; Hutton said that's the only the location has struggled with.
Poll worker Terry Vaughn said a few voters have entered the church without masks on. While Vaughn and other poll workers did their best to enforce the mask mandate, they couldn't refuse the voters a ballot. They were still allowed to vote.
"They made a little fuss and we did back, but they weren't in here very long and we disinfected after," Vaughn said.
First-time poll worker Christine Benson said she was glad to see so many young people at the polls.
"It's been a good experience," Benson said.
Instructor Benson Herrera's student has been looking for internships this fall with Missouri senators and representatives but has been rejected due to COVID-19 closing internship opportunities. The surveys at all three Maryville polling locations are meant to replace the hands-on experience the student would get at an internship.
- ABBIGAIL STARR | News Reporter | @abbeystarr5
---
Hundreds of voters head to the polls, off to a smooth start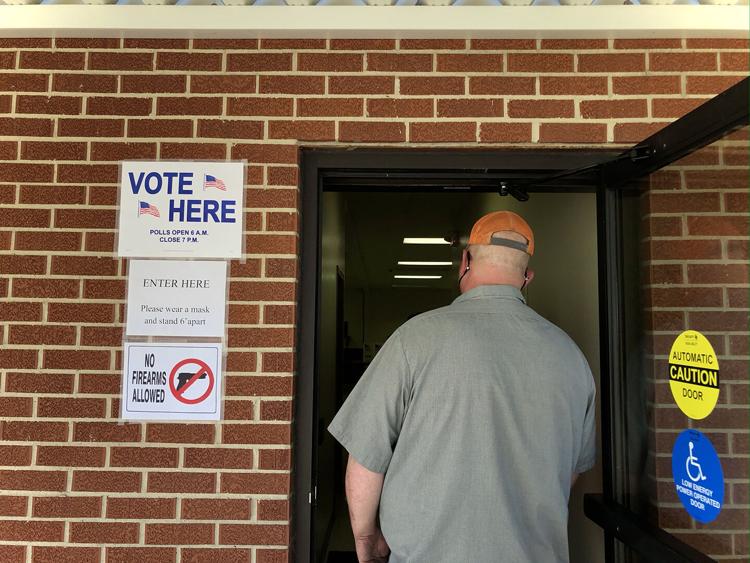 Hundreds of registered Nodaway County voters congregated at First Christian Church to cast their ballots with masks in hand and decisions in mind Nov. 3
A majority of the voters described this election as crucial, historic and important. Following COVID-19, the Black Lives Matter Movement and the inauguration of Justice Amy Coney Barrett, voters said they were passionate and eager to make their selections. Local elections were important as well, following the demonstration against former sheriff Darrent White Saturday.
Poll Worker Terry Vaughn said the turnout was huge and one of the largest he'd ever seen, particularly in college-age voter turnout.
"It's exciting to see," Vaughn said.
Vaughn predicts the county will know the results tonight as many ballots have already been counted.
Maryville Resident Steven Derks said he voted to keep America great again with President Trump's ideas. Maryville Resident Earl Livesay agreed that Trump was the best choice over the democratic party.
Maryville Resident Bill Moran said he votes a straight republican ticket every election due to his distrust in the democratic party. Maryville Resident Kim Mitchell voted for Trump because of his economic success and the promises he's kept.
"I had a gut feeling Trump would maintain the fiscal direction we should be going toward," Mitchell said.
The inauguration of Justice Barrett pushed Northwest Senior Britan Jorgensen to vote for Biden. Jorgensen fears Justice Barrett will take away her rights as a woman and the rights of LGBTQ Amercans as a devout Catholic. This step by the Republican Party only affirmed Jorgensen's vote for Biden as the best candidate on the ballot.
"Donald Trump is a racist, misogynistic, homophobic, et cetera et cetera. I could go on," Jorgensen said. "I'm feeling stressed and terrified of what she'll do for women."
Maryville Resident Daniel Stigall also voted for Biden on a count of what he called "Trump's poor representation of what a good American is."
Northwest junior Shay Midkiff voted for Biden and said he hoped many others his age would do the same.
"This is the most crucial election our country has ever faced. It's important if you're of age and have the ability to vote," Midkiff said.
Maryville Resident Fiona Holly said neither party represented her as a voter and didn't vote for either candidate. Holly voted third party in 2016, but said this year it was even more challenging to choose a leader.
"People feel forced with the two-party system," Holly said. "Both parties need to be held more accountable."
Brandon Thurman also said he was tired of the two-party system, often referencing the warning from the United States founding fathers to avoid dividing the nation.
Thurman voted absentee in a previous presidential election while serving in Kuwait. He recalled a bin of absentee military ballots being found after the election and has since lost trust in the absentee and mail-in system.
Maryville Resident Michael Richardson voted forTrump in person, but said he has complete trust in the absentee and mail in ballot systems after working in IT and witnessing how the ballots are handled.
Richardson said he voted for Randy Strong, the incumbent sheriff, after White "left a bad taste" in his mouth. Many agreed with him based on Strong's record and the result of the Daisy Coleman case under White's administration.
Northwest employee Sue Millykangas agreed Strong was the best candidate for sheriff based on her experience calling Strong when domestic disturbances happened near her home.
Maryville Resident Jill Kain decided to vote for Strong after viewing the Netflix documentary "Audrie and Daisy."
Maryville Resident Ian Chandler voted for Darren White to align with the rest of his democratic ticket.
"I like feeling involved in my party," Chandler said.
While Chandler attempted to answer the question of whether or not COVID-19 mitigation efforts were followed, a woman walking behind him shouted "No, they were breathing down my neck," and walked to her car.
Other voters like Jorgensen agreed there wasn't enough space in the venue to maintain six feet along with the line filling up the lobby most of the morning.
Livesay, however, wasn't phased by the supposed lack of distancing as an essential worker.
"None of it bothers me anymore, I've worked through it," Livesay said.
Amendment 3 was another issue on the ballot, sparking controversy over it's phrasing and multiple questions.
Booth voted yes due to the limiting of lobbyist gifts to $5 and campaign contributions to $2,500.
A sign hung on the door of the church reading "No campaign materials or campaign clothing allowed in polling place, at least three men wore "Trump 2020" hats into the building and exited with them on.
Political Science students stood at the bottom of the steps at First Christian Church handing out surveys regarding their feelings surrounding the election and mask mandates in the county. Professor Borson Herrera created the survey to assist a student with a desire to get into graduate school.
"I love helping students and this is just an important day to be polling too given the circumstances," Herrera said.
- ABBIGAIL STARR | News Reporter | @abbeystarr5