Being a resident assistant or a resident director can be stressful in general, but with additional responsibilities amid a semester of COVID-19 mitigation, the job has become tougher.  
A resident director's job is to be the full-time staff member in charge of a residence hall. They supervise all the RAs and the assistant resident director, while working together to advise the RAs for the programs they host, tracking those programs. 
Additionally, resident directors are in charge of the hall budget, which includes funds RAs have to use as well as other operational purchases that need to be made, such as supplies for behind the desk. A diversity program residence halls are involved in, Building Relationships and Integrating Diverse Growth Experience, is also overseen by resident directors. 
Resident directors are the ones who listen to any conduct cases that happen within the residence halls. A big part of the resident director job is being on call during the semester. There are six resident directors on campus who take turns serving on call. They are the ones the RAs call if there is a situation on campus. 
Now, with COVID-19, they have to follow even more rules. They have to ensure that all the residents are following the campus's mitigation policy. That might include setting up their own safety procedures, making sure everything is spread out carefully or reminding people to wear masks. 
Trey Carlson, resident director for Hudson-Perrin, said that his biggest challenges have been COVID-19-related. 
"Planning programming for residents has been tricky with trying to maintain social distancing while also encouraging community involvement," Carlson said in an email.
Carlson said another challenge has been reminding residents to be safe and wear their masks, but he said his biggest challenge has been getting to know his residents. 
"I know the student staff very well, of course, and they tell me how their floor is doing, but in the past I have been able to have an open door in my office and residents have been able to stop in and say hello. This year with COVID, that has not been the case for me," Carlson said in an email.
Carlson said that hall council has been slow to get going, another issue he attributes to COVID-19. 
While there have been some rough spots for people this year, there have also been bright spots. Carlson said that even though this is his first year at Northwest, it has been a good experience so far. 
"I have had some great mentors to lean on this semester who have been here for a long time, which is really helpful," Carlson said in an email 
An RA lives in the dorms, just like the other students they help. There is at least one per floor, but in some cases there are two. 
RAs keep an eye out for each of the students on your floor and ensure the rules implemented before COVID-19's impact on the residence halls are still followed. They are also required to work the front desk, answer questions, always be available, stay up late sometimes, help resolve conflicts, present events and program opportunities and confront policy violations. While doing all this is as an RA, students also have to make sure to do all their work on time. 
Brittani Platt, a sophomore RA in Hudson-Perrin, said the biggest challenge she faced was managing her time and putting her school work first. 
"The RA job is a big time commitment, and you have to put a lot of energy towards it," Platt said. "Many times I caught myself putting more focus on my job than my schoolwork, which very negatively impacted me." 
Platt said that one of the very first things they were told in their training is that they are students first.  
"You have to try your best to stick to that," Platt said. 
She said that another challenge she's faced is how emotionally draining the job can be.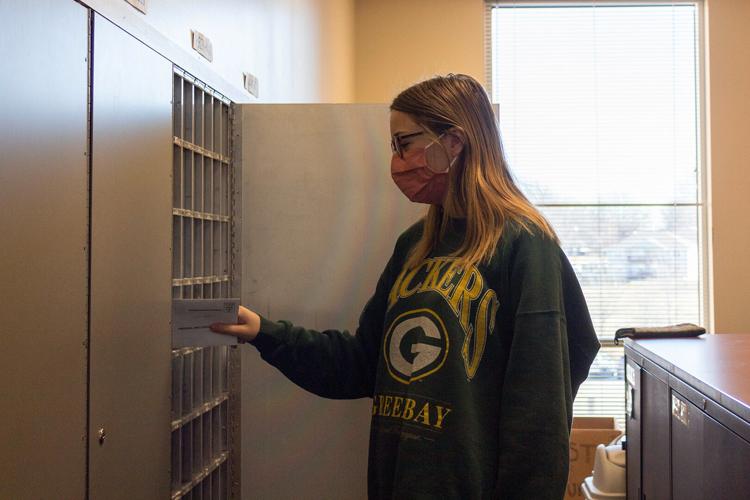 "As an RA, you face a lot of very hard situations that can really take a toll on your mental health," Platt said. "It's especially hard because you can't really talk to many people about what happens because it is confidential." 
Platt said the job has helped her grow as a person, but she does not plan on returning as an RA. She said she encourages anyone who is interested to join Residential Life.
Jessica Honz, sophomore and RA for Franken Hall, said time management and school motivation have been hard this semester. 
"The hybrid schedules are weird for some classes. They don't meet every time that they could, so you feel like you have more free time than you actually do and it's easy to procrastinate on assignments," Honz said. 
Honz said on top of that, the RAs have duties throughout the week that take up the rest of the time. She said she thinks the hardest part of this semester is helping new students transition, get involved and acclimate to the Northwest experience.
"Because of COVID, many fun events like football games have had to be cancelled or postponed, which makes it hard to meet people and make friends. In general this year has been lonely for a lot of people," Honz said.    
Even with COVID, there are still some positives that have come from this year for RAs. 
"I actually think it's easier," said Aaron Simpson a sophomore RA for Hudson-Perrin. "There's less people going out, so you don't have to worry so much about people getting into trouble." 
Simpson said that the only COVID-19-related problem he's had is making sure people are wearing their masks.  
"I think the biggest challenge for me is just having to always be available now," Simpson said.  
Honz also reflected upon some positives with working in the residence halls.
"A positive of this year has been getting to work with an amazing Res Life staff. It's really nice to have an instant group of friends who understand exactly what you're dealing with," Honz said.
Carlson said that working with the all of the residence hall staff has been amazing, and it's definitely made easier having such a big staff at Hudson-Perrin. 
Residence hall staff are now preparing for finals, next semester and possible new residents in the spring.