As Northwest gets set to welcome roughly 7,000 students back onto its campus for the first time since March in the coming weeks, the University first welcomed Mike Parson — Missouri's governor who has faced criticism in recent weeks for his comments making light of school reopenings amid the COVID-19 era — to discuss how the school plans to handle the influx of students and resumption of in-person classes.
The governor, who arrived on campus just before 2 p.m. August 3, wearing a disposable mask, met with leaders from both Northwest and Missouri Western State University for nearly an hour in a closed-door meeting to "try to learn as much" as possible about the schools' reopening plans and how Parson and the state could assist in those efforts, he said.
After the meeting ended and the doors to the boardroom on the third floor of the J.W. Jones Student Union reopened, Parson stood behind a lectern and removed his mask — replacing the disposable mask with a Northwest-branded one — before telling a group of physically-distanced reporters he "couldn't be more pleased" with the way University leaders have responded to the pandemic and prepared for in-person fall semesters.
"I think the education community, above all, is doing exactly what they need to do," Parson said. "They're preparing. They're trying to give those parents, those students the confidence — the administration — to come back into the workforce and to do it as safely as possible. I guarantee everyone I'm talking to — safety is at most upon their minds, and as long as they keep that on the forefront, we're gonna be fine.
"We're gonna be fine in this state," he said. "We're gonna move forward."
Parson praised University officials — including Northwest President John Jasinski and Western's Interim President Elizabeth Kennedy, who stood alongside the governor — for the creativity and work they put in preparing the two schools to reopen in the coming weeks.
But as Parson emphasized the need for continued increases in testing and broad efforts in contract tracing, it's still unclear how Northwest will handle either, though Parson said "it appeared everybody had a good plan for that." Jasinski said Northwest is armed with a capable testing capacity, but he expressed concern about the rate at which test results trickle in — a fear echoed by Parson.
And while Parson noted a "box-in strategy" that he said Universities across the state have in-place, Northwest hasn't made-public any mitigation efforts fitting the governor's description and neither Jasinksi nor Kennedy noted the method when providing examples of each school's mitigation efforts.
---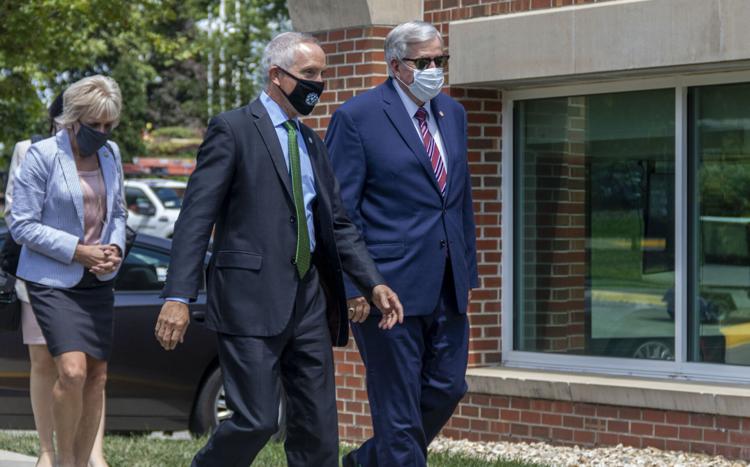 ---
After emphasizing Northwest's need to be "agile" in adapting to the rapidly-changing COVID-19 outbreak at the last month's Board of Regents meeting, when Northwest announced its plan for a 14-week in-person semester, Jasinksi evoked the phrase again Aug. 3, though it's not clear if the University has made any alterations in the since posting initial mitigation efforts in late June to the school's website. COVID-19 cases in Nodaway County have increased by more than 800% since then.
Northwest will require students and staff to self-monitor for symptoms of COVID-19, wear face coverings in public settings and maintain a physical distance of at least six feet. Additionally, the University has added physical barriers and partitions at high-volume service stations where distancing isn't possible.
"Well, I'd say the changes in our plans have been just daily monitoring all the conditions, making sure that our faculty are ready to go, our staff and our students — our student leaders and our student organizations," Jasinski said, before noting the COVID-19 dashboard the University built in partnership with the Nodaway County Health Department, as well as an internal dashboard Northwest will use to guide decisions going forward.
Northwest, Jasinski said, is largely focused on messaging as the University's scheduled Aug. 19 start date looms and as COVID-19 cases continue to spike in Nodaway County — something that was apparent nearly as soon as the school's president replaced the governor behind a lectern on the third floor of the Union.
Facing a group of photographers, reporters and officials from both universities, Jasinski started an impromptu opening statement by telling the crowd, "You're part of it, right?" Because we're all in this together," — a theme he stuck to for much of the next 10 minutes.
"While, you know, if I'm a sophomore, I might feel invincible, right? But then I'm going back into the communities, going back to loved ones and so on, you know, I'm part of it," Jasinski close to five minutes after his opening remarks. "We're all part of that solution together. I think it's how we communicate."
In his emphasis on messaging, Jasinski acknowledged the difficulties the University and community might face in mitigating the spread of COVID-19. More than 100 of Nodaway County's 174 positive COVID-19 tests have come from individuals in their teens and 20s, some of whom are Northwest athletes, players told The Missourian. Jasinski declined to confirm whether athletes had tested positive and said that any potential triggers that might cause Northwest to shut down campus operations would be "composite" metrics.
---

---
"Not any one measure will dictate what we're doing," Jasinski said.
For Parson, the meeting was the latest in a tour of them taking place across the state that started close to a week ago, he said, as the leading Republican candidate for the governor in Aug. 4's primary election makes his way across Missouri, hearing from school district and university officials as education gets set to resume in the coming weeks. An hour after Parson left Northwest's campus, he was slated to meet with officials at Truman State University in Kirksville.
Parson said he has talked to university leaders about funding, an area where he said higher education institutes "took it on the chin" when the state cut their funding by 13% after the state's economy shut down in the pandemic's early months. He said he's hopeful some of that money, which was withheld rather than entirely eliminated, could end up finding its way into education down the road with the state's economy "looking a little better" than what state officials thought it would.
And Parson, who allocated close to $15 million in the state's first round of CARES Act funding from the federal government to the tourism industry as universities across the state were forced to dip into reserves to offset losses in the spring, said he believes funding from the expected second round of CARES funding will find its way to institutions like Northwest.
Moments after the governor said the state would be "more than happy" to help universities with contract tracing and the funding required to contract trace as outbreaks arise on campuses this fall, Jasinski praised Parson and thanked him for visiting the campus and sitting down for what the president said was Parson's first roundtable discussion as governor.
"One thing that was evident to me is that he understands many of our significant issues," Jasinski said. The president in his 11th year of service talked about the budget restrictions the state and University had dealt, about "workforce development" — a phrase emphasized by the governor before and during the pandemic. He said the governor understood him.
"He understands that the decisions at the state level do impact us here," Jasinski said.
Parson, by then, had slipped out of the boardroom and had left Northwest's campus. As Jasinksi placed his funding hopes on the governor, Parson was on his way to Kirksville.