While juggling mitigation efforts, enforcing a local mask mandate and working to keep inmates at the jail safe, Nodaway County Sheriff Randy Strong did everything he was advised to do amid the local response to the coronavirus pandemic. But he still tested positive for COVID-19.
"It's just the reality of the pandemic," Strong said. "(I was) careful but still got it."
Strong has seasonal allergies. He said with a high pollen count in August, he began the month already congested. But the night of Aug. 28, he felt the congestion with increased intensity and felt bad enough to get tested for COVID-19.
The day of his test, he was in such a state of exhaustion that he fell asleep in his parked car while waiting for his rapid-test results. Later stumbling into the care center with a temperature of 104, he heard what came at no surprise to him — he was infected with the coronavirus.
Relieved from duties for the time being, he was sent into isolation. Strong says his story, one among many law enforcement personnel nationwide, shows why taking extra precautions, on and off duty, is important.
"It just really drains you," Strong said about the physical toll of the virus. "My biggest fear is that I may have exposed my wife to it."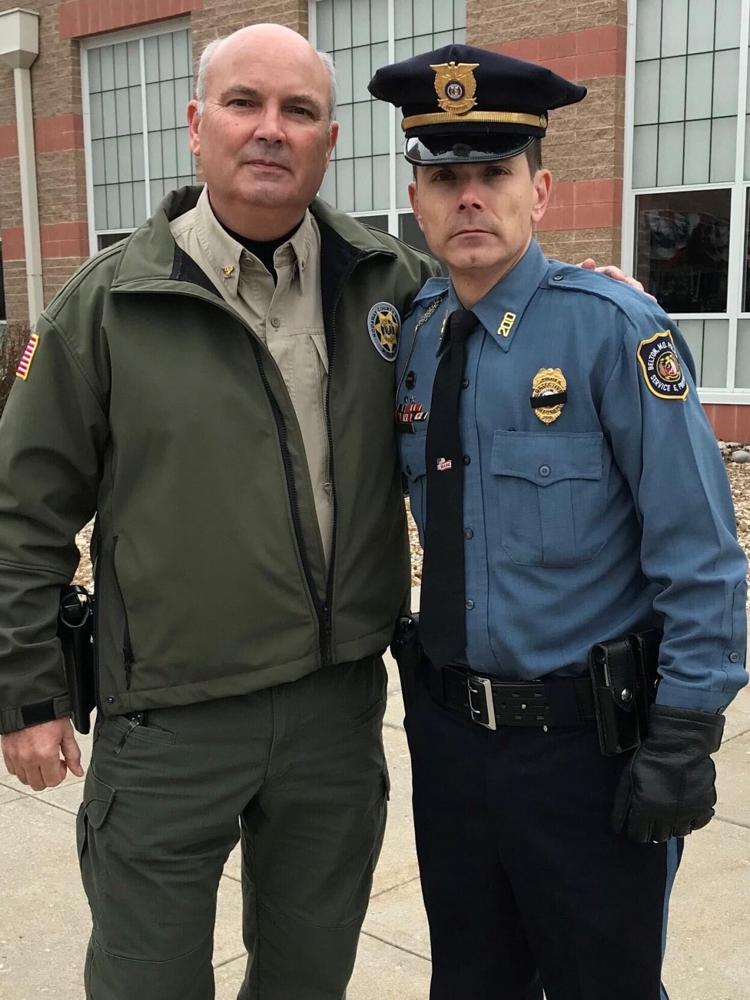 Strong is one of many Nodaway County first responders who have been an influential role in local COVID-19 relief efforts, adjusting their operating strategy to fit the Centers for Disease Control and Prevention and local health official guidelines. 
Even with new preventative measures in place, those patrolling the county are at risk for exposure, balancing public safety and their own.
Strong helped enforce a local face covering ordinance that went into effect in July. He said the department had to make obvious adjustments like furthering sanitation efforts, learning how to social distance when enforcing laws and wearing a face covering on duty.
The county jail had to undergo changes to protect inmate and employee health. Visitation became limited to virtual meetings with approved individuals, and with funds from the Coronavirus Aid, Relief and Economic Security Act, the department purchased special ultraviolet lights, which kill the virus, to be used in the jail and in patrol cars.
Initially, the state provided local law enforcement guidance, but later on, the Nodaway County Sheriff's Office and Maryville Public Safety had to adapt and find their own ways to serve and protect in unprecedented circumstances. 
"What we discovered very early is that the courthouse, with as old as it is anyway, is certainly not set up to deal with a pandemic," Strong said. "Nor is the jail."
To curb this issue, a portion of the jail was converted into an isolation area, where inmates who showed symptoms would be housed separate from the general population. Every day, staff members are screened for symptoms and have their temperature taken.
As of Sept. 2, there have been no positive cases of COVID-19 among inmates in the jail.
Sheriff deputies and Maryville Public Safety Officers alike are now weary of any call they go on, keeping in the back of their minds that they may come in contact with someone who is sick. Dispatchers are asking callers, in situations where someone will be sent to the scene, if anyone is having symptoms.
Strong said normally when an ambulance is called, a deputy will accompany the emergency medical technicians at the scene for any help they may need. Now, unless they are absolutely needed, deputies avoid this kind of extra contact with county citizens.
The county also had to let minor traffic stop violations like expired plates go without intervention, as long as it wasn't a hazard, in order to limit contact. Additionally, all undercover narcotic activity, like controlled drug buys, has been suspended until those actions are safe for officers again.
In these ways and more, the novel coronavirus has been affecting law enforcement nationwide since at least March. Small communities in middle America like Maryville are more recently seeing the virus' overwhelming effects on resources, primarily through law enforcement and the criminal justice system.
A recurring issue that just became worse for Maryville during the pandemic is the municipal court's backlog of cases yet to be tried. Though they are scheduling out court dates, COVID-19 has seeped into this part of the justice system, delaying cases and seeing more pile on when municipal court was suspended for mitigation concerns.
"Court was suspended for a long time," Strong said. "When it opened back up, things got very labor intensive."
Working through the backlog of cases, the judiciary had significant action when it came to the county jail. Offenders of nonviolent crimes were released with judges approval, clearing space in the 44 bed facility for offenders who were deemed a danger to the community.
Strong said this change also came with elements of criminal justice reform, which is coming in waves across the country. In Nodaway County, when local ordinances went into effect, crime rates went down and the jail was less crowded.
"People aren't being held in jail unless it's a violent offense or they are a danger to society. At least in this area," Strong said.
Even with crime rates down, the toll of policing during COVID-19 remains. 
Police officers are testing positive for COVID-19 at alarming rates nationally. According to Time Magazine, 17% of the New York Police Department was sick in April. At that time, the NYPD recorded five COVID-19-related deaths on the force. 
At the same time, in New Jersey, 160 police personnel tested positive for coronavirus, and more than 1,000 were in quarantine. 
In Nodaway County, the number of coronavirus-infected officers are toned down compared to large cities across the nation. But even so, as of Sept. 2, there have been three positive cases of COVID-19 among law enforcement members. In Maryville Public Safety alone, three officers have had to quarantine at different times for being close contacts.
Positive cases of COVID-19 have seen a gradual rise locally since nearly 7,000 college students made their return to Maryville. Nodaway County averaged 30 cases per day in the last week.
Maryville Public Safety Patrol Sgt. Mike Stolte went out of his way to stop by five house parties during move-in weekend for Northwest. He said, for the most part, everyone at the gatherings had a face covering available with them.
"I told the kids 'Hey, we're not here to write tickets and whatnot; we just want everybody to social distance and wear masks,'" Stolte said.
Stolte said he felt as if the message he communicated to Northwest students was well received, until he drove by two of the same social gatherings an hour later and people ceased to social distance.
"Everyone went back to not wearing a mask," Stolte said. "Whether it set in or not, I mean, you could probably look up the numbers and agree that it's not helped the situation."
Amid its third week of in-person classes, Northwest reports 189 active cases of COVID-19 as of Sept. 1, with 44 cases on campus and 143 off campus.
With this in mind, deputies from the sheriff's department and officers from Maryville Public Safety continue to enforce the mandate by educating and gaining compliance, putting forced compliance on the backburner.
"We've seen these ordinances going out nationally," said Ron Christian, Maryville public safety's interim director. "Our primary objective when enforcing it is to get compliance without issuing tickets or a summons."
Christian said Maryville Public Safety has the goal to primarily educate Northwest students of the ordinance, why it is in place and get compliance without force.
"We don't want to write tickets if at all possible," Christian said. "We just want people to be safe so everybody can focus on college experience rather than being sick."
Christian said the biggest issue Maryville Public Safety is having to curtail in the community is irate customers who would arrive at an establishment and feel they didn't need to wear a mask.
Stolte is one of many Maryville Public Safety officers who has responded to angry community members throughout various city ordinances in response to the pandemic. 
People have called public safety when denied service for not complying to the face covering mandate, asking officers to force an establishment to provide service.
"It doesn't matter what they refuse them for. That's not on us; that's not our concern," Stolte said. "What we can enforce is the fact that the business no longer wants that person on their property."
At that point, when informed of their options, the angry customer has always complied, and as of Sept. 2, no arrests have been made for direct, aggressive noncompliance to the ordinance.
Despite extra stress and having to change some operational strategies, officers and deputies have remained hopeful during local response to COVID-19.
"My end goal every night is to get home to my family and get my fellow officers home to theirs," Stolte said. "If everybody can just come together for a little bit, I think we can beat this."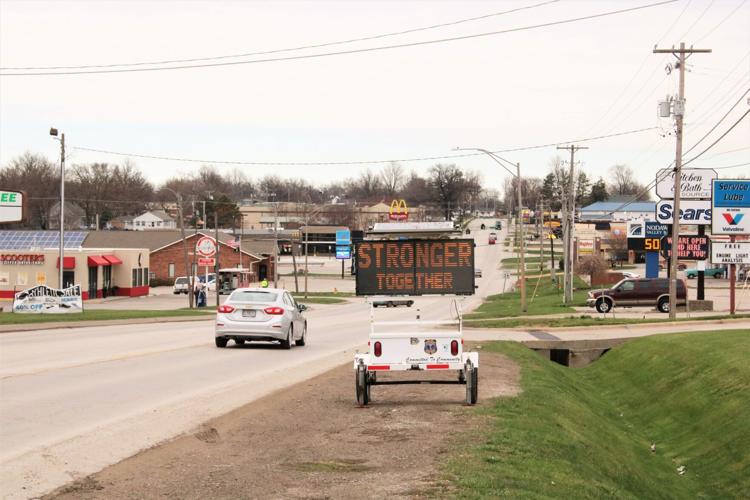 Northwest University Police Chief Clarence Green sent a tweet Aug. 19 with a video addressing students, encouraging them to follow mitigation measures.
"This year will be filled with challenges, and a ton of them will be linked to the constant changes that will be occurring," Green said.
In the video, Green noted UPD will undergo additional training and submitted an application to begin Law Enforcement Accreditation. This process is rigorous, he said, and less than 25% of law enforcement agencies are accredited.
University Police, the county sheriff's department and Maryville Public Safety often collaborate on issues. Strong said agencies all share the same top priority.
"We're all on the same page," Strong said. "We all see the common goal is to take care of (the community). Until the whole community is on the same page, this virus will continue to spread."