Five students sat on the stage, packing lunch sacks with buttons, resource cards and bandanas, attempting to connect those in need with counselors who can help. Active Minds members neatly folded bandanas, welcoming students as they came in. 
The soft launch of the "Green Bandana" campaign began there at 6 p.m. Sept. 23 in the Charles Johnson Performing Arts Center. Each student in attendance could donate $1 to the organization in exchange for a green bandana, a button and a stack of cards with various mental health resources listed. Bearcats can then approach students with bandanas throughout the semester and ask for a card. All students are encouraged to participate in the campaign. 
The campaign was created at the University of Wisconsin-Whitewater and has spread to campuses across the country. 
"I think Northwest has great mental health resources but people don't know about them," Active Minds President Cayla Vertreese said. "I worry that if they don't get utilized they will go away."
Some of those resources include the University Police Department, Mosaic Behavioral Health, Mosaic Hospital, the National Sexual Assault Hotline, the Northwest Wellness Center and other hotlines. 
Active Minds is a nationwide nonprofit organization focused on opening up the conversation around mental health and creating change in the way mental health is treated. Vertreese brought Active Minds to Northwest last year, with the goal of keeping people from having the same experience she had her freshman year.
Vertreese was hospitalized due to mental illness her first year at Northwest. She suffers from major depressive disorder and anxiety. Mosaic Medical Center - Maryville held her for her own safety for six days the Thursday before Labor Day weekend. For a period of that time, she was not allowed to call her family, boyfriend or friends, she said. She was allowed to journal only at certain times because she wasn't allowed to have a pen for fear she may hurt herself or others.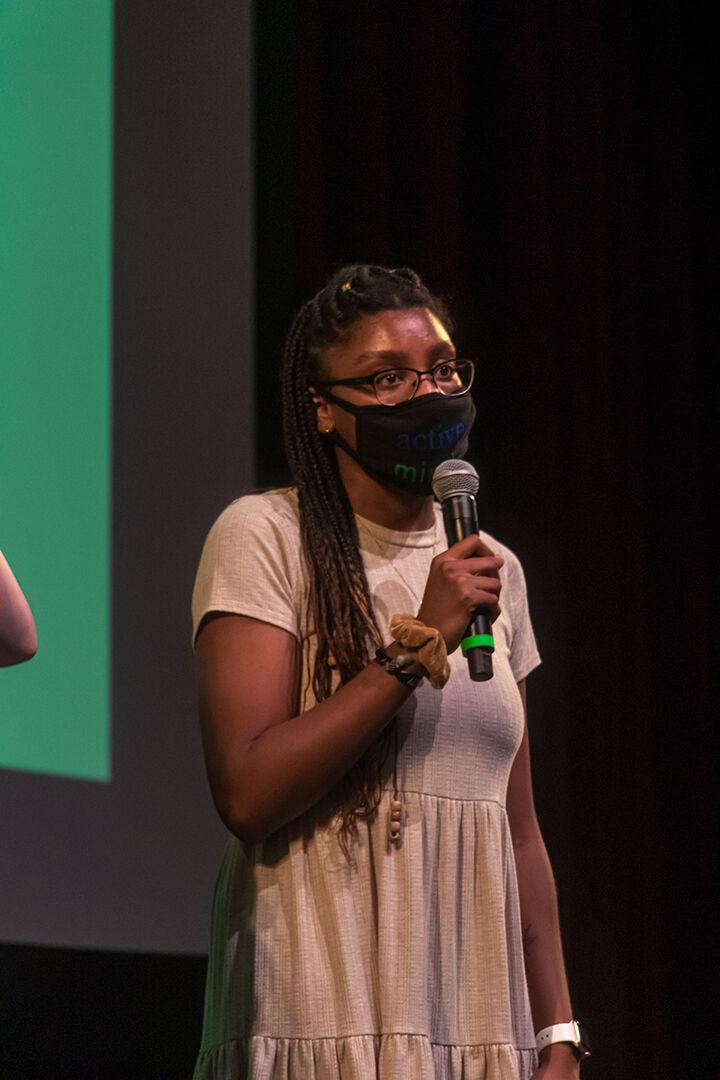 Since her release, Vertreese made it a priority to expand on-campus resources and provide a network to students who don't feel like they have a support system. This journey led her to Monica Zeigel, Northwest's Hope 4 All coordinator and a mental health advocate. 
The two brought Active Minds to Northwest with shared experiences and a common goal. 
On Sept. 23, Active Minds held a showing of the film "Suicide: The Ripple Effect." It tells the story of Kevin Hines, a man who jumped off the Golden Gate Bridge and survived in 2000. Hines was diagnosed with bipolar disorder in high school. His battle with his mental health drove him to jump Sept. 25, 2000, an act he was lucky to survive.
Since his recovery, he has published his book "Cracked, Not Broken" and toured the country as an activist for suicide prevention. 
Eighteen students had their eyes glued to the screen, taking in the reality of how common suicide is in the United States. 
Following the movie, the students shared an open dialogue regarding mental health, suicide and matters of mental illness on a local level. Students took turns sharing their personal experiences with mental health and how they maintain their mental health.
A common trend among responses was learning how to manage stress and anxious thoughts. From music to journaling to exercise, there was no limit to the actions that keep them from being pushed to the breaking point. One student said that day was the first day in months she'd gotten dressed and brushed her hair. The audience applauded her. 
"I'm so impressed by this group's answers," Assistant Director of Wellness Services B.K. Taylor said. "We never choose to fall down, but we choose to get back up, and what the video said and what you all are saying makes that true." 
The Wellness Center adopted the RESPOND method from Missouri State University, meaning recognize signs, empathize, share concerns, pose open questions, offer hope, navigate resources and policy and do self-care. The program is designed to teach the campus community how to recognize and respond to mental health concerns. 
RESPOND trainings include a brief overview of mental health problems on college campuses, discussion about stigma and culture and an overview of signs associated with mental health problems. It also focuses on how to effectively respond with basic listening and empathy, risk assessment at the lay level, support, referral and taking care of the self. 
There are no meetings scheduled this semester due to COVID-19 mitigation, but Assistant Director of Wellness Services Kristen Peltz said she plans to host in-person sessions soon.
"Something we talk about a lot is 'holding the space.' Meaning when we talk about our feelings or feel uncomfortable we support that conversation and continue it instead of shutting it down," Peltz said. 
The Wellness Center holds in-person Wellness Workshops at 2 p.m. every Thursday in the J.W. Jones Student Union Meeting Room B. 
Active Minds holds virtual meetings open to the public 5:30 p.m. every other Wednesday. Anyone interested in joining the group can find them on social media @activeminds_nwmsu or can email them at activeminds@nwmissoui.edu.
Anyone who struggles with mental health can call the national suicide prevention hotline at 800-273-8255. Students can also reach the Northwest Wellness Center at 660-562-1348.