Three Nodaway County Sheriff Deputies were sworn in as Special Deputy U.S. Marshals July 14. 
Deputies Austin Hann, Dalton Murphy and Detective Travis Cochenour became a part of America's oldest federal law enforcement agency Wednesday during a swearing in ceremony conducted by U.S. Marshal Mark James. 
In their new roles, the deputies will work with area law enforcement officers on the U.S. Marshals Midwest Violent Fugitive Task Force. Those assigned to the task force collaborate to find fugitives charged with violent crimes, sex offenders, drug offenses and other serious felonies. It also provides direct support to law enforcement agencies tracking down and recovering missing children.
The task force is responsible for supporting local and state law enforcement in 66 counties that make up the western half of Missouri. 
The Nodaway County Sheriff's Office already works with northwest Missouri area agencies like the Western District Cyber Crimes Task Force and Buchanan County Drug Strike Force. A Nodaway County lawman of almost 10 years, Cochenour said becoming a Special Deputy U.S. Marshal means helping provide the sheriff's department with additional resources and a better chance at victim justice.
"This is building onto a bigger network," Cochenour said. "We build connections so when we come across the same types of crimes, we have resources to say, 'hey do you have this technology to help us or the manpower to help us?' So, this just branches it out even more."
Nodaway County Sheriff Randy Strong spoke highly of the three deputies sworn in, recounting their excellence in law enforcement. 
"They have a good working knowledge of people's rights, and they are perfect in the work they do, they are energized, they want to learn and they want to take care of their community," Strong said.
Strong said several of his deputies possess the same qualities, but the choice came down to a number, and only three could be sworn in.
James, who swore in the Nodaway County Deputies Wednesday, was appointed the 31st U.S. Marshal of the Western District of Missouri in 2018 by former President Donald Trump. James said the partnership will benefit both Nodaway County and U.S. Marshals as a whole.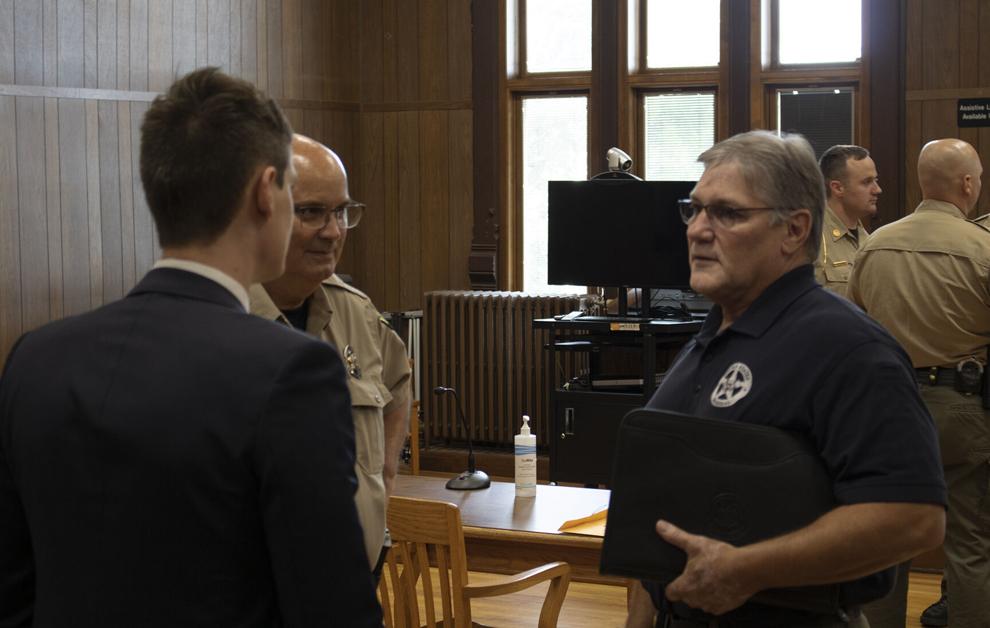 "While the Marshal Service has a pretty extensive network … we are very few in numbers in reality, so we rely very heavily on our relationships and partnerships," James said. 
James also said the partnership helps cut down unnecessary background work on a case when local agencies have information. Rather than wasting several days for some intel, the sheriff's department can provide that to the Marshals, sometimes with a simple phone call.
Similarly, if someone were to commit a crime and leave the Northwest Missouri area, the Marshals Service would have the resources to locate the suspect or fugitive.
"That's what my deputies do — they are experts in tracking down people who do not want to be found," James said. 
Hann, who is the county K-9 deputy, said his new role means adding an extra layer of protection to the community he loves to serve.
"It's amazing to be able to be a part of something like this to add the additional resources and training and opportunities to make that much of a difference in this community," Hann said.
Murphy, who has been with the sheriff's department for 2 years, said he has enjoyed the communal aspect of his role in law enforcement, and now looks forward to stepping up in his new role.
"It's the citizen encounters, the people you meet that you probably would not have met if you weren't in this career field, it's very rewarding to meet people across the county rather than just one town."
This collaboration between local and federal agencies comes amid an ongoing effort to address violent crime in both metropolitan and rural areas of Missouri. Tips on serious crime can be made to your local law enforcement agencies or anonymously to the Greater Kansas City Crime Stoppers via the TIPS hotline at 816-474-8477.