Maryville officials are planning renovations for City Hall in response to long-standing structural, space and accessibility issues, furthering compliance with the Americans with Disabilities Act.
While some of these issues have been highlighted by the COVID-19 pandemic, some have been a problem for the city long before the days of mask-wearing and social distancing. The city plans to update and expand upon the standing City Hall building — first constructed in 1938 — in a collaborative effort to make the space more practical, structurally sound and accessible.
During the last fiscal year, City Council made it a priority to at least get through the design process and begin looking at potential construction companies. Now, the city's full schedule this fiscal year will leave officials to balance larger projects, like the South Main Improvement Project, and fixing issues like water damage and HVAC issues in their own buildings.
City Manager Greg McDanel said that as of April 22, there are no funds allotted to or budgeted for construction on City Hall renovations, and there could be some time before the city will find financing options that make sense for the project.
"I think we've been successful in facilities so far with the event center and the Maryville Public Safety facility by getting through the design process, and during that process looking for outside funding opportunities," McDanel said. "So that's kind of where we're at right now, really working through that design element."
Proposed renovations thus far include a redesign of the front exterior of the building, centering the front entrance and having it meet ADA guidelines. Larger windows would be added to allow more natural light into the building, and at its rear, a 6,000-square-foot extension would be built to include another public entrance.
A new central corridor inside, as the design reads, would provide for better public access. A larger City Council chamber would occupy part of this space, and outside of the main corridor would sit larger, modernized office spaces for employees.
McDanel said the city is approximately 80% through the design process with STRATA Architecture and Preservation, a company from the Kansas City, Missouri, area which focuses on downtown revitalization projects.
STRATA originally estimated the project to cost close to $4 million, but city officials expect about a $2.5 million price tag when the design is finalized.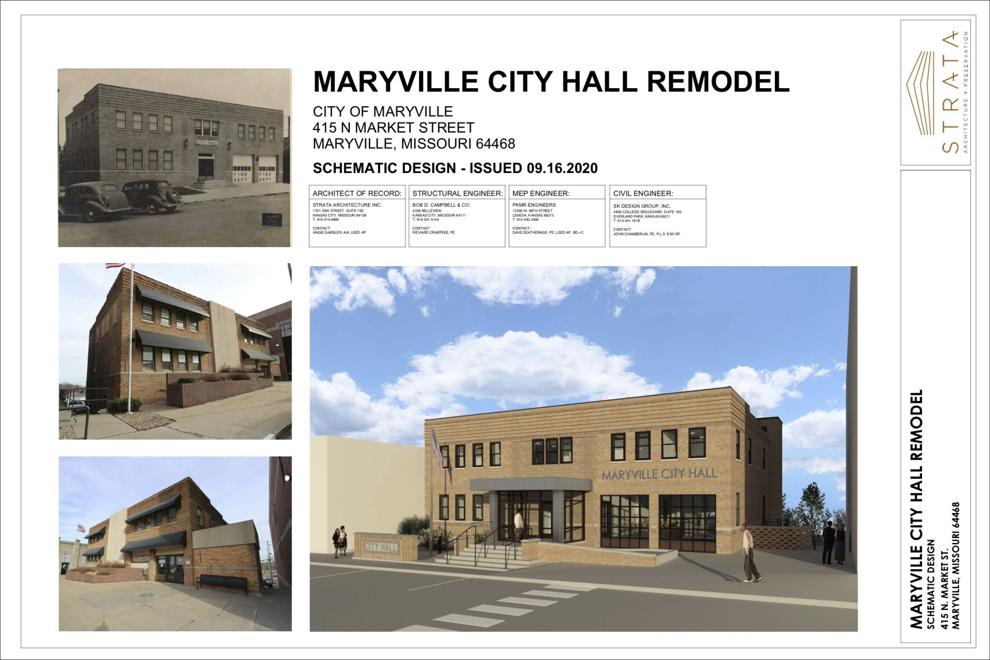 Councilwoman Rachael Martin is a veteran member of the City Council who has served since 2014. The downtown district has been a focus of the Council throughout the duration of her time serving. Martin said this project is important because it requires the city to meet the same expectations it lays out for buildings throughout downtown Maryville.
"As we work with investors, entrepreneurs, committees and advisers from the Missouri Main Street Organization, it is not lost on us that we, too, need to take financial and planning measures to ensure our own property is meeting those standards," Martin said. "More importantly, providing a City Hall space that is accessible to all of our citizens requires reconfiguring the space."
Since City Hall sits in the downtown overlay district, designs for renovation to the building will follow downtown development guidelines passed by the City Council. But it wasn't just aesthetic issues that came with an outdated City Hall building — it was structural integrity issues, too.
It was determined through a 2014 needs assessment and site analysis that renovations and remodeling were needed at both the former public safety building and City Hall. Structural integrity and accessibility were the foremost concerns with both buildings. At the time, the city was considering combining the two into one building. City officials eventually found it made the most sense to work on those projects separately.
Once the new R. Keith Wood Public Safety Facility became operational, the expansion and improvement of City Hall became a top priority for the Council.
Councilman Tye Parsons recounted concerns from the water damage which caused city staff using offices on the east wall to relocate. Mold and mildew became a problem due to failed mortar and compromised parts of a brick wall.
Citing similar issues as Martin,  Parsons said, space and accessibility should be on the forefront of planning.
"From a space perspective, the building is woefully inadequate in terms of the Council chambers," Parsons said. "Large crowds cannot be accommodated in the current building. Beyond the Council chambers, the city has a shortage of storage and office space, forcing some employees to share small work areas."
Despite the ongoing issues at City Hall, city staff and the Council have kept a positive outlook on progress with the design for renovations.
"Staff has done a fabulous job of keeping the conversation and opportunities surrounding this topic churning in the background while working at our lengthy list of other ongoing priorities and projects," Martin said.
McDanel said the city will discuss further what long-term options are available during the budget season this year, and since the design is 80% complete, these discussions could happen soon. Construction on this kind of project, McDanel said, could take close to nine months.