Maryville R-II Educational Foundation hosted the second annual Holiday Festival of Trees event Dec. 1, where community members bid on holiday trees donated by local businesses and organizations throughout a vocal and instrumental winter concert.
A free will donation lunch put on by the vocal music boosters club befell in the Maryville High School commons, preceding the concert in the Lee and Nina Schneider Performing Arts Center. The tree festival raised $3,460 toward the Maryville R-II Educational Foundation which will go to support mini grants, teacher appreciation, staff recognitions and other needs of the district.
Instructor Brian Swink has children in the high school choir and show choir. He serves as a member of the vocal music boosters and helped plan the lunch before the concert.
"(The Maryville R-II Foundation) asked us the past two years to host the meal in conjunction with the holiday trees event, that way it's an all afternoon event to draw more people in," Swink said.
The vocal music boosters raise funds to help subsidize expenses for parents and students in Spectrum and other groups that travel. The big motivator for more fundraising from the boosters and students is an upcoming trip to Orlando, Florida, where Spectrum is planning to perform at Disney World February 2021.
"We are trying to get large trips like that on a consistent schedule, happening every three years," Swink said.
After the meal, community members got to look at the trees and wreaths donated from school groups, businesses and individuals in the Maryville area. Those who arrived through the back of the high school could see a festive display in the large glass windows of the PAC.
The sight put community members in a cheery mood for a holiday concert that followed, where musical groups from Eugene Field Elementary, Maryville Middle School and Maryville High School all performed.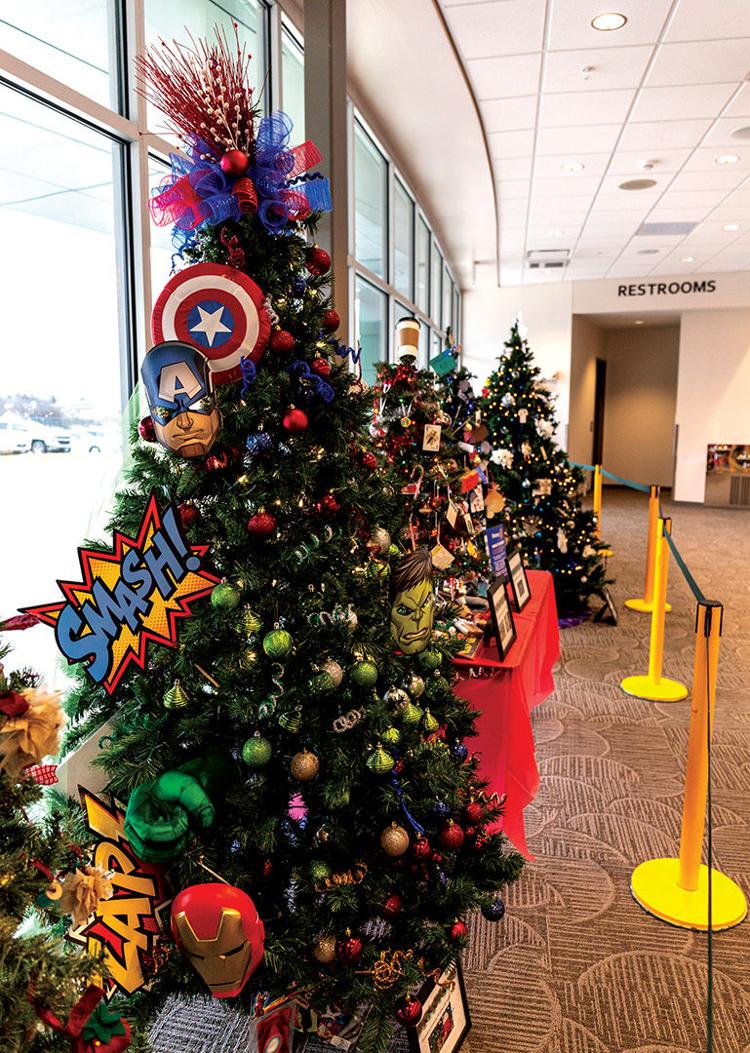 The opening act was Spoofhounds Working Together as a Team from Eugene Field Elementary, who wore lime green shirts with big white letters spelling out their acronym, SWATT. They sang holiday songs and got a particularly big round of applause following one they sang in Spanish.
The middle school show choir sang before Spectrum performed three songs, and a clarinet trio, brass quartet and saxophone quintet all from Maryville High School followed.
The Maryville High School Winter Guard performed a flags routine on the stage to the popular Christmas tune "Rockin' Around the Christmas Tree."
Throughout the event, the trees and wreaths donated and decorated were auctioned off by professional auctioneer Liz Espey. One of the trees went for $280, which turned out to be the largest bid of the night.
The foundation worked on and off throughout the school year to organize and plan the event, purchasing trees for cheap from yard sales and receiving some for free from community members supporting the cause.
Maryville R-II Superintendent Becky Albrecht said the foundation could not have held the event without the abundance of donations.
"It takes a little time on our end, but a lot of generosity from people in the community," Albrecht said. "We had 29 trees and wreaths donated, and so the people that gave their time and energy to put those together, we really appreciate it."