The first of many coronavirus vaccines have been administered to Phase 1a qualifiers of the Missouri COVID-19 vaccine availability plan in Nodaway County. Nodaway County Health Department Administrator Tom Patterson delved into what the vaccine means for Nodaway County and the University.
Patterson said as of Jan. 8, the NCHD had administered 100 vaccines to patient-facing healthcare workers and long-term care facility residents and staff. In addition, as of Jan. 5, 215 caregivers at Mosaic Medical Center - Maryville have received the vaccine, according to the hospital's Community Relations Manager Rita Miller. More vaccinations are scheduled for this week including some second doses.
Although the administration of COVID-19 vaccines is a glimmer of light at the seemingly never ending tunnel that is the pandemic, Patterson said the vaccine's work will most likely not reflect in the number of cases until a few weeks after people start receiving their second dose.
According to the Nodaway County COVID-19 Data dashboard, as of Jan. 11, the seven-day rolling average is eight cases, which is part of a small decrease in cases since Jan. 6, with 17 cases. As of Jan. 11, there are 84 cases in Nodaway County. Patterson said this small decrease does not reflect any changes made by the administration of the vaccine to Phase 1a of the first tier.
"We are asking people to be patient and keep an eye on or listen to local news," Patterson said.
He suggested keeping up with local news outlets for vaccine availability and noted that the tier system for administering vaccines is controlled by the state and federal governments.
According to a Springfield News-Leader article, most of the general public will not begin to receive the first does of coronavirus vaccines for at least a few months. The article stated that the state's health director, Dr. Randall Williams said most people should hopefully be able to be vaccinated by July.
Vice President of Student Affairs Matt Baker said 14 Northwest employees, including Wellness Services workers and athletic trainers, have been vaccinated. Later this week Northwest is expecting to receive further plans from the state regarding the distribution of vaccines to help the University begin to structure its own plans to vaccinate staff and students.
"We're beginning to plan, but there are a lot of unknowns right now," Baker said.
Baker noted that Wellness Services is still waiting to hear from the state if they can be an administrator of vaccines.
He said the University has begun discussions on who the first people to receive vaccines would be if Wellness Services is approved to administer them.
Baker explained that this new plan, which the University hopes to receive this week, will include guidelines that are different from the current ones the state has laid out for whom to administer the vaccine to first.
He said as of this moment, no changes or decisions have been made affecting trips through the University because it is unknown when or even if students will be vaccinated and if it will be safe to travel.
Dr. Jasinski sent out an email to students on Jan. 12 announcing that the University will inform the campus when they know more about their arrival.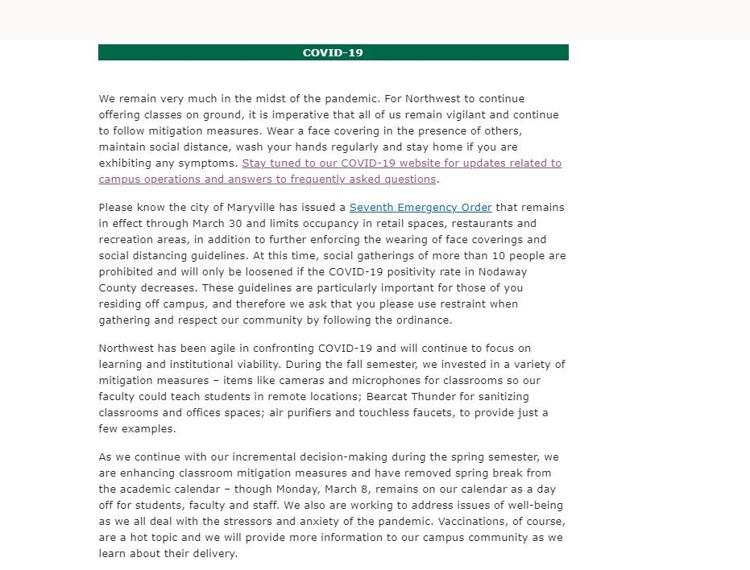 Patterson noted that there has been a hold on ording new vaccines because of a Long-term Care Pharmacy Partnership between several pharmacies across the nation and nursing homes and assisted living facilities.
"The federal government contracted with some nation-wide pharmacies to provide vaccines to long-term care facilities," Patterson said.
According to the CDC the program began at the national level Dec. 21, 2020, with the diversion of Pfizer-BioNTech vaccines and then the diversion of Moderna vaccines, which started Dec. 28, 2020. Patterson said this program would last at least two to three weeks.
The CDC's website also stated that local program start dates varied depending on jurisdiction.
Patterson said he hopes that by the end of the month, the NCHD can order more of the Moderna vaccines to continue vaccinations.
Patterson explained that there are 10 doses in every vial of the vaccine, and once that vial has been opened, vaccine administrators have 6 hours to use all 10 doses or they begin to go to waste.
He also said that in order to see the effects of mass administration of the vaccine, it would not require 100% participation.
"All we really need is enough people to get it knocked down," Patterson said. "I think 20% is going to have an impact."
He noted that the more people who choose to get the vaccine is always better, but he knows that not everyone may agree to getting the coronavirus vaccine.