Overcast skies and intermittent drizzles of rain could not dampen the spirits of the newly recruited and current sorority members on Bid Day.
Current sorority members decked out in glitter, feathers and pompoms flocked outside of Northwest's J.W. Jones Student Union Sept. 9, exuberantly chanting and cheering in support of the recruits who waited on the third floor to find out what sorority they had gotten into. The eager recruits cheered and waved back, their excitement-filled faces framed by partially opened windows as they peered down at the sea of girls below them.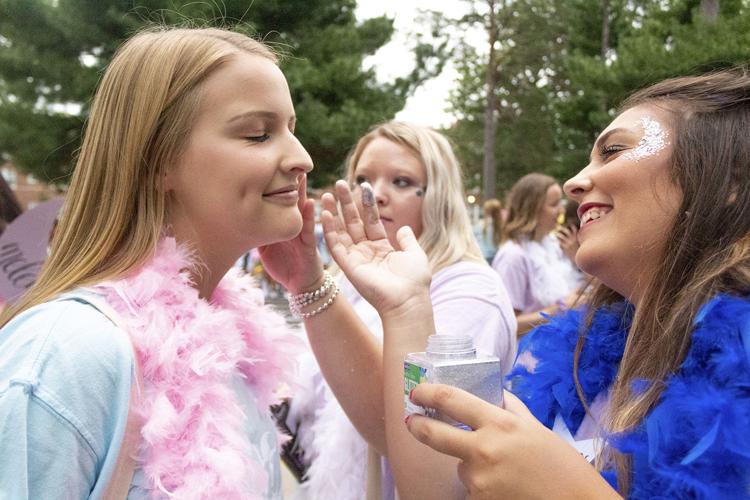 Formal recruitment consisted of a sorority showcase, open house day, philanthropy day, preference day. These mandatory events allowed recruits to learn about the five different sororities and their philanthropies and meet current sorority members. Five other optional pre-recruitment events and activities took place before formal recruitment spanning between Aug. 18 and Sept. 3.
For many recruits, the long and stressful process was finally coming to a close.
"The recruitment process was very long but super exciting," recruit Cierra Farrow said. "I met so many new girls and built friendships that I see lasting a long time. Now that recruitment is over, I feel thankful for the experience but am so ready to start this new adventure with my new sisters."
Recruitment was also stressful but exciting for the sorority girls who had rushed last year and were now able to experience what it is like being on the other side of the recruitment process for the first time.
Sophomore Hannah Grutt said she discovered the magnitude of work that goes into organizing and making recruitment fun and successful as someone helping with recruitment as opposed to going through it.
"Being on the other side of recruitment is so rewarding because of how much work goes into it," Grutt said. "All of the hard work pays off because of the new members."
Sophomore Hannah Hetzel found the most stressful part of recruitment to be not knowing if the potential new members she had grown close with during the recruitment process were going to choose her sorority as their top preference.
"It's really exciting and nerve-wracking," Hetzel said. "We're getting new members but we don't know if they'll pick us, and a lot of us get really attached to some of the PNMs."
At 6 p.m., recruits were allowed to open up their bids, which told them what sororities they had gotten into. In total, 222 bids were given out. Alpha Delta Pi had 49 bids, Alpha Sigma Alpha had 43, Phi Mu had 44, Sigma Kappa had 43 and Sigma Sigma Sigma had 43.
This was the most successful recruitment to date according to Erica Brade, the vice president of recruitment internal on the Panhellenic Council.
"Our open house pool to preference night retention rate was 87%, which beat our campus record of 86% from last year," Brade said. "This is the most successful recruitment that the NWMSU Panhellenic Council has ever had, and we are beyond excited to be breaking records."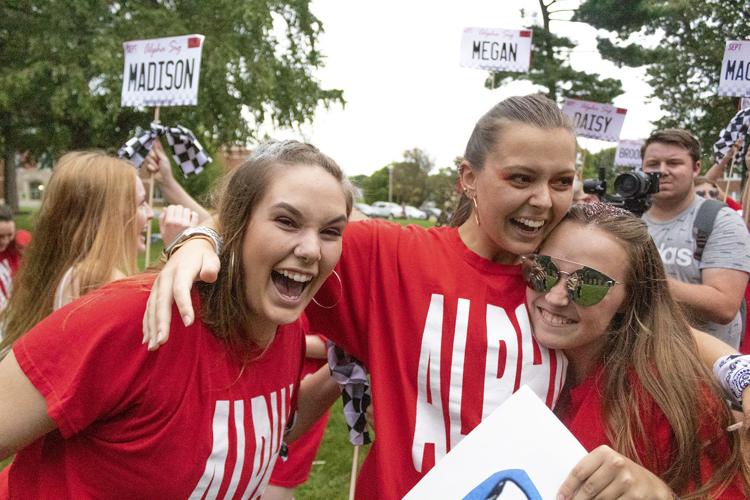 At around 6:30 p.m., recruits flooded out the front doors of the Union in droves, "running home" to meet their new sorority sisters waiting for them on the street outside Roberta Hall with open arms.
For some recruits, the sorority scene was not one they had ever pictured themselves becoming a part in college, but have now found themselves at home.
"I never thought I would be this far," recruit Mallory Chambers said. "Walking in on campus I thought, 'Eh, sororities are just a bunch of prissy little girls,'" and then I actually grew a part of this chapter in three short days."
Many recruits like Madison Johnson look forward to what is in store for them next as official sorority members.
"I'm really excited to see what friendships I'm going to make, and all the community service is really exciting too," Johnson said. "I'm just really excited to see what this holds for me, and I love this chapter already."