After 13 years serving as a cashier on Northwest's Campus Dining staff, Donna Yanks said goodbye for now and hello to retirement. Her coworkers celebrated her departure Sept. 12 with a surprise party.
Yanks is a woman rarely left speechless, according to her coworkers. She's never short on opinions, questions or jokes. She connects with everyone around her, making a room smile when she walks into it. When she entered an office filled with balloons, cake and people who love her, all she could do was smile. She sat in a chair next to the cake, listening to the kind words of her friends, laughing and telling stories.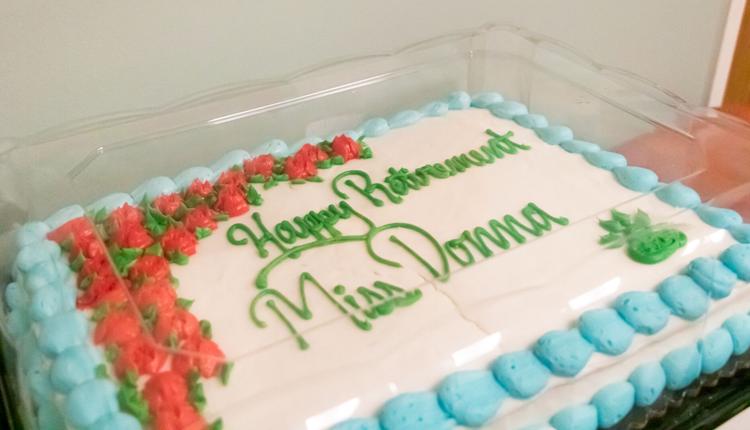 "She's still in the game," Teresa Begley said. "She's still connecting with students, and she's genuine. I haven't worked with her long, but I know she's down to earth."
Begley works with catering at Northwest. She, like many of Yanks' other friends, will miss her voice around the J.W. Jones Student Union long after her last day. 
"I like giving Donna a hard time, but she does it to me too," chef Mike Hunt said. "I'm going to miss her bugging me every Wednesday."
Hunt has worked alongside Yanks in the Union for years , and their families have known each other for the last 30 years. Every Wednesday, Yanks asks Hunt what day it is. Hunt knows it's Wednesday, but he won't say it. He knows she's only asking because she loves the camel in the Geico commercials so much she has her own stuffed camel named Dobby. Yanks will ask until she hears "hump day."
"I've seen Mike's brother marry, have kids. I worked with Mike's brother Rodger, so they can't seem to get away from me," Yanks said.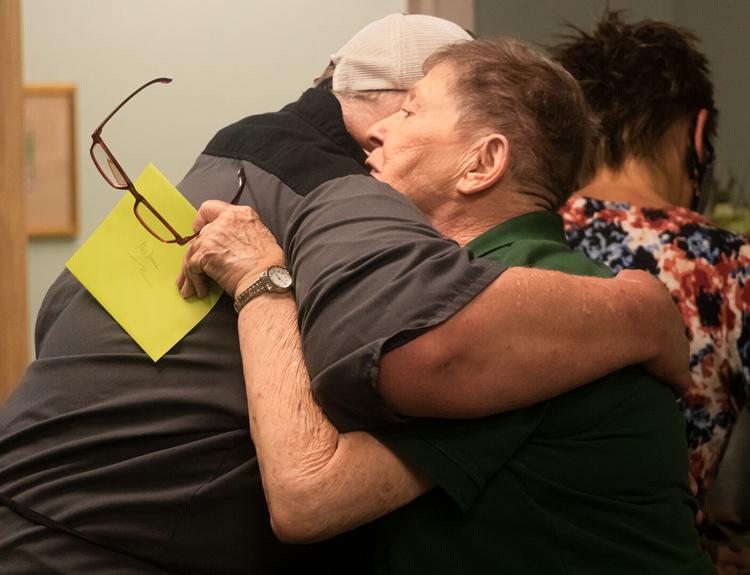 Yanks has relationships with the rest of her dining staff, and she said they're like family. The group gifted Yanks a card signed by the staff along with a succulent plant in a dinosaur planter. 
"This office has done everything for me," Yanks said. "I especially want to thank the payroll office and Spencer (Martin) for letting me hang around."
Assistant Food Service Director Tyler Detherhee wonders if anyone will fill Donna's shoes. 
"Her connection to the students makes her special," Detherhee said. 
Senior Food Service Director Spencer Martin agrees, saying her honesty is valued by the department.
"We'll be trying something out and I know I can go to Donna and get her honest thoughts on how something works," said Martin. 
In an email, Northwest President John Jasinski thanked Yanks for her dedication to the University.
"Northwest has been lucky to have such a wonderful example and Bearcat supporter in Donna Yanks," said Jasinski.
When Yanks heard Jasinski's words, she was elated. Yanks and Jasinski have a relationship beyond work, talking often as friends. Jasinski hand-picked flowers from his garden to give to Yanks as a gift on her last day. Their friendship has lasted through changes no one could have predicted.
"These masks are the biggest difference. I like working in my own space, and it's hard to do now," Yanks said. She often took her mask off to speak, struggling to breathe. Despite all the big changes, Yanks said it was her body that made her retire. 
"My legs and my back just hurt," Yanks said. "I still have fun, but it's just time. I can't do it like I used to." 
As she reflected on her time at Northwest, Yanks said she feels grateful for the people she's met, even those who didn't get along with her.
"In my time I've only met one girl that didn't like me," Yanks said.. "I can get along with anyone and you can get along with any of the students here."
Yanks is looking forward to her days being up to her. She's heard one of her former employers of 12 years is looking to hire.
"I love Northwest and I'm sad to leave," Yanks said. "I'll probably have to find a part-time job to keep me young."
Until then, she plans to visit her Bearcat family, making sure they stay afloat without her. As she left, she gave long hugs and last-minute laughs.
"I make this place special," Yanks said. "But these people are wonderful, I'll miss them everyday."