John Bul Dau watched people die. He was moved across the world and was separated from his family. But Dau didn't let these tragedies change who he was. God never gave up, he said, and neither did he.
Born in 1974, Dau, in his early life, grew up when North Sudan and South Sudan were just one nation. Nine years later, the Arab government of northern Sudan attacked ethnic groups in southern Sudan. The village he grew up in was initially a spot for other refugees of the Second Sundanese Civil War, until one fateful night in August 1987, when the Arab government attacked his village, separating him from his family.
Sharing these stories and more, Dau discussed his path to success through perseverance with a humble crowd of Northwest students March 23.
Dau, one of the 27,000 Lost Boys of Sudan and president of the John Dau Foundation and the South Sudan Institute, was the subject of the film "God Grew Tired of Us." He has won multiple awards, including the National Geographic Emerging Explorers Award. Dau has raised over $3 million for the Duk Lost Boys Clinic in Duk Payuel, South Sudan, his hometown. Dau spoke of his successes and how he came to be in this position.
"I don't say these things to show off," Dau said.
Dau said he might be "living the dream," but that he didn't come this far just by chance.
"Many times on my journey, I did not think I would survive," Dau said. "But I did because of two things: God didn't give up on me and neither did I."
Dau said it never occurred to him to stop trying. He said that in all the time from when he left his village until he reached the United States, he never asked himself, "What if I just stop here?"
He said to the crowd of nodding students that he knows each one of them have a story to tell, most likely an emotional one. However, he said people often fail to move on from the bad things that have happened in their life.
Dau said he heard a story from his village when he was growing up. He said there was a man who would hunt gazelle for his village every night, because it was the only source of food the village would have. One night, the man went out, but he could not find anything. The man thought to himself that he would quit, even though his village might starve, until he saw a lizard fall from a branch on a nearby tree. 
He watched as the lizard tried and failed to jump from one branch to another multiple times. Then, on the seventh attempt, the lizard made it, inspiring the man to continue his hunt which ended up being successful.
"That is what inspires me to keep going," Dau said. "I don't try once, not twice; I try seven times before I tell myself it can't be done or there's another way to do it."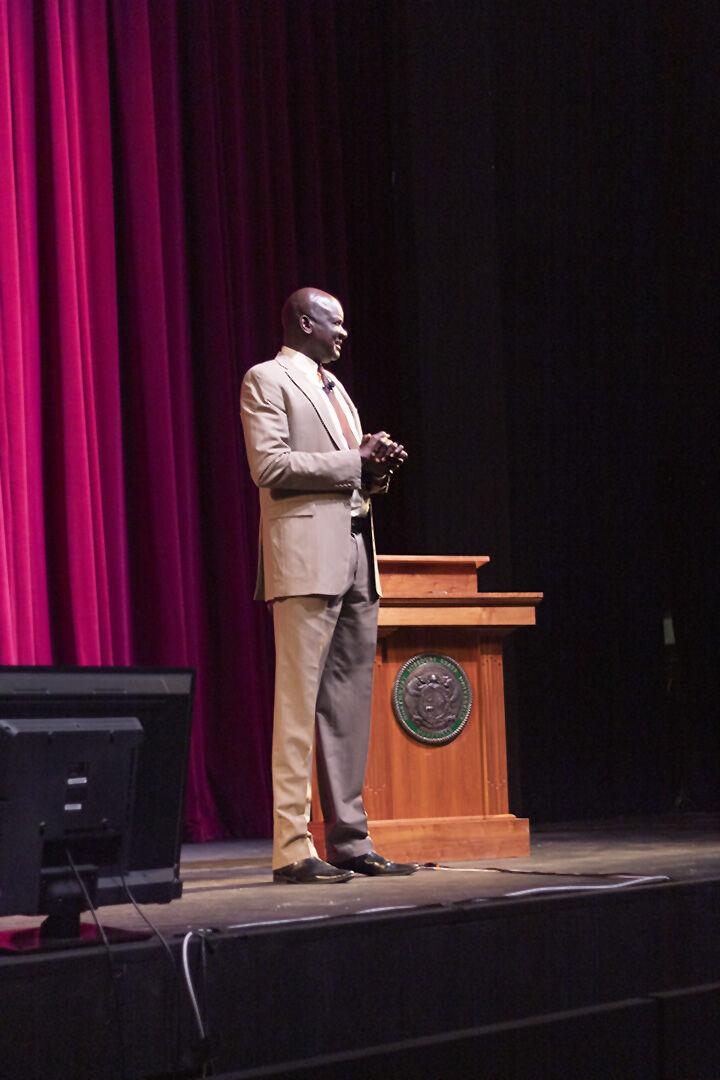 Dau said to the viewers of his presentation to keep going, and to not give up easily just because something bad happens. He said there are a couple things he wants to make sure the audience remembers.
"Don't be held hostage to the past," Dau said.
Dau said, despite the struggles he faced through his life, he focuses on where he was at that moment and the future ahead of him. He also said that everybody wants to succeed, but there's a key point that many miss.
"Struggle is part of the package to success," Dau said. "Accept it."
Throughout his presentation, Dau spoke of his struggles in his teenage years and how they taught him to persevere. He said those struggles helped him become the person he is today. He credits knowing how to push forward with the conflicts he had in his early life. 
He said he talked about that part of his life to show the audience some of the events he had to go through. After the attack on his home village in 1987, Dau spent weeks avoiding armed militia until he reached the town of Pibor Post, now in present-day South Sudan. There, he joined a larger refugee group who started their journey to Ethiopia. In November of that same year, the group made it to an Ethiopian refugee camp called Pinyudu.
After four years at the camp, Dau's group was forced to leave again due to threats of locals attacking the camp. A group of 27,000 boys walked toward Sudan and the Gilo River. At the Gilo River, they were suddenly attacked by Ethiopian rebels.
"Many could not swim. So many were lost in the water, shot or eaten by a crocodile," Dau said, calm and serious before his audience.
Only 18,000 of the original group made it past the Gilo River. They finally reached Pochala,  Sudan, and had shelter, until six months later when the Sudanese government began bombing the area. Dau led 1,200 boys in search of safe territory. Only 800 survived the journey to the Kakuma refugee camp in Kenya due to starvation, dehydration and hostile military forces. In Kenya, Dau learned how to read, write and count at the age of 16.
Dau said the teachers would smack the hands of the students with a stick if they made a mistake.
"When I finally became a teacher myself, I did the same to those who had done it to me first as a sort of payback," Dau said to a laughing crowd.
At 17 years old, Dau was chosen to emigrate to Syracuse, New York, and earned a bachelor's degree at Syracuse University. In the early parts of his new life in the U.S., Dau experienced grocery shopping, snow and learning to drive.
Dau reunited with his family in 2005. He said his first time back to his village in South Sudan was very emotional for him. He said he is appreciative of the refugee work done in the U.S.
President of the Student Activities Council senior Brady Netzel helped organize the event. He said it was interesting to learn about the culture shock Dau experienced upon arrival to the U.S.
"To live through his life story was very inspiring," Netzel said.
Sophomore Sydnie Platt, director of lecture programming for SAC, was in charge of bringing Dau to Northwest for this SAC Speaks . Platt said that prior to inviting speakers, she looks at why they speak and what about them would be good to show students at Northwest. Dau fit the ideas they were looking for.
Platt said that for her, his entire message and his perspective through life, including his adaptation to new cultures, was inspiring.
"I saw that no matter what, he wants to help," Platt said.