Pam
Pam left her husband on Easter Sunday, a day she said is supposed to be about unity and not division. Her faith, though, helped reality become clear. That division wasn't her doing; it was another's. It was close to nine years of abuse and violence, the repeated threats and fight-or-flight situations that left her empty.
Even so, she felt selfish for leaving. The responsibility of keeping her children's father at bay when the domestic violence ensued wasn't easy to give up — they didn't deserve to have to deal with him, she said.
The worst of the abuse came after all her children were out of school, when it was her and her abuser alone in a house, where her refuge was a closet she hid in with enough things to form a barrier between her and an inescapable menace she once loved.
After years of taking in all the violence for herself to protect them, one of her own children helped plan her getaway. 
"I felt I needed to get away or I would either lose my mind or my life," Pam said.
Pam and her youngest daughter packed every necessity they could in a car that Easter and left. Wiping away tears brought on from feelings of abandonment, Pam felt she, too, had abandoned the people she loved. Her son, who has a strong connection with her abuser, blamed her for the situation, and the thread of her family remains frayed to this day.
In 2011 and 2012, Pam sought shelter at the Children and Family Center of Northwest Missouri, now known as North Star Advocacy Center. Still suffering from trauma garnered from years of abuse, few things helped keep her going during her time there. She said the people at North Star were one of them, her dog Steevie Rae another.
North Star Advocacy Center was the first shelter in Missouri to allow pets, so when Pam sought residency, she was able to bring her dogs with her. After her beloved Steevie Rae died, she got Rudy, who serves as Pam's therapy dog and companion when days get hard.
"It was very important for me that I was able to have my dog with me there," Pam said. "He kept me going when I felt I couldn't."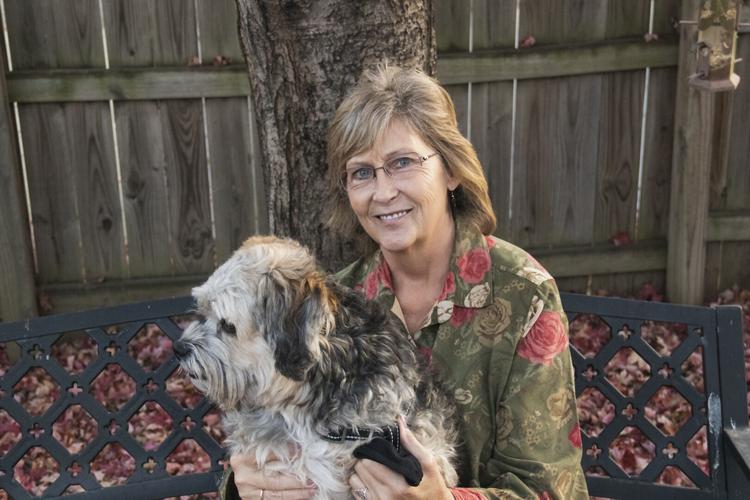 During Pam's first divorce, Meghann Kosman, court and victim advocate for North Star Advocacy, provided Pam with legal aid and court advocacy through the shelter for the process. Another invaluable component of her stay there, Pam said the grueling experience of the legal process amid instilled trauma was alleviated. 
"They made it as easy as it could get," Pam said. "Legal aid is very good when you can't afford a lawyer."
After that divorce, Pam spent time finding herself, until remarrying in 2017. This relationship also ended in divorce after years of verbal abuse and torment. An instance when her partner threatened to kill her with a gun drove her to file.
Once again, Pam sought shelter from the advocacy center, where her feelings of isolation were cured by bonds formed with staff and fellow victims. These bonds would turn into friendships that served as a placeholder for her broken family. 
"It was just hard enough knowing you're displaced, and your children are not wanting to have anything to do with you — and I swear — Meghann (Kosman) was like a daughter that I needed at the time," Pam said. 
Like countless other families across the U.S., Pam said her youngest children, who witnessed the abuse early on, have resentment and anger towards the situation, and even blame Pam for the abuse that occured.
After getting psychiatric help and talking to doctors about what she could do to "get Pam back," her relationship with her children is something she works to mend to this day.
"While they were home, I was always there for them, no matter what kind of abuse I went through," Pam said, fighting through tears.
According to statistics provided by the Missouri Coalition Against Domestic and Sexual Violence, Pam was one of 11,455 victims who received shelter in Missouri in 2017. 
When sheltered, Pam was unable to keep a job, as things became difficult for her when she was diagnosed with fibromyalgia. She received benefits like unemployment and social security, but earlier in her life, for 25 years, Pam worked in the medical field. She lived and worked both in Mound City and Maryville, at Northwest Health Services and St. Francis Medical Center, respectively.
For various reasons, victims of intimate partner violence lose on average a total of 8 million days of paid work each year, the equivalent of 32,000 full-time jobs, as reported by the National Coalition Against Domestic Violence. Pam lost years of work due to the abuse she dealt with.
"I fight constantly not to feel like a failure," Pam said.
Her friends at the shelter, though, said Pam is someone to admire, a light in their day.
After her second divorce, things improved tremendously for Pam. She built upon her daily victories and sought additional services at the advocacy center. She advises other victims to do the same.
The advocacy shelter was eventually able to help Pam get a place of her own, an apartment in Maryville, and work with her during the finalization of the divorce.
"I am very happy now," Pam said.
Tara
October is a hard month for Tara. It marks the date, five years ago, when she left her abusive marriage and fought for custody of her son. All of her heartache and memories of strife flood in during this time of year, and visions of her past reflect back to her.
Tara's abuse began early in the relationship and escalated when she found out that she was pregnant. For her, abuse came in the form of physical and verbal, with one incident leading to a hospital visit while she carried her son in the womb.
Tara was a military wife. She worked in law enforcement and moved with her abuser to a few different states, whereupon she lost connection with family members. Because of this, even before she left her husband, Tara was distant from her family. And like Pam, it was hard for some members of the family to accept her leaving when she did.
 "It's like … they're ashamed of you for speaking out," Tara said.
When Tara called the police to begin documentation of the domestic violence, the military got involved shortly after, offering counseling services and other measures that didn't work. When her son was born, the abuse escalated even further, driving Tara to the point that she had to leave.
Her sister helped her pack up her things, and she left with her son. Eventually she worked with her sister to find a place to live in Nodaway County and came in contact with Kosman.
Tara never sought shelter at the advocacy center, but she did take advantage of other services like victim and court advocacy. Through these services, she was able to gain custody and be a part of the Safe at Home program, where her address is hidden for the protection of Tara and her son.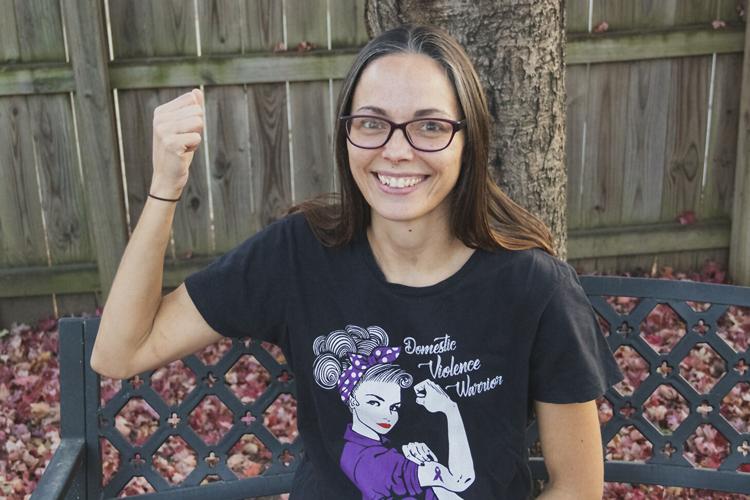 With most of North Star Advocacy's clients being those who don't seek shelter, Kosman said Tara was one of many who took advantage of other services victims may not be knowledgeable about. 
Tara said she was lucky to find the advocacy shelter, since the process for arguing custody proved lengthy and difficult. 
Before coming to Nodaway County, her prior experience with a shelter was not enjoyable. Before North Star, she did not feel welcome. The previous establishment had security cameras everywhere, the check in process was intimidating, and the shelter felt unwelcoming overall. At the North Star, Tara felt the opposite.
"It's more homey feeling and inviting. You can trust them," Tara said. "Here, they will sit down with you. … They take the time; they are caring. We didn't have that in the other state."
Throughout the process of recovery, and when going through the divorce, both Tara and her son had separation anxiety. They could not stand being apart for extended periods of time. In many ways, all they had were each other, and being away from her son at any given time was difficult.
During Tara's custody battle with her former husband, there were times, though, that they did have to be apart. Tara's lawyer requested a guardian ad litem, a court appointed guardian to watch after someone during a case. 
The battle was nerve-racking for Tara, who, even though she gained primary custody of her son, still had to allow her ex-husband visitation rights.
"That was hard, very scary," Tara said.
It was at this time, during the custody battle and process of filing for divorce, when Tara also held the weight of family disapproval. Her sister, with whom she was once close enough to move across the country with, became angry with her.
"I don't know what happens, if it's like a switch that flips for them and it's too much for them to handle. … They just kind of back away," Tara said.
Tara said her sister has also been abused, and even got a broken nose once, but with a broken relationship between the two, it is hard for her to tell if things are better on her end.
With full custody of her son, Tara sees her relationship with him as a bright light in an otherwise dark situation. Right now, he is obsessed with superheroes, but not the kind most children talk about.
For Tara's son, Kosman and North Star Executive Director Linda Mattson replace Superman and Batman. Nurses and Doctors replace Captain Marvel and Spiderman. Police officers, fire fighters, teachers and garbage men all suit up every day, superheroes in his eyes.
"He is really good at showing his joy and happiness with everyone he comes in contact with," Tara said. "He is very outgoing and friendly, and he says hi to everybody. And I think that speaks volumes with everything that we've been through."
Tara's son also refers to Mattson as "Grandma Linda" and to the advocates at the shelter as his aunts, as the bond created at the shelter through years of trauma formed a family Tara is now grateful for. 
---
Both victims said they encourage those experiencing assault, abuse or domestic violence to seek help. Pam and Tara want to remind survivors that they are not alone.
"Don't downplay the abuse, because that's what I did. Don't think that you are different, that you can change the abuser," Tara said. "That's never going to happen, and regardless of your profession or education, whatever you think that gives you the ability to do so, it's just not possible. And it's not your responsibility."
"I don't know what I would've done if they hadn't been around," Pam said. "There is a brighter side to life; you don't have to live that way anymore. They helped my life."
The advocacy center provided Pam, Tara and Tara's son a support group when they had nobody else to turn to. If you are a victim of sexual assault, domestic violence or other abuse, you can contact the North Star Advocacy Center at their 24-hour crisis hotline here: 660-562-2320, or their regular hours number at 866-382-7867.