Northwest's College Republicans are raffling off 80% of an AR-15 Lower Receiver in an effort to heighten publicity and fundraising.
The 80% AR-15 Lower Receiver is not legally considered a firearm in its current state. Raffle tickets for the item, donated to College Republicans by Missouri Liberty Activist Robby Theremin, began selling Sept. 30. Tickets are $10 apiece or can be purchased at a discounted $5 if bought at a College Republicans meeting. The drawing is Nov. 4.
Following Beto O'Rourke's statement, "Hell yes, we're going to take your AR-15, your AK-47," in the third Democratic debate Sept. 12, College Republicans decided it was time to take a stand.
"We have a good opportunity for that kind of thing right now that will get a lot of attention and raise a lot of money," junior College Republicans President Jasper Logan said. "Everybody else thought that was a good idea, so we went with it."
Logan is spearheading the raffle efforts. After digging through campus policy, Logan found nothing that would prohibit the raffle.
Flyers advertising for the raffle are pinned around campus and posted on social media reading "Hell no, you Beto not," and "Tell Beto O'Rourke to come and take it!" The flyer also advertises upcoming College Republican events.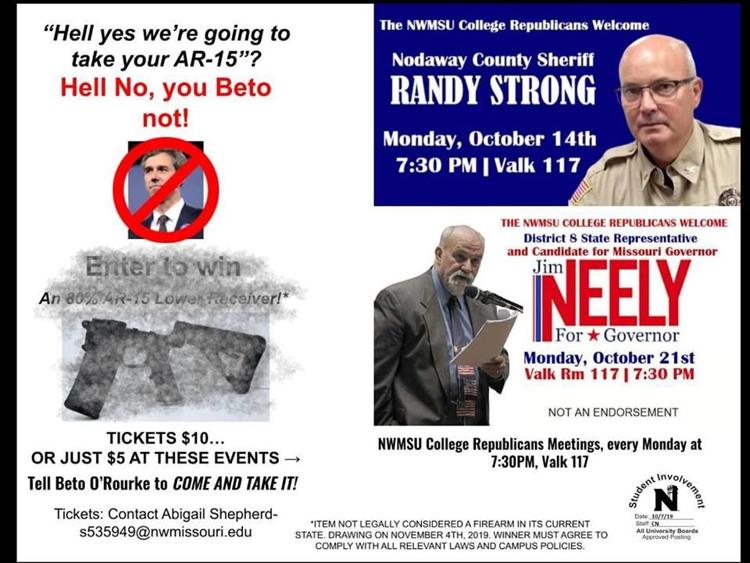 "A lot of our posters have been torn down. That's pretty negative," Logan said. "But no one has confronted us. We were selling tickets at a table in the Union and no one had any problems."
The raffle quickly became controversial on social media. Mass media professor Jody Strauch led a Facebook post expressing opposition to the raffle.
"It bothers me to be promoting guns as fundraising on a college campus," Strauch said. "I don't think it reflects well on Northwest. They are an approved organization on campus. I find it distasteful."
The raffle stirred concerns from the Northwest community, prompting a response from Northwest President John Jasinski after a concerned alumnus reached out.
Jasinksi's response was posted to Facebook by the concerned alumnus. Jasinski reiterated that College Republicans are within their rights and followed campus policy.
"Throughout the process, the College Republicans have communicated with the University Police Department and have stated that the lower receiver will not be on campus — the raffle winner will claim it off campus," Jasinski said to the 2001 alumnus in an email.
University Police Chief Clarence Green said the department has received around 20 calls concerning the legality of the raffle. UPD agreed to do walk-throughs and have an officer present at the raffle drawing.
"He just wants to make sure no one is harassing any of our members," Logan said.
This is not the first time a weapon has been raffled off by a campus organization, Green said. The trapshooting club is raffling off a shotgun and has done so in the past.
Green said a majority of the campus community had probably not heard about the shotgun raffle because of the nature of the type of gun.
"Those 80% lowers —, a lot of times we'll call them ghosts guns because they are untraceable. They present some difficulties for us on the police end of identifying a weapon," Green said. "That's why it drew some concern as well as it being an AR-15. That heightened the awareness."
As of Oct. 21, College Republicans had sold 19 raffle tickets. There is no limit to the number of raffle tickets an individual can purchase. Ten individuals account for the 19 tickets sold.
Nodaway County Sheriff Randy Strong, who spoke at a College Republicans meeting last week, bought four raffle tickets.
College Republicans Treasurer freshman Abigail Shepherd said the raffle is more-so there to gain publicity than to raise money.
"We're trying to gain members," Shepherd said. "We're actually in a debate with College Democrats of who can get the most members first. We thought it was a good first idea."
College Republicans is sitting at 183 members, with 30 showing up to meetings on a regular basis. The debate with College Democrats stems back to Sept. 4 at the Organization Fair where the groups challenged each other to compete for increased membership.
According to the Bureau of Alcohol, Tobacco, Firearms and Explosives, the part of an AR-15 requiring a Federal Firearms License is the serialized lower receiver. The winner of the raffle Nov. 4 will not have an operable AR-15. The 80% Lower Receiver can be legally milled, drilled and made operable by the winner, according to 80% Lowers website.
Logan said his goal is not to make people feel unsafe; he's just trying to get more students interested in College Republicans.
"I really don't think it should be controversial," Logan said. "We're just practicing our Second Amendment rights. We'll probably do it again if this is successful."