Ceramicist Mike Stumbras displayed his craftsmanship to Northwest students with an in-person demonstration of the process behind his work Feb. 1 and 2 in the Olive DeLuce Fine Arts Building.
Stumbras was invited to campus by assistant professor of ceramics Veronica Watkins. Along with his process demonstration, an exhibit of his work will be displayed in the gallery of the building throughout February. 
Stumbras, a Chicago, Illinois, native, now lives in the Kansas City area where he works as the studio manager at 323 CLAY. He channels his inspiration of 18th and 19th century European production into ceramic vessels. 
Stumbras has traveled and done residencies with different studios, including ones in New York and Colorado. He has also shown his work nationally and internationally.
"We were able to select an artist that would leave an impression on our students," Watkins said.
Watkins said she had chosen Stumbras based off of his work and how he incorporated history with his own ideas. Watkins also expressed how his work shows a high level of technical accomplishment and understanding.
Stumbras was introduced to ceramics through a high school class but wasn't interested in ceramics until he started using porcelain. It was then that realized he wanted to have a career in it. He went on to get his bachelor's degree in studio arts and biology from Olaf College and his master's degree in ceramics from Louisiana State University.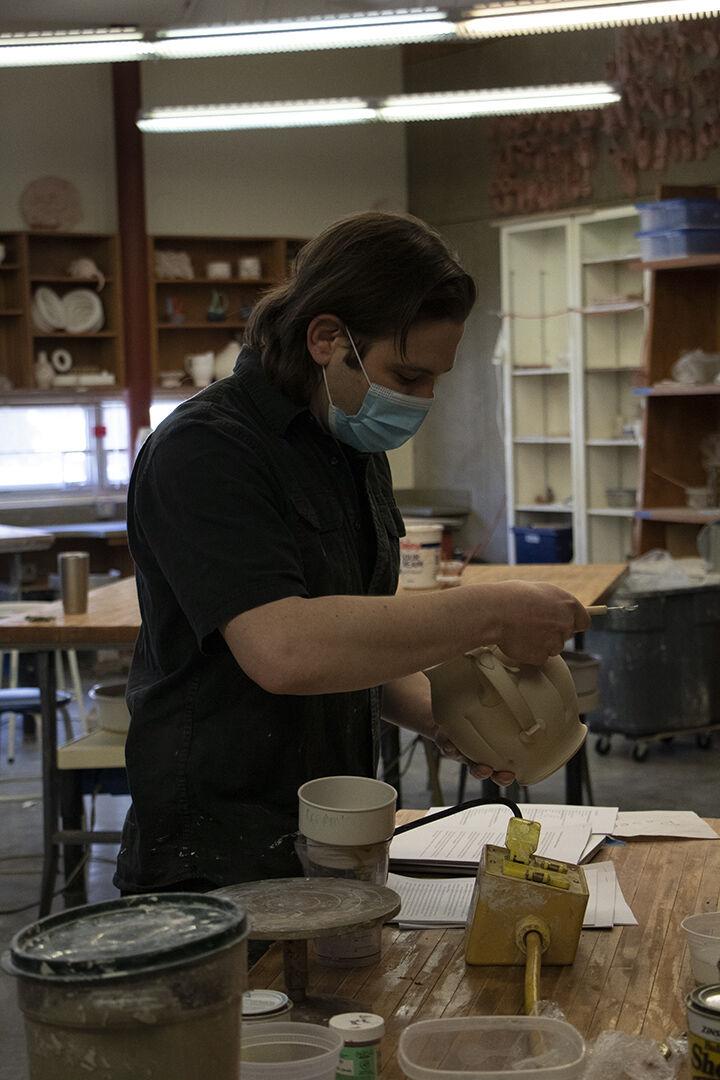 "I like the ability to express myself, especially after my dad died when I was young," Stumbras said. "I needed a tangible outlet to express myself, and this was the perfect thing for that."
Stumbras held demonstrations for students to come watch him work the process of making a piece. He showed them how he made different pieces such as a teapot and how to do surface work on the pots.
"I'm honored to be here and to increase the repertoire of some of the students here," Stumbras said.
Along with the demonstration, Stumbras gave students advice. Students were able to show their work and get Stumbras' thoughts, critiques and professional advice.
Stumbras described his process for making his pieces, all of which are thrown on a potter's wheel, which helps shape the clay. There are many different techniques that can be used when working on pots, and Stumbras has been developing his current techniques for about eight years.
Stumbras held a zoom lecture at 7 p.m. Feb. 1 to introduce himself to students. In the lecture he talked about his background and the things that influenced and inspired his work, including 18th century European art.
One 18th century artist that inspires Stumbras is Jean-Baptiste-Simeon Chardin, a French painter. He is most known for doing still-life paintings and was a humble artist who, according to Stumbras, chose the lowest rung on the hierarchy of fine art.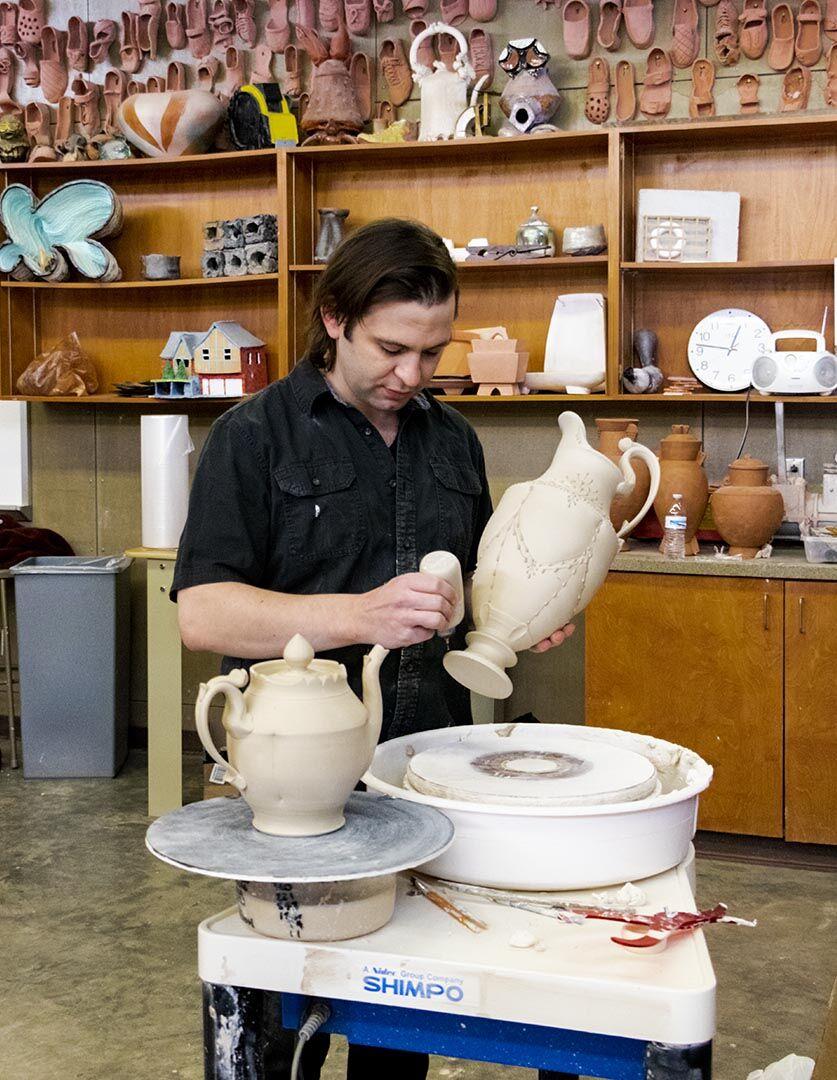 Chardin had the skill to do higher level painting but chose still life, which Stumbras thought of as rebellious for the time. Stumbras said he feels like he has learned a deeper message from Chardin.
"Hearing about his work led me to realize that I didn't have to be super productive as a measure of my value as an artist," Stumbras said. "I can slow down."
Stumbras said he likes to showcase deep and intense meanings in his work through what types of pots he makes such as urns and motifs like skulls.
"My favorite vessels to make are the ones that have a conceptual meaning to them by virtue of what they are," Stumbras said.
To Stumbras, urns speak to death, and teapots speak to collectors items and use in communities. Some motifs he uses are laurel leaves that symbolize victory and skulls that symbolize death and futility.
Using symbols of death seem unnerving, but to Stumbras they have a different meaning than what it shows on the surface.
"Skulls and urns are symbols of futility, but embracing it can be a liberating comfort rather than a terror."
Watkins expressed her gratitude to Stumbras for coming to campus and looks forward to collaborating with him in the future.
Sidney Lowry contributed to this report.