The University sent an email to students March 30 in regard to the opening of Phase 3 of Missouri's vaccination rollout, set to begin April 9. Although Phase 1B Tier 3 — which opened March 15 —  allowed for some students to be eligible for the COVID-19 vaccine, Phase 3 will allow all college-aged students to be eligible.
The email included a link to Mosaic Medical Center - Maryville's registration page for the system's mass vaccination clinic's waitlist.
Community Health Nurse Bridget Kenny said all students, including out-of-state students and international students, can sign up to receive a COVID-19 vaccine at the mass vaccination clinics held at the Carl and Cheryl Hughes Fieldhouse nearly every week.
This week's clinic was held March 31, where roughly 477 local residents were scheduled to receive a dose of the vaccine. Kenny said 300 Pfizer and 50 Moderna first doses will be given, along with 127 second doses of mostly Pfizer vaccines.
Kenny said students can preregister for the mass vaccination clinics with Mosaic - Maryville online like the rest of the community with their local Maryville address. Those who live on campus can use their campus address for the sign up as well.
She also noted that international students will follow the same process, but for some students, there are caveats to the process.
There was an instance where Kenny had to help an international student with their preregistration process. She said the student did not have a social security number, which is required to sign up.
"We have ways we have to work around things like that," Kenny said.
Kenny said students who have issues with signing up may call the Nodaway County Health Department. If the health department is unable to help, Mosaic - Maryville will be contacted.
President of Mosaic - Maryville Nate Blackford said there is also the fact that the Moderna vaccine is for people 18 years and older, while the Pfizer vaccine is for people 16 years and older.
Blackford explained that when students put in their birth date when preregistering, the hospital will make sure to sign students up for the proper vaccine for their age.
"We'll work through those details," Blackford said. "That shouldn't be a reason for somebody not to get the vaccine."
Kenny mentioned another issue that may arise for students looking to get the vaccine at the mass vaccination clinics.
She said as of March 30, the first mass clinic to be held after the opening of Phase 3, which opens eligibility to students, will be April 14. Students interested may be scheduled for their first dose at that clinic, but their second dose would need to be administered around May 12, which is after classes and graduation.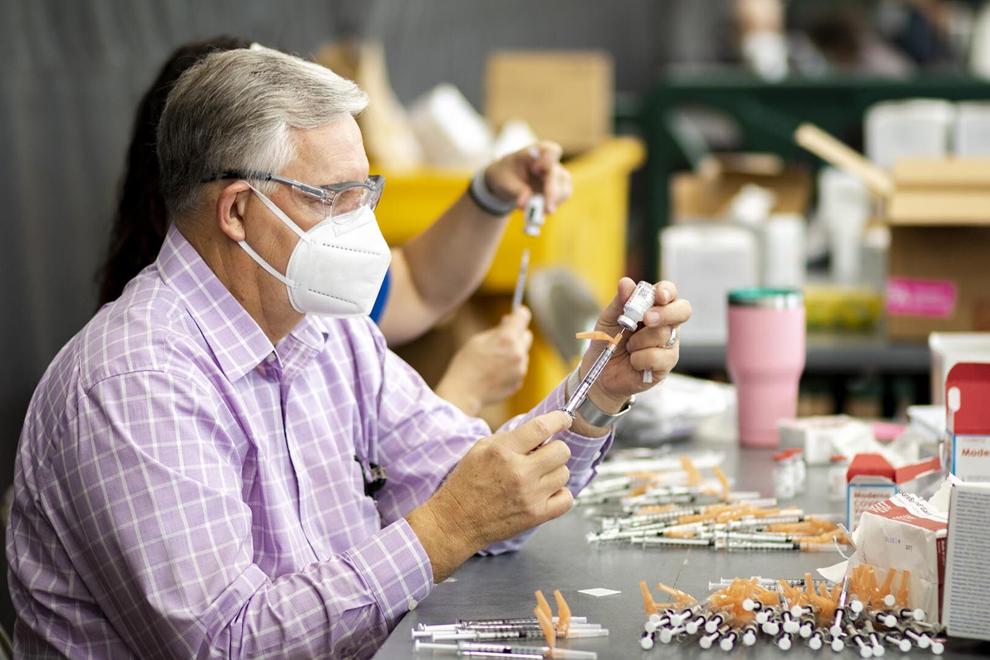 Blackford noted before that it is best that community members, including students, get their second dose in the same place they get their first dose, otherwise vaccine availability is thrown off balance. Students who decide to leave directly after the semester will have to travel back to Maryville to get their second dose, unless they can find a vaccine administrator to give them their second dose. 
Kenny noted that it would be easier if students would stay in Maryville until they have received their second shot or came back to get it if they did decide to leave town.
"If you had a mass influx of people just needing second doses, it could really mess with the vaccine numbers," Kenny said.
She noted that Mosaic - Maryville has made exceptions to the guidance, allowing people who needed a second dose to receive it from the hospital, even though they did not get their first dose with Mosaic- Maryville.
Blackford and Kenny continued to urge community members to remain cautious as people try to find some normalcy, especially with the termination of the mask mandate March 23.
Blackford said even though Maryville no longer has a mask mandate and the number of cases in the county is low, the virus is still very much prominent.
He said that wherever the coronavirus exists, people run the risk of catching it and cases increasing.
"A threat remains," Blackford said.
Gov. Mike Parson extended the Missouri state of emergency until August 31, to continue COVID-19 recovery throughout the state March 29. Despite almost 25% of the state's population having initiated the vaccination process, it shows that Missouri is not quite finished with its seemingly never-ending battle with the coronavirus.
Missouri has seen larger spikes in cases in the past year, but recently, according to the New York Times, the state has had recent smaller spikes in the last two weeks. Cases began to increase March 22 with 390 new cases. By March 25, there were 1,207 people in the state who had tested positive for COVID-19. As of March 29, the number of new cases has dropped to 403.
During the time between March 22-25, Nodaway County didn't reflect the dramatic increase the overall state saw, going from one new active case to three new cases. The Nodaway County Health Department reported five more cases March 26, but new active cases have remained below that since then.
According to the Nodaway County and Northwest COVID-19 dashboards, as of March 29, the latest information available, there are 16 active COVID-19 cases in the county, five of which involve Northwest staff or students. The seven-day rolling average for new cases in the county is two. A total of 2,653 Nodaway Countians have had COVID-19, and 23 people within the county have died because of the virus.
According to the Missouri COVID-19 dashboard, as of March 30, Nodaway County is ranked 20 out of 115 counties with the highest population that has started the vaccination process, with almost 25% of the population completing the first vaccination.
Blackford and Kenny agreed that the county was beginning to turn a corner to hopefully see an end to the coronavirus pandemic, but they urged people to follow mitigation guidelines, including social distancing and hand-washing.