Since June, Northwest President John Jasinski and the Provost's Office have been working with faculty, alumni and students to create a plan of action to break down barriers for Black students. Northwest released its plan on Sept. 3 in a microsite with several changes to be made in the coming months. 
Based on conversations with the Bearcat community, the University has decided to add a resource center, provide a platform to validate Black student experiences, and share an annual progress report with the community. 
The report will detail changes on campus and to the department of Diversity and Inclusion. 
"I think it's very important to understand that the entity of higher education across the country is embedded in systemic racism and institutional bias," said Justin Mallett, associate provost for diversity and inclusion. "The concept of higher education was not built for underrepresented students."
Mallett, along with the rest of the Office of Diversity and Inclusion, had to work to identify key indicators of barriers for minority students locally at Northwest; these include community acceptance, academic preparation and affordability. 
Mallet said removing these hurdles aids in the overall retention of Black students. 
Northwest alumni Karen Daniel helped to remove these barriers. Daniel gave a gift of $1 million to the University, forming her legacy fund. 
The gift will be dispersed across three key areas. One is to provide additional training for faculty and students beyond this academic year. Scholarships for Black students will also be funded with the donation, and a resource center is being developed on campus for Black students and peers. 
Through this center, Black students will have access to tutoring, financial literacy training and Free Application for Federal Student Aid assistance. 
Senior Zerryn Gines has spoken with leaders like Mallett and Jasinski regarding his experiences as a Black student at Northwest. He said he is eager to see such a unique addition to the campus. 
"This is something not a lot of campuses have," Gines said. "I hope there's more opportunity for Black students specifically to make up for things we haven't felt comfortable to do before."
Gines would like to see more opportunities come out of the resource center, like mentorships or networking opportunities.
A new way to report acts against underrepresented students is the Bearcat Equity Reporting Form now on the Office of Diversity and Inclusion webpage The goal of the form is to prevent complaints from being washed away in a sea of other Title VI issues involving race, sexuality and gender. 
Mallett encourages inquiries to be as detailed as possible. Students should include names, physical descriptions, locations, dates and times, even photos if possible. 
"We've never had a mechanism in place where students can address these issues. A lot of times those complaints didn't rise to the level necessary," Mallett said. "Now we have a central hub where instances of bias can be reported whether it's on campus or in the community."
Gines agrees the form is necessary but questions how effective it will be over time. 
"When someone attacks you or says something to you, you're so in shock. The last thing I'm thinking about is a form," Gines said. "I wonder if a hotline would be better, but if there are real consequences, then a form will help."
Starting this year, the University will publish an annual report online with updates on the climate at Northwest. Enrollment and GPA retention numbers, spending and other undetermined factors will also be included. Mallett said he is hopeful there will be progress to report. 
"Our goal is to be completely transparent in everything we do," Mallett said. "Change doesn't happen overnight, but if we can listen and have one-on-one conversations, we will make progress."
Northwest has revamped its online diversity training for Northwest faculty. Every board member was required to complete the training. The Office of Diversity and Inclusion will continue to provide supplemental training for staff. A required Title IX training for students was announced via email on Sept. 15.
By the end of the year, the Office of Diversity and Inclusion will undergo both an internal and external review to ensure the office aligns with the criteria put out by the Council for the Advancement of Standards. The review will be conducted by Northwest faculty, who will watch available training, speak with stakeholders and write a review as a unit. 
This will be followed by an external review by faculty at other universities who will investigate the same areas. The goal is to verify the office itself is prepared to facilitate change. The office is currently assembling an internal review team.
The newly formed President's Diversity and Inclusion Advisory Team will be responsible for providing real-time information on the campus climate to students and the Office of Diversity and Inclusion. The Issues of Race Action Team puts policy changes into action. The Presidential Accountability Team includes members of the Black Alumni Chapter who meet monthly to provide feedback on changes. 
"In meetings, I have people on the teams listening before leading meetings," Jasinski said. "Listening is the most important thing I've learned."
Gines agrees that students need to continue sharing their challenges and triumphs. Gines also said Northwest has already made greater strides than other Missouri colleges. 
"Change may not happen until you leave, but we have to do what we can now while people are listening to us," Gines said.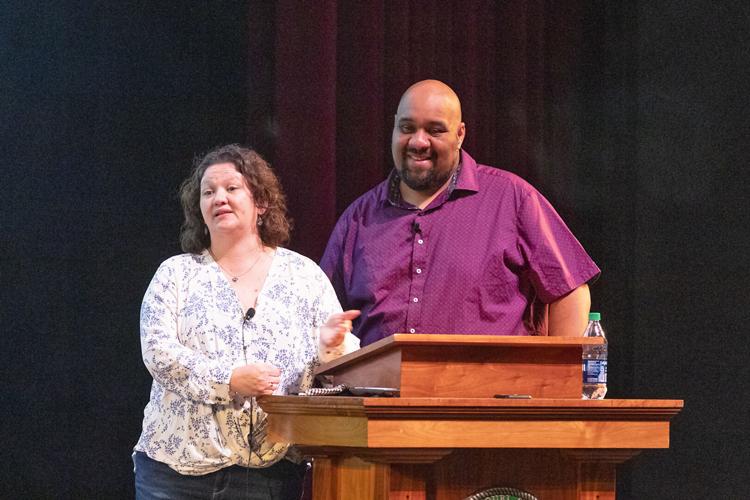 The Diversity and Inclusion Office has hosted presentations by both faculty and guest speakers who specialize in diversity education. The goal is to inspire students and faculty to inform themselves on topics of race. 
"If the goal is to end racism, it's never going to happen. We have to focus on the barriers in front of us," Mallett said. "This has gone on for as long as Northwest has been around; we can't neglect this.