The year is 1978. Van Halen releases its debut album, Reese's Pieces makes its way into the candy aisles, Garfield appears in his first comic strip, and a hustle and bustle Maryville Pizza Hut is hiring for a waitress.
As a recent high school graduate with a fresh new car, Linda Parker needs a job to pay the bills. Waiting tables wasn't her first choice, but she figures it'll do until she can find something she likes better.
Linda Parker, 65, worked at Pizza Hut for 43 years before retiring this summer. Four decades of company and staff changes mirrored the times people were living in, but she never felt out of place at the restaurant.
"I really liked the people I worked with," Linda Parker said. "You learn pretty early on that if you hire good people, they'll help you out."
Helping one another was the theme at Pizza Hut throughout Linda Parker's tenure. After starting as a day shift waitress, she first learned to cook and supervise day shifts for previous general managers. 
She worked her way up to general manager in 1988, after the store went through two managers in a matter of two years. She remembers the day the company asked her to step up and what it meant to be approached with that kind of responsibility.
"It was a mixed bag of emotions," Linda Parker said. "It was just nice to know they thought so highly of me, that I could handle that kind of thing."
It was a different time, she said, back when management was hyper-focused on business. It was hard for certain managers to get to know their employees beyond a body in a uniform. But she didn't want to manage that way, and she became eager to take over and make that part right.
Until the last few years of her management, Linda Parker said she didn't really notice a generational gap between her and her staff. She always tried to hire people with a good work ethic, so it didn't matter how old they were.
But this past year, she noticed she could be a grandma to most of her employees, which was funny, she said.
Several of her staff throughout the years have been college and high school students, an age demographic she said was particularly fun to work with, as they were "fresh based and full of wonder."
"A lot of times, if you get their friends to work, too, it worked out really well," Linda Parker said. 
At one point in time, she had a group of Northwest music majors working together on staff. When customers would come in to celebrate their birthday, the music students volunteered to sing "Happy Birthday" in a three or four part harmony. 
Of course, things weren't always as easy in the four decades Linda Parker led the restaurant. Hiring both full-time and part-time employees means a revolving door of people — some faces you get to know, and others you wish you knew better.
There was a time when the Pizza Hut staff pretty much turned over. Linda Parker had to hire a whole new staff, which proved challenging. There was a difference, though, in employees that were like a revolving door, and the good ones. 
"The good ones always go away," Linda Parker said. "The ones that you do form a relationship with, those are the hard ones. You know, they move on, they graduate and move on with their life, and if you're lucky, you stay in touch in some form or another."
Another challenge she often faced was corporate decisions affecting local customers. Certain products would come and go, which would frustrate people who were "regulars."
One policy that was less than ideal, she said, was getting approval from higher up management to close the store when inclement weather happened. For several years, the closest her superior lived to Maryville was Olathe, Kansas. 
Given the 118-mile difference, there were often contrasting kinds of weather between those two locations. Nonetheless, Linda Parker and her employees always did their best to make the most of it. After all, driving in snow to deliver pizzas could mean good tips, if you're lucky.
"There were those that said 'I love the cold, the snow. It usually puts me in a good mood.' Well, it usually put me in a ditch," Linda Parker said with a grin.
Inside the Maryville Pizza Hut, about five feet away from the entrance, Linda Parker sits in a booth with a glass of iced water talking to the new general manager Emily Garcia. 
Garcia was first hired in 2019, working her way up the "corporate ladder," much like Linda Parker did in the 1980's, albeit at a faster pace. 
Garcia, 20, took over after Linda Parker's retirement. One of the youngest general managers in store history, Garcia's role reflects Linda Parker's trust and enthusiasm for younger generations.
"Linda did a really good job at making sure that we treated each other with respect and made sure to correct staff in the nicest way. She taught us how to be super proactive in everything," Garcia said. 
"She is very, very dedicated to her work," Garcia said. "She definitely put in a lot of time. When it came to customers, she was really good at making sure they were satisfied. And when we did not satisfy customers, she got in contact with them and made sure that we made things right."
Garcia attended Northwest for a short period of time but decided to take a break to build solid ground in management. She plans to continue studying art education in the future, but for now, she is eager to follow Linda Parker's footsteps. 
"I definitely feel very accomplished," Garcia said. "I put in a lot of time here, and it almost felt like I was doing it for nothing for a while, so (the promotion) made it worth it."
---
Linda Parker grew up on a farm near Burlington Junction, Missouri, and graduated from West Nodaway High School. The youngest of seven children, she had a lot of people to look up to. 
Her mother died when Linda Parker was 22, but she always looked up to her parents. They stood by and encouraged all of their children in whatever they wanted to do, she said. 
After she became general manager, Linda Parker's father was proud but worried about how many hours she would end up spending there. She assured him that she would always take time for family. 
She married her husband Greg Parker in 1975 and moved to Maryville just before her daughter started going to school, since they both worked in town.
Linda Parker has two grandchildren: Carl, 14; and Lauren, 9. Of course, running a pizza place made spoiling grandchildren easier. Even though Linda Parker prefers thin and crispy crust, she knows Carl and Lauren prefer hand tossed.
In her free time, Linda Parker likes to shoot bow and arrows. She has been involved in two different local archery clubs and has participated in several nationwide tournaments. The past few years, it has been hard to find time to practice, she said, so tournaments have been put on the back burner.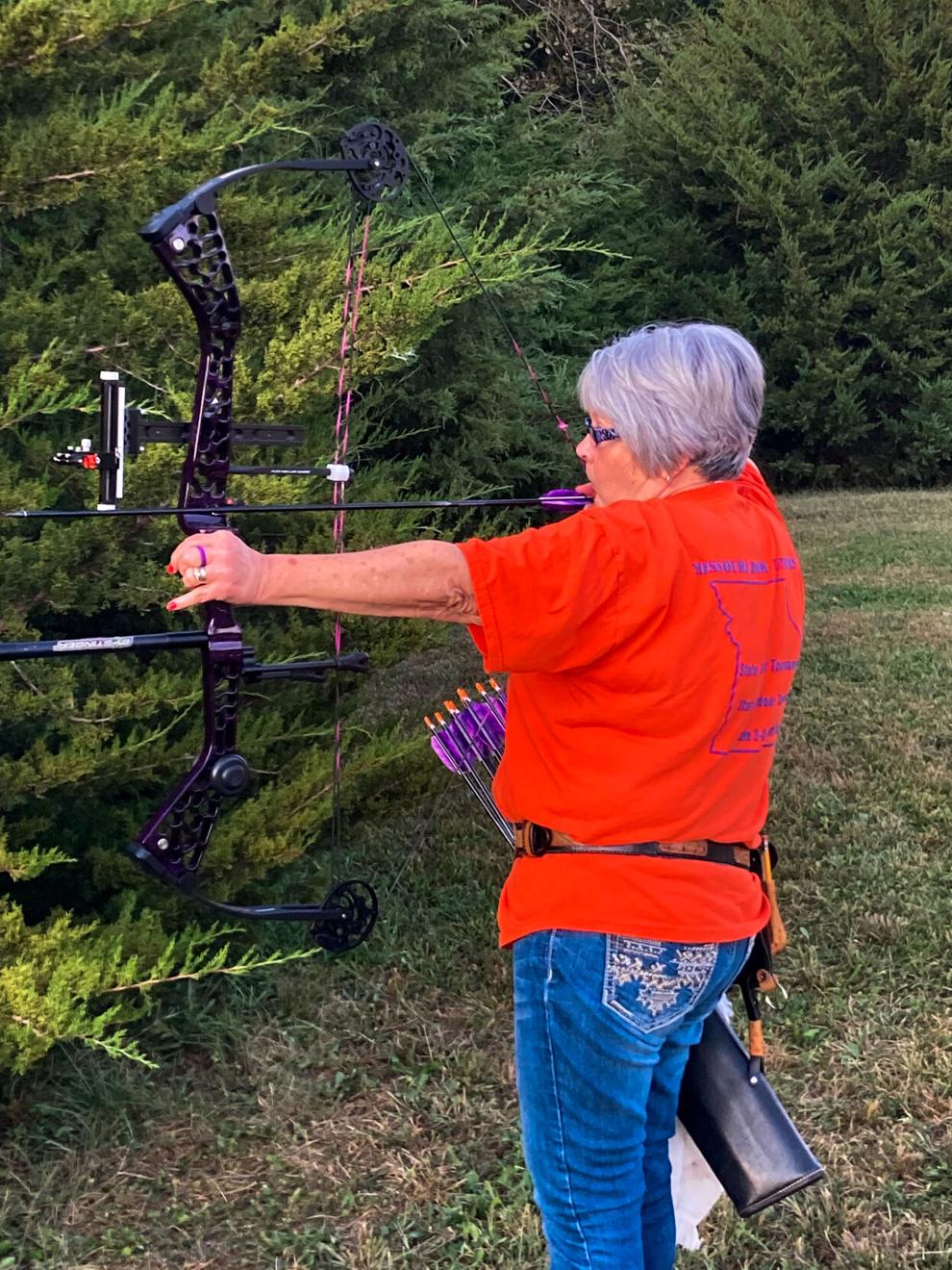 As of late, the archery tournaments have been more about getting to socialize with people she only gets to see once or twice a year, than the competition. Tournaments have given her the opportunity to meet people from California to North Carolina.
"I'm old school. I've been at this a while now, and I try and stick to what I know," Linda Parker said.
Her old school repertoire consists of Easton aluminum arrows, which are either straight or crooked, she said, but prefers it that way. For years she shot Hoyt bows but now shoots with a Win & Win Black.
This summer didn't involve much bow shooting, however, since Linda Parker had knee replacement surgery shortly after retirement. Her last official workday at Pizza Hut was June 1, where she said her goodbyes to the staff.
Laura Mooney worked with Linda Parker at Pizza Hut for a little over 16 years as the assistant manager. She remembers Linda Parker being a leader who made the environment enjoyable.
"If I needed anything, she was always there for me," Mooney said. "She was always there for people who needed a pick-me-up …  She was just an all-around great person, and I wouldn't choose anyone else to work for 16 years."
After 43 years working in the food service industry, with plenty of stressful days under her belt, Linda Parker said her greatest piece of advice she could give to the younger generation is to not stress over things. 
"I had an assistant who would tell me 'nowhere in the Bible does God say worry about it,'" Linda Parker said. "I have worried about a lot of things that, looking back, it's like, 'well, that was silly.' You get through everything. Don't stress it and have fun. You have to look at the glass as half full."
Back in her booth five feet from the entrance, Linda Parker wiped a droplet of condensation off her glass of water, the cup now half full, before taking a drink. She sat back in the booth and motioned toward the lobby.
"I never did find that job — the one I would like better," Linda Parker said. "I never looked again."