"At least we have each other."
They didn't know what to expect. It was something they had been anticipating for a while now — a fresh start and a new home. But the faint vision of what college is supposed to be remained so when they saw each other for the first time, when they wanted to hug their new honorary member of the family, but couldn't.
Freshman roommates Caitlin Thomas and Cassie Sherwood come from different walks of life, but both say they feel like they struck gold when Northwest paired them up to live together. 
Thomas lived near Omaha, Nebraska and attended a small Catholic high school. Sherwood is from Smithville, Missouri, a town 27 miles from Kansas City, Missouri. While they are studying in vastly different majors, their newfound friendship has kept them motivated for college life in the era of COVID-19.
Sherwood, who is studying marine biology and wildlife, said she will remember her first day at Northwest as a socially distant, masked-up day of SOAR. She had known about her roommate, Thomas, who is studying criminology and criminal justice, for a while beforehand, when someone made a residence hall floor group chat for everyone to get acquainted. 
"There's the fact that college life in general is different, but you also have a pandemic going on, so it's overall completely different than what I'm used to or what I thought it would be," Thomas said.
Part of that difference going forward is how classes will function. Online classes are somewhat new to Thomas and Sherwood, with what little experience they have coming after their respective high schools closed their doors for local COVID-19 precautions. They continued their classes online, finishing senior year of high school remotely, a trend most 2020 graduates across the world lived through.
Northwest, though, is still working out kinks in modifying their courses during the pandemic. Students are getting last-minute information from their professors who are receiving last-minute instruction from University officials. 
Mass emails were sent to students and staff of Northwest Aug. 5 and 6 from President John Jasinski, Vice President of Student Affairs Matt Baker and Provost Jamie Hooyman depicting a first look at what life on campus would look like.
Two recipients of those emails, Thomas and Sherwood, read reminders about social distancing and face covering requirements, the "new normal," and the enactment of cleaning protocols in classrooms and frequently contacted areas.
The expectation of self-monitoring for symptoms, information about course changes, campus dining modifications and a reminder to check the Centers for Disease Control and Prevention guidelines as well as the Northwest FAQ's page for coronavirus recovery were all key takeaways in the emails.
At the time, the University anticipated 44% of courses could have minor changes, meaning students would attend class in person with social distancing in place and wearing face masks, 35% could adopt an "alternate attendance model," which means one day will be in person, the next day class would be remote, 10% could be completely online and about another 10% would adopt a combination of the previous methods.
But even two days before classes were set to begin, some instructors still had not sent emails to their students depicting what class would look like for the semester. 
Hooyman said in one of the emails that while social gatherings are an important part of the college experience, they present additional dangers this year.
"By expecting your friends, neighbors and guests to wear face coverings and socially distance, you are helping Northwest provide in-person classes all semester," Hooyman said.
After attending SOAR and Advantage Weekend in a completely new fashion, with limited large group activities and mediated online friend connections, Thomas and Sherwood said they see these changes for what they are but can't disregard the opportunities that lie within them.
"I love learning," Sherwood said. "I'm really excited to develop more of my passions."
Sherwood is the youngest sibling in her family, with an older sister who already has a degree. Her entire immediate family came to drop her off, and with nervous hearts amid a global pandemic, wish her well in her first semester of college. 
Her mom cried a lot that day, for more reasons than just to see her child taking a big step toward a fulfilling career and leaving her with an "empty nest" back home.
"Things will be good despite the craziness," Sherwood said, looking intently across the library as if assuring her mom of it one last time.
Sherwood said she wants to be involved in green organizations and conservation efforts, as some of her biggest passions are wildlife, animals and how people can help them. She chose her major based on these reasons and said she wants to hone-in on these opportunities as early as possible.
Not as involved in high school as she would like to have been, Sherwood wants to use college as a way to get out of her comfort zone.
"I'm trying to get hooked up with some clubs, hopefully finding things that I know are 'me,'" Sherwood said.
With the logistics of campus organizations still somewhat unclear, making those on-campus connections has been difficult for Thomas and Sherwood.
During Advantage Weekend, the freshman class participated in a Playfair Zoom. The online video chat platform allowed for students to have ice-breaker conversations and activities that would ordinarily happen in-person. 
Thomas noted the activities they could do online were fun, but she said she would have enjoyed it more if it were in-person.
"At least when online, you can see people's smile," Thomas said.
Thomas, who attended a small high school, knew she wanted a smaller college atmosphere. She said Northwest was a good fit for it's campus size, for the programs, and since she could make the two-hour drive home on the weekends if she needed to.
Like Sherwood, Thomas is closest to her mom. They are practically best friends. She said she has always been there for her through the good times and bad, with life lessons and tough love that helped her become who she is today.
When Thomas suffered a car accident the summer before her senior year of high school, she began to learn how to cope with unexpected damage. She said moving to college during a pandemic is a lot like dealing with an eight-month long concussion.
"I definitely know how to deal with struggles, and I faced struggles before coming here," Thomas said. "But it seems like a lot of people are willing to help here, which is refreshing."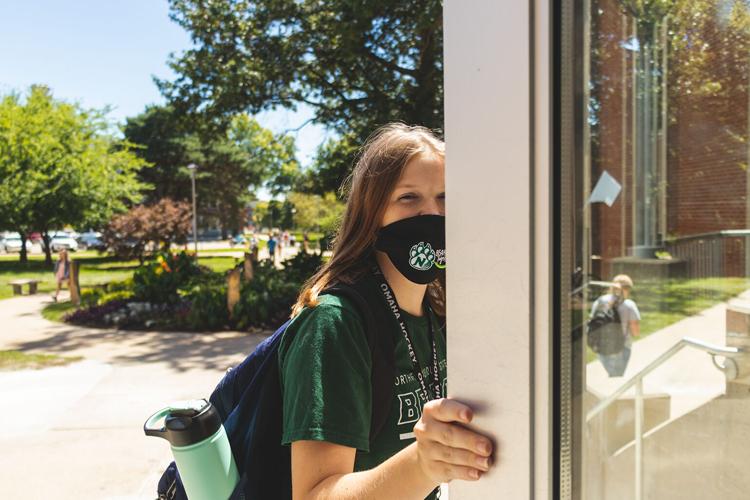 Thomas said the biggest thing she was bummed out about starting college this fall was the postponement and cancellation of college sports. A huge fan of college football, she was looking forward to Bearcat home games this fall.
Until sports make a comeback though, Thomas said it will be nice to focus on her classes and passion for victim advocacy. She chose to pursue criminology and criminal justice because she always wanted to help people.
"Within the criminal justice system, there are people, by the way they act and things they do, … they just need someone there," Thomas said. "I always wanted to be that, to let them know someone cares."
Thomas plans to apply for an on-campus job with the University Police Department, possibly as a dispatcher or something related. She not only wants to help people after college but also get experience doing so as soon as possible.
As the University plans to continue in-person classes through the duration of the fall semester, up until right before what would ordinarily be Thanksgiving break, the state of Missouri continues to be a "Red Zone" for daily positive COVID-19 cases. 
Nodaway County, where cases have grown exponentially over the past month, and where Northwest resides, is welcoming approximately 7,000 people into its county over the week of Aug. 17.
Sherwood and Thomas are two freshmen among thousands who are getting their first-year college experience amid a global pandemic and procedures known as the "new normal." Appearing hopeful for what lies ahead, their confidence, nearly visibly, flows from one another.
"At least we have each other," Thomas said.