Fewer than 50 days after approving a multi-year tuition increase for students, Northwest's Board of Regents was set to vote May 6 on a proposal that would have shelled out $1,000 one-time compensation payments to employees who complete a quiz over the University's Organizational Profile — a move that would have cost Northwest more than $1 million and may have violated Missouri's Constitution. 
The University pulled the item from Thursday's Board of Regents agenda early Wednesday morning — less than 25 hours before the Board was set to vote on the proposal and after it had already been approved by committee earlier this week. 
Under the proposed motion that was approved by committee earlier this week, Northwest would have paid employees $1,000 as compensation for "additional duties," according to an issue description obtained by The Missourian. Those additional duties included reviewing and quizzing over Northwest's Organizational Profile to "promote awareness, knowledge management and build pride in Northwest." 
The description notes the one-time payments to benefit-eligible employees would have been funded via expense management savings the University has accrued throughout the COVID-19 pandemic by limiting travel and meal expenses while not immediately addressing some vacancies. But the payments seem to violate Article III Section 39 of Missouri's Constitution, which prohibits any unearned, extra compensation given after a service has already been rendered — a law that was extended to all employees of the state via the Attorney General's Opinion No. 72-1955.
The law draws a distinction between bonus pay, which is unlawful, and incentive pay, which is allowed for state employees. But, according to a 2017 report from the Missouri State Auditor's Office on the University of Missouri, incentive payment rates are predetermined in employee contracts and are tied to specific performance goals. 
In an email to The Missourian, Chris Nuelle, the press secretary for Missouri Attorney General Eric Schmitt, said the office has "previously and consistently held" that bonuses paid to state employees violate Missouri's constitution, pointing to Opinion No. 72-1955. Nuelle did not say whether Northwest's proposed compensation package constituted mass bonuses, and he did not respond to a follow-up email seeking clarification. 
Clarence Green, Northwest's vice president of culture who helped draft the one-time payment proposal along with representatives from the University's human resources and finance departments, said the proposal did not violate the state constitution. 
Green said it isn't uncommon for the University to assign additional work, coupled with compensation, to employees. He said the compensation did not amount to a bonus, and did not provide an answer for whether mass payouts for completing an organizational quiz is common practice. Instead, Green noted that the proposal had been pulled. 
"I think what we're talking about is — we're really — you're asking questions on something we're not moving forward on," Green told The Missourian Wednesday. "And so, it's really — nothing there. Because we're not moving forward with that solution at this time. If we bring that back, I can vet that. But right now, we're looking at other solutions of ways that we can think about rewarding our people." 
Though the proposal passed in committee during a Board work session May 3, Green said the issue was pulled from the agenda so the University could find the best option to reward Northwest employees, who, the proposal notes, are unlikely to see market increases to their salaries in fiscal year 2022. 
The one-time payment was meant to allow the University "to invest in and uplift our employees," according to the issue description. Green insisted the proposal was not pulled from the Board's agenda due to questions surrounding the constitutionality of the payments. He said the University will return to the drawing board and come up with a different avenue of rewarding employees who did not receive market increases in fiscal year 2021 and likely won't until at least fiscal year 2023, according to the proposal. 
"Just really — we want to find the best solution to reward our people," Green said. "And I think that's what we have to focus on at the end of the day. Our employees are the backbone of our organization and they are responsible for all of our culture, everything that we've accomplished this year and everything that we're gonna accomplish in the future. And I think we have to find ways to, 'How do we say 'thank you' for that?' And I think that's what we're truly trying to do." 
Green could not recall how long University decision-makers spent crafting the proposal that was axed days before the Board was set to vote on it. And he directed specific questions about the overall cost of the one-time payments to Stacy Carrick, Northwest's vice president of finance and administration.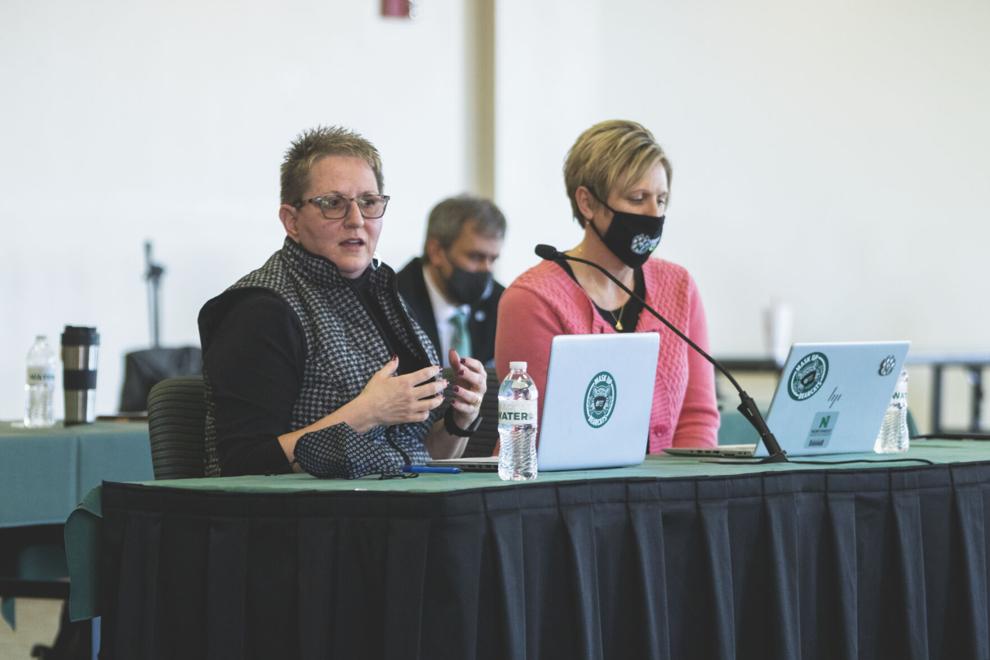 In a May 5 email to The Missourian, Carrick said the proposed compensation package would have cost $1.16 million. Before it was removed from the agenda, the proposal was set to come less than two months after the Board approved a multi-year tuition increase that will cost the average undergraduate student $460-480 in the next academic year, which will net the University around $1 million in the next academic year, Carrick said. 
The Board approved the tuition increase in a 5-1 vote March 18, when Jason Klindt, the only regent who voted against the measure, took issue with Board's willingness to raise tuition rates before having a full understanding of what will be allocated to Northwest via state appropriations or the American Rescue Plan Act of 2021, the latest COVID-19 relief measure passed by Congress. 
Carrick noted at the March 18 meeting the enrollment benefits that come with releasing early tuition packages to prospective students, and also noted the restrictions replaced on COVID-19 relief funds that require the monies be spent a certain way. 
Ultimately, though, the Board voted to raise tuition before having a clear understanding of state appropriations or COVID-19 relief funds as it garnered savings through "expense management" noted in the now-withdrawn proposal. 
---
Regents meet via Zoom May 6 
In a virtual meeting that commenced at 9 a.m. May 6, Northwest's Board of Regents unanimously approved the only action item remaining on their agenda: a round of summer faculty appointments proposed by Provost Jamie Hooyman. Hooyman thanked the Board for approving the motion, noting a 17% increase in summer enrollment for the 2021 term. 
The meeting marked the first for newly-appointed Regents Stephen Coppinger (I-Kansas City) and Shanda Durbin (I-St. Joseph), though Durbin, along with Regent Lydia Hurst, was absent from the virtual gathering. 
The meeting featured reporters from several representatives, including Troy Brady of Northwest's Staff Council, David Shadinger — who gave his last report as the president of Northwest's Faculty Senate — and University President John Jasinski, who is set to preside over eight graduation ceremonies over the weekend.