Randy Strong doesn't consider himself a politician. He never has, and he likely never will. In fact, he winces at the sound of his name and "politician" in the same sentence. Even so, being a politician in at least the slightest of ways became necessary for Strong to hold the position of Nodaway County sheriff.
In his mind, Strong remains an investigator above all else. His more than 41 years in law enforcement, his previous election victory and the campaign message he is pushing this year are three-of-a-kind in a hand of cards Strong will deal this November. He won't stray from them, or the message he hopes to illustrate.
Sitting at his small wood desk in the center of his office, housing a clutter of papers on one side, Strong told stories of his past years in law enforcement. His message to voters echoed quotes from 2016, when Strong said he actually never intended to be sheriff, but entered the race when the right people approached him asking him to. The walls of Strong's office added illustrations to his words.
A short four years ago, by less than 1,000 votes, Strong, 64, defeated the same opponent he will face this November. County voters made it a close race but did not reelect Democrat Darren White, who was the face of law enforcement for the county from 2009 to 2016. Receiving 54% of the vote in 2016, Strong said he knew a bucket list of changes would await him at the door of his new office.
"I refer to those first few days as trying to take a drink of water out of a fire hose that's going full blast; there's so much that's hitting you all at once," Strong said. "After getting elected, I knew I had to work to prove to (voters) they made the right decision."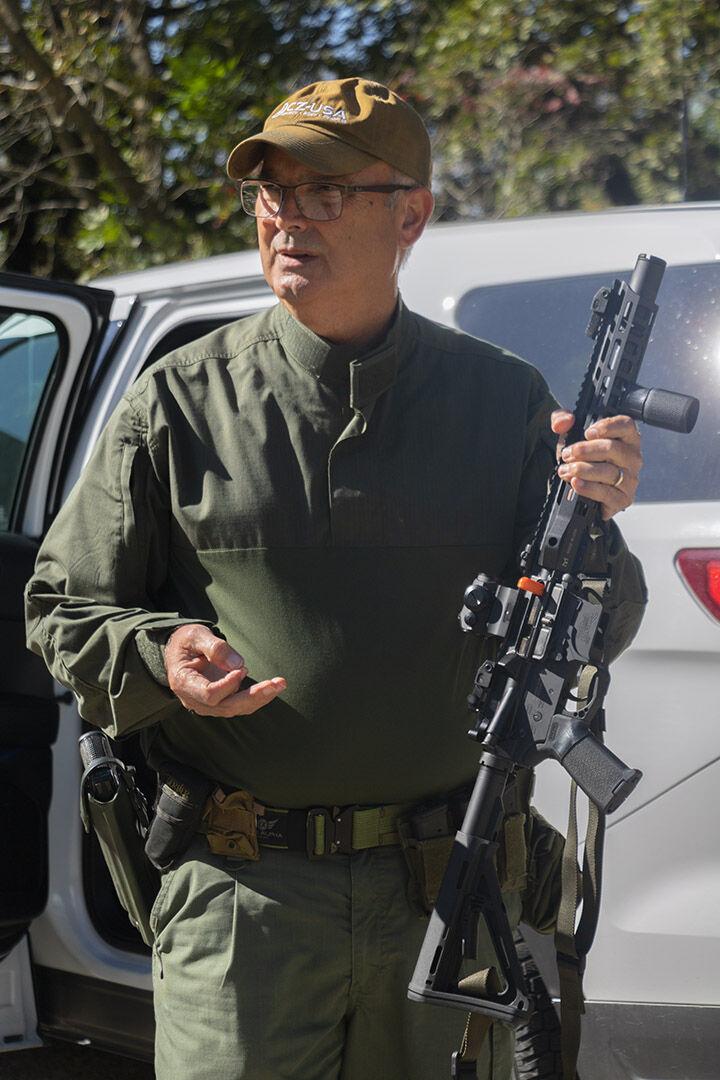 Since then, Strong has made various changes in the department, shifting how the county jail operates, making personnel changes and focusing on accelerated training for staff and deputies, to name a few.
Strong claimed to observe inmates at the jail being treated poorly under the previous administration staff: that they were not given medicine they needed and had to be taken to the hospital, and that deputies seemed to be consistently hostile toward those in jail. Strong said occurrences like this among others drove him to gather new personnel, avoiding any potential lawsuits that White saw while in office.
The 14 deputies, one full-time detective and department as a whole continue to see Strong as a driving force for changes that — at least in the new sheriff's eyes — were necessary. An elected position was unfamiliar territory for Strong, but law enforcement was anything but that.
Strong first came to Maryville as a Northwest student in 1974, and shortly after joined Maryville Public Safety in 1979. Between those five years, he changed his path a few times, beginning as an art major, then taking a winding road to end up in law enforcement.
Now a third generation law man, Strong spent most of his time with Maryville Public Safety, but he also served two years with the Missouri Office of Inspector General before becoming a Holt County Sheriff's Deputy.
Strong, slated as the Republican candidate for Nodaway County Sheriff again this year, sees the role mostly as a title. Investigator was the title he held most of his career in cases that received recognition from five crime documentaries, various national entities and people, including the National Center for Missing & Exploited Children and former U.S. President George W. Bush.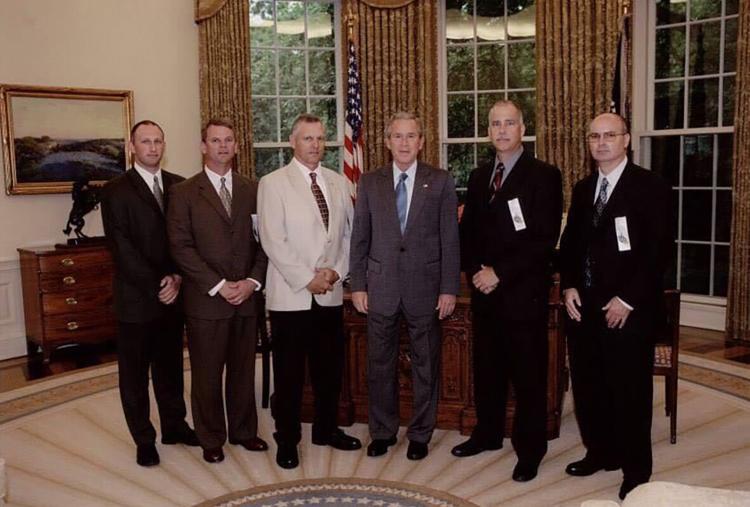 Two cases Strong was tasked to investigate, of which he spent the most amount of time explaining, included the killing of an FBI informant in 1990 and a sexual assault case he worked while campaiging in 2015 and 2016. 
FBI informant Christine Elkins' body was found in the Missouri River by Strong and his fellow team of investigators, who were honored for their detective work on a case that spanned seven years.
The second case included Strong's long-time friend Scott Wedlock, who at the time was Holt County Sheriff. Holt, being a poor county in Missouri with a jail built in 1890, was understandably overwhelmed when a pair of serious sexual assault cases became the face of crime there.
Wedlock hired Strong in 2015-2016 as an investigator for those two cases that, even for Strong and his more than 30 years of experience at the time, were heavy loads.
A 13-year-old girl was traded to a truck driver for narcotics by her father. The girl was kept without clothes in the back of a truck, stuck with her abuser who traveled across the country. Strong was able to put the case together and catch the suspect in southern Missouri, and within the first 10 minutes of interrogation, Strong got his first piece of confession.
"When you can save somebody — and keep someone else from being abused — that's very rewarding for me," Strong said.
The sheriff talked extensively on homicide and sexual assault cases he worked, touting his experience in gaining confessions for crimes and detective work that led to the end of cases spanning several years. 
After speaking on personal experiences, Strong took a turn from himself as a candidate, managing to reflect on policing as a whole. This, a job that's shown in a bad light, he said, with national civil unrest confiding in police and the work they do.
"It's not bad everywhere you go," Strong said. "There have been times I am meeting with someone for lunch in the community and I come to find out later our meal has been paid for. It's comforting that the issues we see out there aren't so terrible here."
After taking office in 2016, one of many issues Strong was tasked with was curbing a narcotic presence in the county. His approach was different from traditional policing, in that he used a community approach, targeting dealers rather than offenders through controlled drug buys.
One of his goals, if reelected, is to send every deputy to what is called "new investigator school," in Jefferson City, Missouri. It is a week-long course that aims to prepare law enforcement personnel for proper techniques in interviewing, crime scenes, what to look for and what to ask.
With the state requiring departments to have 24 hours of continued training throughout the year for deputies, Strong sees that as a low bar he can easily leap over.
"I'm proud of what I have done, but it's time for me to give back," Strong said. "When you flip that lightbulb in those deputies' heads and get them thinking that way, like an investigator, that benefits everybody."
Stepping out of his office and into a day of outdoor training for deputies, Strong hopped in his new patrol vehicle, a Ford Explorer with big letters on the side spelling out "Sheriff." He headed to the fire range on the outskirts of Maryville near Mozingo Lake, where deputies learned how to fire carbine rifles and handguns efficiently.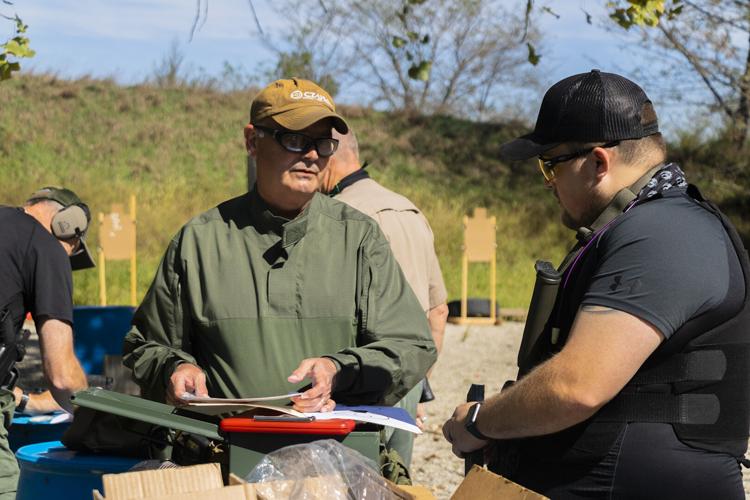 The lead detective for Nodaway County, Travis Cochenour, said this training is necessary for deputies to hone in on skills necessary for the line of duty.
"It's not easy," Cochenour said. "Randy always makes it a challenge for us. It's a good thing."
Cochenour arrived shortly after other deputies and suited up for training administered by the Sheriff himself. Strong, belonging to a couple different organizations who shoot guns for sport, also instructed deputies how to shoot amid chaos in the field, and logistical on-hand training elements for his deputies when guns malfunction.
Other training events like these were cancelled or postponed because of issues relating to COVID-19 this year, which Strong himself tested positive for in late August.
Strong is unapologetically a Second Amendment supporter, a firearms enthusiast even. He said this started at an early age, the first time his father took him out hunting.
The rare Remington Model 8 mounted up behind his desk attested to that truth, the first piece of historical art that grabs any of his office visitor's attention upon entry. 
Sitting beneath the 1930's rifle, Strong repeated his 2016 statement for why he was running for sheriff — that his peers recognized a problem, primarily the lack of unity among Maryville Public Safety and the Nodaway County Sheriff's Office.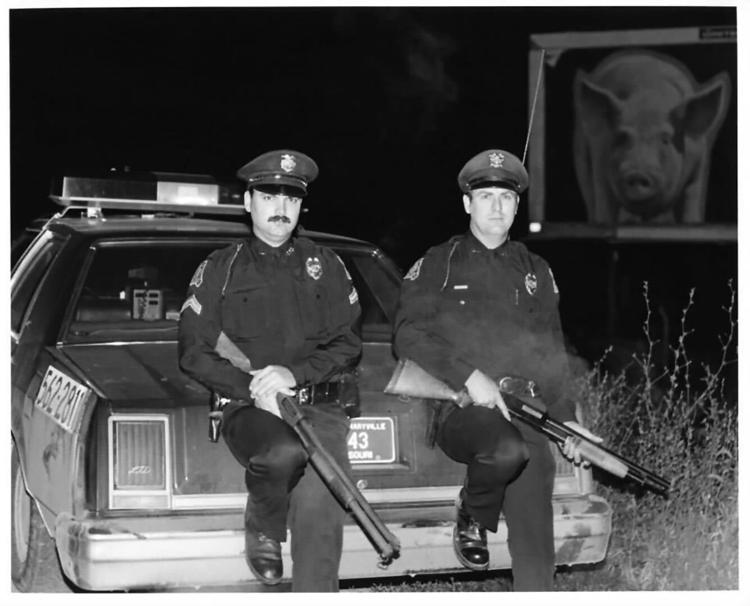 Though Strong said he hates politics, he has never been silent when it came to countering White's campaign on social media. Calling out White for claims he made is a part of Strong's campaign that hasn't lacked, and on that front, Strong's supporters flood to his avail in the comments section.
White claimed that the Nodaway County Sheriff's Department budget increased by "$1 million dollars" on several campaign ads, to which Strong replied that his claim had no base in fact. 
"If I had an extra million dollars, would I be putting my deputies out on the road in an ancient Dodge Charger, that's not suited for this area, that has 180,000 miles on it?" Strong said. "No. No way."
Attempting to avoid controversy from previous years, Strong did not say much about the sexual assault case that garnered the small Missouri county national attention, but he has mentioned the documentary "Audrie & Daisy" at various events he has attended in the community.
In the formative years of the feminist movement, when women's groups began speaking out on various issues, including sexual assault cases nationwide, Strong said the city of Maryville and Nodaway County as a whole was not detached from the outcry for equality. 
A white man boxed in the middle of a geographical square of people who don't like change all that much, he was able to observe those same people side with women on issues pressed for change. After 30 years of progress, Strong couldn't fathom why that case from a night in 2012 felt more like a case in 1948.
"I want people to know we've changed the way we do business on that," Strong said. "We work with victims advocates, get proper training for my staff, work with SANE nurses; we all come together."
Projecting what seems to be instilled confidence from a lengthy past, Strong mentioned very little of his opponent in several interviews with The Missourian, focusing his message on "look what I've done." 
North Star Advocacy, a sexual assault advocacy center formerly known as the Children and Family Center of Northwest Missouri, has seen Strong support the organization's mission as well as victims of sexual violence.
"I recognized very early that when you had a victim's advocate on your side, and you had a forensic interviewer for children, and you had a prosecutor who knew how to use those things, that you could really make a difference," Strong said.
Mirroring an election he already won, Strong said this year's race is something that has crept up on him amid the COVID-19 global pandemic. Strong's focus this year was less on his opponent, White, and more on keeping the office running as smoothly as it had before the pandemic.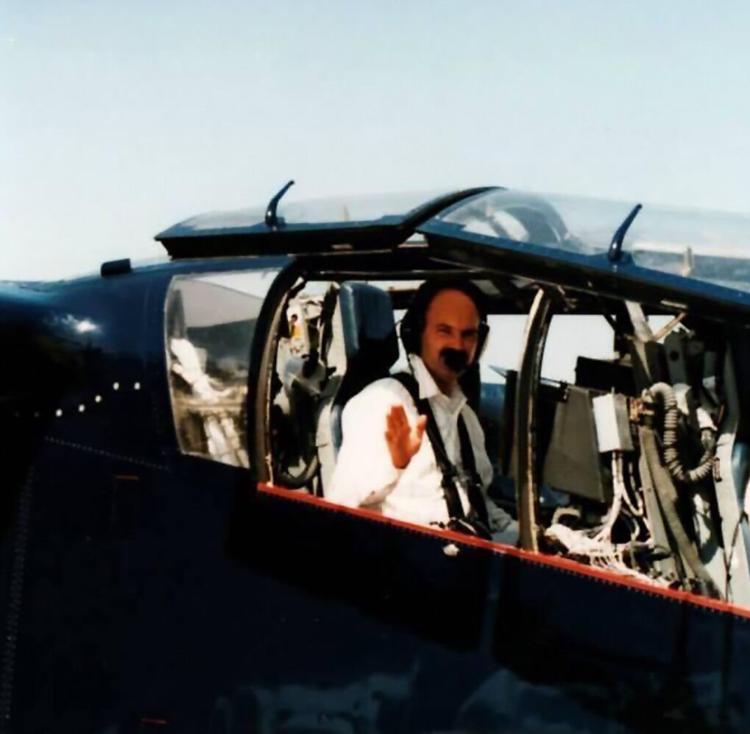 "I'll tell you straight up: I hate politics," Strong said. "Campaigning was exhausting, and the only reason I was able to go through with it last time was because the right people approached me and said we wanted a change."
But this election year is different for the Nodaway County Sheriff. It holds a different sense of urgency than the 2016 election did.
Campaign promises Strong said he has kept include work to consolidate the new 911 center, called the Northwest Missouri Regional Communications Center, and improving relations between Maryville Public Safety and the Nodaway County Sheriff's Department.
That bucket list of changes, and the process of implementing them, would prove to span throughout the four years he has been in office.
In the last few months, Strong has seen endorsements from former colleagues, and most recently Retired Captain James E. McDonald, former commanding officer for Troop H at the Missouri State Highway Patrol. 
"I think the people have seen the change in professionalism," Strong said. "We are striving to be the best that we can. When I finally decide to hang it up, I want my legacy to be that we were well trained, we were professional, and we served our county to the best of our abilities."