Board Game Cafe owner Scott Copeland felt the intensity of COVID-19's grasp through unfortunate layoffs and recovering after beloved staff graduated. He would normally be hiring this time of year, but time, for Copeland, has been elusive.
Maryville businesses have changed how they operate following COVID-19 regulations and a city-wide ordinance that went into effect July 27. The ordinance requires customers to wear masks inside public spaces. This, along with Northwest closing in March, has caused a decline in business, leaving owners like Copeland eager to see students return. 
Before the closures, the cafe expanded with what were popular party rooms and are now empty space. Copeland's hope is that student groups will enjoy having a private space in a controlled environment. 
Copeland expanded online retail with over a hundred board games and several coffee bean selections. Locals and even people from farther away would call and ask how they could help his small business in the trying times. 
Copeland teared up explaining how other small business owners and loyal customers purchased games and gift cards online.
"It just makes me optimistic and think people really can be altruistic," he said as he wiped his eyes. 
As of Aug. 16, Missouri reports more than 66,000 positive COVID-19 cases, with the majority of those cases reported among people aged 20-24. 

Operating with this is mind, businesses are continuing preparations where student activity is constant. 
Jim Goecken owns the Maryville Planet Sub, as well as The Student Body, an athletic apparel store. Until sports make a comeback, The Student Body is making masks for students and offering curbside pickup and outdoor seating.
"The fall sports cancellation was a huge blow with homecoming and football being scrapped. Those are our biggest weekends," said Goecken, who was originally optimistic about picking sports up in the fall. Now, with collegiate sports postponed until further notice, businesses like his will have to keep finding new ways to bring in customers. 
"Keeping sales up and maintaining distance is a challenge," Goecken said. Students who went home in March, after the University moved all classes online, weren't able to return to work. 
"We're excited to see kids back here and happy they get to be on campus," Goecken said. 
When COVID-19 began affecting local businesses, national economists predicted 25% of small businesses would close. Josh McKim, executive director at Nodaway County Economic Development, has been following the economic effects of COVID-19 since the economic collapse was first predicted. 
"We did have some closures, but compared to that percentage, we're actually fairing well," McKim said. "We are still outperforming state and national levels of sales tax revenue and unemployment rates."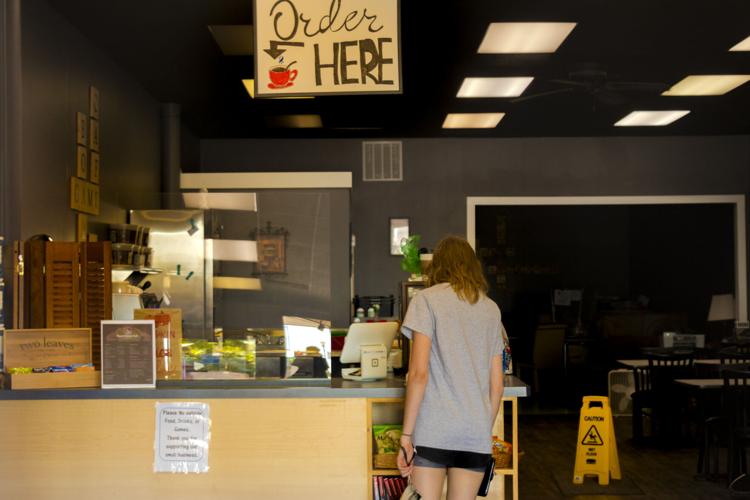 McKim attributes part of this success to the Paycheck Protection Program. The program, created by the U.S. Small Business Administration in March, was designed to provide incentive for small businesses to keep their workers on payroll.
"Any business owner could apply for a loan which would later be forgiven if certain employee criteria is met," McKim said. "That was huge for our [business] owners. It gave people more to do than just sit on their hands waiting for things to change."
The program ended Aug. 8 and put nearly $17 million into Nodaway County small businesses and saved 1,950 local jobs from being cut, according to Maryville's Chamber of Commerce. 
Despite the new reality Maryville's businesses are facing, McKim remains optimistic with the return of 7,000 student shoppers. 
"From an economic standpoint, we are happy and excited to see students back and foresee a much more positive looking environment for businesses," McKim said. 
With a large customer base for his small business making its way back into the community, Copeland admitted he is "cautiously optimistic."
"Maryville has been a petri dish the last few months, and now 7,000 people are going to invade it. I'm a little nervous," Copeland said.
Copeland, whose children attend Horace Mann Laboratory School in the center of Northwest's campus, said he still struggles with the uncertainty of this fall.
"I've asked myself if the college kids will wear their masks, and I don't know," Copeland said. 
"I know the schools are doing everything they can."