The last few weeks had been slow. Scott and Thuy Copeland sat their employees down and told them the news — they decided to close the Board Game Cafe for a month. Owners Scott and Thuy Copeland officially laid off each of their employees in hopes that they would decide to return when the cafe was able to reopen. The Copelands locked the doors of the Board Game Cafe on April 1 because of the COVID-19 pandemic, with uncertainty of when they would be able to open them again.
No one had been in the store in a while. Several glittering Prom dresses hung on the wracks looking festive in these troublesome times. Shannon Beemer busied herself unpacking orders made in the prior weeks to hopefully get them to her customers. Soon to be newly-weds occasionally come in for fittings and measurements. The wedding side of her business is all that she has left to do in her store during the coronavirus pandemic.
Shannon Renees's Formal Wear and the Board Game Cafe are just two of many local businesses in Maryville that have had to close their doors on April 1 because of the coronavirus pandemic. The Board Game Cafe looks to start an online store to create a source of income for the small business. 
Shannon Renee's Formal Wear has seen a drop in prom formal wear sales, but has had consistent sales in wedding attire. This has allowed owner, Shannon Beemer, to keep her business running, despite having to close the doors to her store from at least April 1 to April 14, which has made foot traffic obsolete. 
When Maryville released requirements on March 29 for stores and the public to follow in order to slow the spread of the coronavirus, Beemer began taking precautions in her store. 
Beemer and her employees could not have more than 10 people in the store at a time and had to clean the store every time a person or a group of people left the store.
"Basically we are just cleaning—wiping down with Lysol wipes and spraying Lysol after every customer or group leaves," Beemer said in a phone interview with the Missourian.
Beemer said she had measured three men for wedding attire March 31.
"I am still receiving orders that I have already placed—dresses and such. Those are all on time. We haven't had any delays in receiving products," Beemer said.
Beemer said her employees handled the changes caused by the coronavirus pandemic well. She said she had two part-time employees, both of which are not able to get working hours because of the store's closing. Beemer said she knew one of her employees was staying in Maryville, but she was unsure of what the other employee has planned. She also said she offered both of her employees to come back and work in her store when she can reopen.
On the south end of the square in downtown, the Board Game Cafe saw a significant drop in sales during the month leading up to April.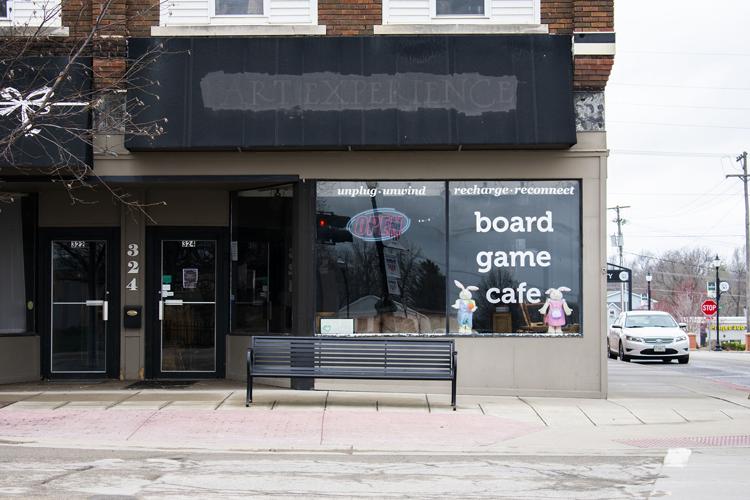 Scott Copeland said ever since they opened the cafe in January 2018, they have seen 15% to 20% growth every month they have been open. He said February was the cafe's busiest month they had ever had, which took a turn in the opposite direction in March.
Scott Copeland said March and April are usually their busy times of the year, but because of the coronavirus pandemic, March was one of their slowest months ever for sales.
In the last two weeks of March, the Board Game Cafe was forced to close the game library section of the cafe, which brings in more than half of their business sales, leaving the cafe to operate as essentially a coffee shop.
"It's really hard to keep the games clean and just to kind of encourage people to start social distancing. We didn't want to encourage people to come and hang out with a large group of people … Just for the safety of the community, we thought that was best," Scott Copeland said.
Scott Copeland said they usually rely on the months of March and April to carry them through the slow months during the summer. 
Scott Copeland said they could technically keep their doors open since they can serve coffee to go, similar to a restaurant doing carry out orders, but they decided it was best to shut their doors to help protect themselves and community members.
The last few weeks of being open, Scott Copeland gave all the hours he could to his employees and officially laid them off until their official return date in early May, which could change. He said officially laying off his employees and providing a return date for them helps ease them through the unemployment process. Scott Copeland also said that parts of the unemployment process are waived if people have return dates for their jobs.
Scott Copeland said he informed all of his employees that he wanted them to come back and work at the Board Game Cafe when the store is able to reopen its doors.
Since precautions related to the coronavirus pandemic have been put into effect, lowering of their sales has forced them to close their doors, the Board Game Cafe's owners are left to wonder what the future of the cafe will look like. In spite of the uncertainty that is lingering over the Board Game Cafe's future, Scott Copeland is hopeful of the cafe making a come-back.
Scott Copeland hopes to start an online store where he sells games and does porch deliveries to families during the pandemic while his doors are closed.
"We actually just got a huge shipment of board games and we are working on getting a webstore up," Scott Copeland said. He said this would allow him to bring in some income with the store closed and it could also give families things to do when they run out of activities at home.