Amidst top-40 radio hits blasting through the speakers and freshmen hunting for free swag, a friendly rivalry brewed between the two major political student organizations on campus: College Democrats and College Republicans.
In preparation for the 2020 election year, both groups aimed to increase their memberships and presence on campus.
The tables representing each group at the organization fair were separated by several other organizations, so the two groups focused on their personal sign-up goals throughout the day. However, after the fair was over, College Democrats Vice President Tyler Bears and College Republicans President Jasper Logan compared sign-up numbers and issued a challenge.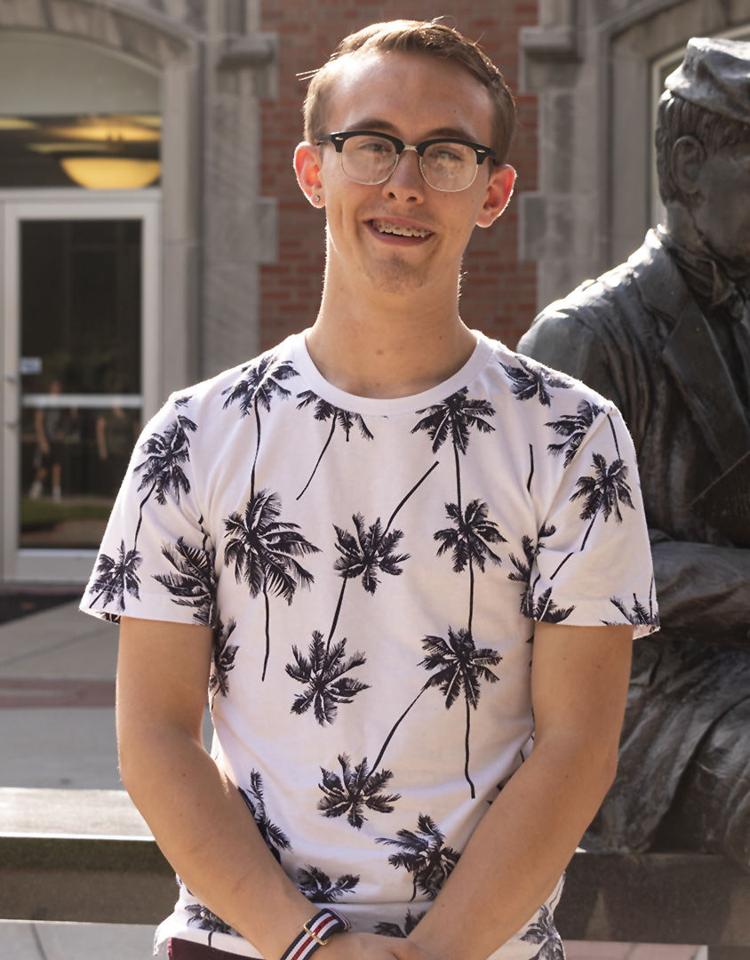 "I saw a post from Jasper Logan on Facebook, and he said that they got 86 sign-ups, and I texted Spencer and said, 'Should I tell him the news?' and Spencer said, 'Yeah, buddy,'" Bears said. "So I went into my Facebook and I did what people call a 'clap-back.'"
Bears said that College Democrats got more than 100 sign-ups, which Logan took as a challenge.
"I saw that the dems surpassed us by about 15 sign-ups, and challenged Tyler and Spencer to a 'race to 250,'' Logan said. "I hope that, regardless of the outcome, the result will be getting more young people active in politics, no matter which side of the aisle they are on."
Logan said canvassing in nearby communities is a major focus of the organization, and they hope to increase that effort in the coming year.
"In 2018, we knocked on every door in Maryville, plus thousands in Savannah, St. Joseph, and even places as far away as Kansas City and Slater on the weekends," Logan said. "We did that with fewer than ten volunteers. In fall of 2020, I'd like to have fifty active members ready to hit some doors and phones."
Bears said that the group has always been active, but a goal this year was to do more than hold meetings and have discussions. He said that Owens has generated a list of a semester's worth of event ideas including campaigning events, speakers and debates.
"Spencer Owens, who I have come to love greatly, has really stepped up to the plate in a way that I couldn't be any happier with," Bears said. "He's really proven that, even within just the first few weeks of this semester."
Logan and Bears said the rivalry is purely friendly and the two groups have a good relationship. Bears said the relationship between the groups is best illustrated by a debate hosted by Criminal Justice Club last year.
"They brought up a number of issues, and we all raised our hands and talked about them, and the College Republicans and College Democrats agreed on quite a bit of fundamental issues," Bears said. "And I think that just goes to show that oftentimes the truth can get skewed in such a way that makes us look a lot more polarized than we are, but there's a lot of common ground that we have."
Logan said they hope to continue having civil political debates and discussions leading up to November 2020, and possibly collaborating in philanthropic efforts similar to last year's flood relief fundraiser.
After the flooding in the midwest in the spring, College Republicans, at the suggestion of College Republicans Vice President Hannah Richter, used its information table spot in the J.W. Jones Student Union to raise money for the cause rather than advertising the group. Richter invited College Democrats to collaborate on the fundraiser, which raised around $70 for the Nebraska Farm Bureau's flood relief effort.
"We are blessed to be on a campus where we are able to have rational discussions ... and maintain good relationships with friends who have different political views," Logan said. "I hope that Northwest will continue to lead the way as an example of civility and productive discourse."