If Alexander Hamilton were alive today, he would likely show concern over one thing — the way the federal government handles its credit.
Jewels McAuley, a sophomore political science major at Northwest, spoke on the latter issue as part of this week's Stoa Talk, "Alexander Hamilton and Today's National Debt." The lecture series is put on through the Department of Humanities and Social Sciences, whose students can submit research and other material they wish to present on. 
A socially-distanced audience filled the room in Valk Center Sept. 18 as McAuley briefed on her findings, weaving historical context together with modern facts and figures.
The fifteen-minute presentation was based on Hamilton's view of what the states and the federal government owed following the Revolutionary War, concurrent with his appointment to the U.S. Treasury Department in 1789, in comparison to the debt ceiling this country faces. McAuley stressed the influence of federal spending and income on the nation's debt ceiling. 
From the time Hamilton died in 1804, the government's federal revenue and debt have increased in tandem. At the time of his death, Hamilton had enacted a plan to have the federal government assume all the states' debt at face value. Said debt was recorded to be around $54 million. As of October 2019, the national debt had topped $22 trillion. The U.S. credit outlook was also changed, with the forecast degrading from "stable" to "negative" in just a few years' time.
Part of what's helping the government, McAuley said, is associated with the $4.2 trillion in taxpayer dollars put towards federal programs such as Social Security, Medicare and Medicaid. That revenue, along with the country's "AAA" credit rating, would leave Hamilton satisfied if he were alive today, according to McAuley. The nation's business model, on the other hand, would likely concern him, in addition to the tabulated total debt owed and the outlook for the economy as a whole.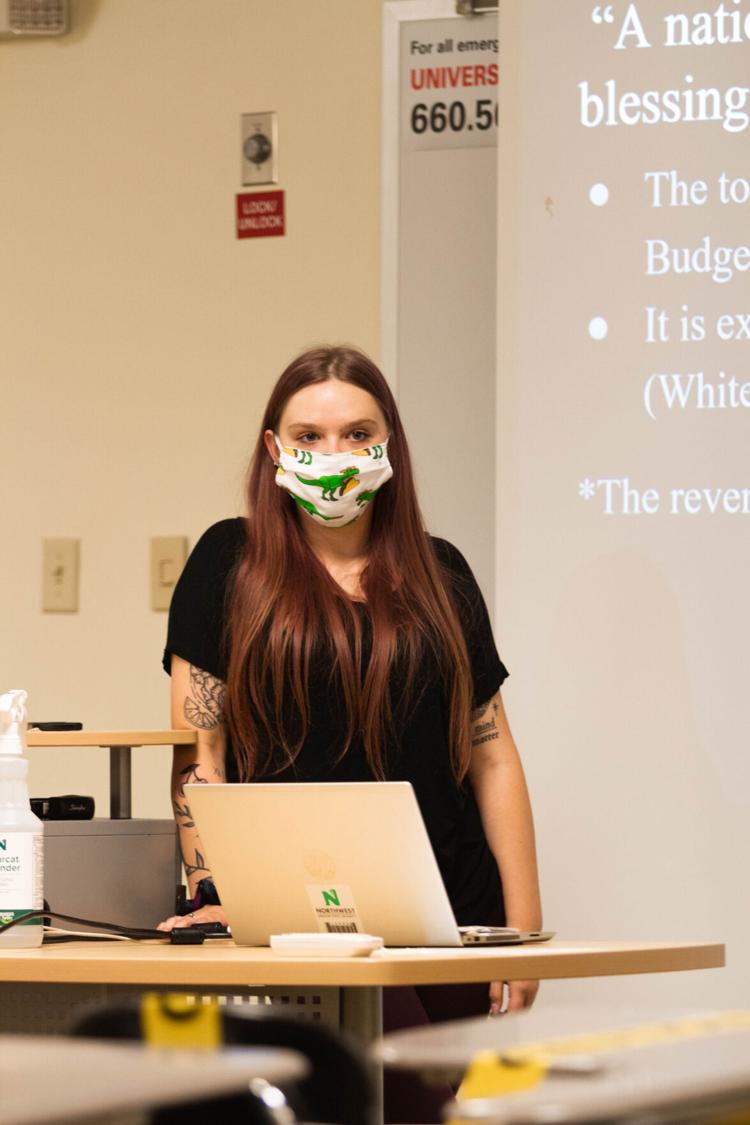 As to why it's important for students to learn more on these topics, McAuley said it comes down to how one's dollar works in relation to the economy.
"Definitely just a general understanding of the economy and how it came to be, how it works," McAuley said. "That's, I think, something that's really important that a lot of people don't have a general grasp on."
McAuley also said this series is more than just a chance to learn new material - it can be about branching out and finding like-minded people one might not otherwise come across.
"There's always the benefit of finding out information that you didn't know," McAuley said. "But I think it's also a way to connect with people who are not necessarily within your major and getting to know [those] people who are passionate about what they're doing."
Sophomore Matthew Babbitt said he has a new view of our nation's debt dealings going forward.
"I think it really did," Babbitt said. "I wasn't totally informed. I knew that it was in the trillions at this point, but I didn't really understand how we got [here]."
Babbitt said he would have liked to know more on exactly how federal welfare programs contributed to the debt numbers.
"I think she could have elaborated a little bit more on the social services and how they generated that revenue, but besides that, I think she did a really good job," Babbitt said.
The Stoa Talks series has three sessions left this fall. Talks will be held on Sept. 25, Oct. 23 and Oct. 26 in Valk 90.