In a matter of five minutes, Black Alumni and Friends raised $6,300 at a chapter meeting designed to set goals and elect officers.
Black Alumni and Friends, a chapter of the Northwest Alumni Association that focuses on enhancing diversity, equity and inclusion, raised funds for a scholarship and general support fund when numerous people decided to donate during a chapter meeting Oct. 25. The chapter also elected new members to hold office and made the decision to allow students to serve on its board of directors.
Motivation for a flood of donations and changes in leadership within the chapter came following remarks from University leaders who shared advances Northwest has made for the black community on campus.
University Police Chief and Vice President of Culture Clarence Green, Associate Provost of Diversity and Inclusion Justin Mallett and University President John Jasinski attended the event, all sharing what the University's plans are going forward.
Green put up the first $1,000 toward the BAF scholarship, whereupon six others were motivated to donate toward the chapter's cause.
"We are seeing more students who have a heavy financial wound," Green said. "That's a large burden. We need alumni's help, and sometimes that's just them having someone to talk with."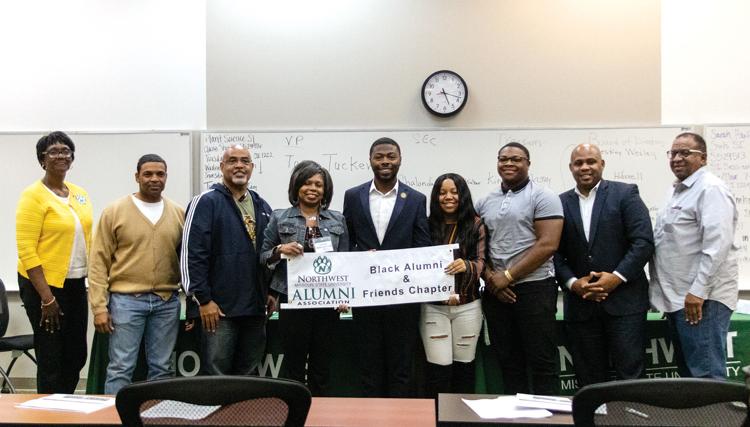 Speaking on the University's vision of culture as well as Diversity, Equity and Inclusion, Jasinski said the BAF chapter presents a good opportunity for minority students.
"There's so much work to do, frankly, on so many fronts," Jasinski said. "We are proud of where we're at today, and we know that we can move rocks and boulders and move forward too."
The University recently won an award from the American Association of State Colleges and Universities for increasing its retention rate of all students to 78%. However, as Mallett explained in the BAF's Oct. 25 meeting, retention consistently remains at around 50% for black students.
Mallett went on to share his experiences in the DEI office amid its rebranding and restructuring phase over the past three years. He said Northwest has been working to define what exactly the role of that office should be and how the restructuring process has made it more efficient for students and staff.
The Office of Diversity, Equity and Inclusion now resides under the Provost's Office, where Mallett is working in a new atmosphere of leaders.
"Diversity and inclusion isn't a one person thing — it's an entire campus. It takes all of us to do this," Mallett said.
Mallett emphasised that while Northwest takes big steps toward an equitable campus every year, the institution does small things almost daily to help students feel welcomed and guided toward individual success. He said the University brought a barber for students to get a haircut prior to Homecoming if they wished and have done similar things in the past.
After University leaders spoke, BAF shared its strategic plan with the meeting attendees and created a scholarship as well as a pool of funding for students who may face financial difficulties.
In addition, BAF made organizational changes, electing freshman Destiny Wesley, freshman Savion Robinson and senior Kylan Harrel to the board of directors. The students will serve alongside four alumni board members and work in student engagement committees.
The meeting featured an encompassing theme of connecting people through Northwest, past and present attendees, as well as friends of alumni and students.
Green said the University's biggest opportunity is having black alumni come back, connect with students and be more accessible for them as a resource to go to for advice and support.