Dan Hurd had already attempted suicide three times when his friend, Shawn Carr, dragged him along for a bike ride in Massachusetts in 2017. He was planning his fourth attempt. He had no interest in riding a bike — that's what his motorcycle was for. But Carr was persistent, so Hurd obliged.
Hurd was in his late 20s then. He was six years removed from his time with the U.S. Navy where he completed two tours in four years. He was depressed and suffering from two separate cases of PTSD, he said, one that stemmed from his time in the military and the other from a childhood where Hurd was physically, mentally and sexually abused.
Hurd, now, is in the midst of a 25,000-mile, three-year bike ride across the continental U.S., a trip he's making to raise awareness for suicide prevention, something that would have been unfathomable 30 months ago. So far, Hurd has trekked across 34 states in 19 months, visiting old friends from the Navy and spreading the word of awareness along the way. His trek brought him to Maryville, Missouri, Oct. 11.
Back in Massachusetts, Hurd had no interest in riding a bike. He had no interest in living, really. Carr invited Hurd on bike rides often, and Hurd continually turned him down.
"(Carr) got to the point where it was almost like a joke," Hurd said. "He was just like, 'Hey, man, let's go ride.' I'm like, 'Yeah, I'll meet you there.' But after the (third suicide) attempt he was like, 'Hey, man, you're coming riding with me today.'"
So Hurd obliged and trailed Carr through a 20-mile bike ride in Carver, Massachusetts, where the two lived. The ride was fun, Hurd said, but it wasn't anything special. The pair's second ride — a 30-mile trek after Hurd and Carr finished a shift at a metal shop — followed a similar script.
"It wasn't changing what I wanted to do," Hurd said. "I was just looking at it as a great time to spend with my buddy before I checked out."
The pair's third ride together, though, was pivotal. They had no real destination or plan when they left Carver, they just rode, Hurd said. Hurd and Carr rode 80 miles to Cape Cod on a Friday night in July 2017. The next day, they rode 15 miles, Hurd said. Then, the pair headed back to Carver to complete what was set to be a 166-mile trip in one weekend.
On the way back to Carver, Hurd struggled. He'd never biked 100 miles, much less 166. Hurd told Carr that he didn't think he could continue, that he didn't have it in him. Carr replied with what was, in essence, a six-word phrase that would carry Hurd through the ride and through the next two and a half years.
"It's one pedal at a time," Carr told him. "It's left-right, left-right."
"So, I did," Hurd said. "I literally kept saying left-right — I was doing a cadence in my head, pretty much. And by the time I realized, we were home."
At the time, the phrase uttered by Carr was somewhat of a platitude, but it grew into the base of the name of Hurd's nonprofit organization, the One Pedal At A Time Movement. It became his mantra for his journey across the U.S. It saved his life. And Carr said it was never really supposed to.
"I wasn't trying to save his life at that point," Carr said. "He was pretty depressed. So I was just like, 'Hey, before you check out, if you want to go riding, make one last cool memory with you, and then you can do what you want with your life.'"
What was meant to be a memory has since turned into a movement, one that's carried Hurd from Massachusetts to Missouri and through 32 states in between. It's one that carried him into Maryville on accident Oct. 11 where he continued to spread his message of suicide awareness.
Growing out his matted orange hair and beard, Hurd looks and smells like a man who's lived in a tent for most of the last 19 months because that's what he's done. Most of what Hurd's needed for the last year and a half and most of what he'll need for the next 17 months are strapped somewhere to the frame of his two-wheeled chariot.
His tent is tied across his handlebars. He's got spare tires and tubes for his bike stored in bags. He has clothes stashed for every kind of weather imaginable, including winter layers he aims to avoid breaking out. Hurd is headed to Texas for the winter, hoping to finish his Midwestern tour before the region succumbs to winter.
With all Hurd's gear loaded up, his bike weighs 175 pounds. With Hurd on board, it weighs 300. There isn't room for much else on the bicycle, though he's kept space for decoration on the front of the vehicle. Hurd has a sign strapped just beneath his handlebars, one that serves as both a reminder and an ode to "Forrest Gump" from the guy who's nickname for the last decade has been Lt. Dan.
"Make a stranger smile," the sign reads. "Be the change."
That is, of course, Hurd's goal: to be the change he needed himself as a kid, the change he never really found until well into adulthood. Hurd grew up a victim of abuse and found himself in the foster care system in his teenage years.
Before he graduated high school, Hurd attempted suicide for the first time. He was 17 years old. The incident was never reported, Hurd said, and he's thankful it wasn't. If the attempt had gone on record, Hurd wouldn't have been accepted into the armed forces. After the Marines turned him down, Hurd entered the Navy. He saw the military as his way out.
"When I initially tried to join the military my reason was, 'If I die, at least I'll die fighting for my country,'" Hurd said. "Suicide by the military, almost."
Hurd's time in the Navy, from 2007-2011, turned out to be the best time of his life, he said. For the first time, Hurd felt like he had a family to lean on. In his transition back into civilian life, he lost the only support group he had ever known, and with it, he lost his way.
Like many veterans, Hurd suffered from Post Traumatic Stress Disorder, though he said his case with the disorder that resulted from his time in the Navy was relatively minor compared to the trauma that stemmed from childhood abuse.
In the military, Hurd said, everyone had his back. Life back in Massachusetts was a different story, one that led Hurd to abuse cocaine, among other drugs. After his third suicide attempt, his therapist thought Hurd needed to reconnect with Navy friends. Carr thought he needed to ride a bike. Hurd was only thinking of his next attempt.
"I thought we were going to lose him," Carr said.
Hurd's journey across the country wasn't originally rooted in a non-profit effort or an awareness movement. He originally decided to make the trip to clear his own headspace and to visit friends from his time with the Navy and from other walks of life. It was never really intended to be the noble effort that has defined Hurd for the last 19 months.
Hurd originally mapped out a path to different friends in 32 states, though the route charted would take the cyclist through 42 states to get there.
"So, what's the extra six at that point?" Hurd said.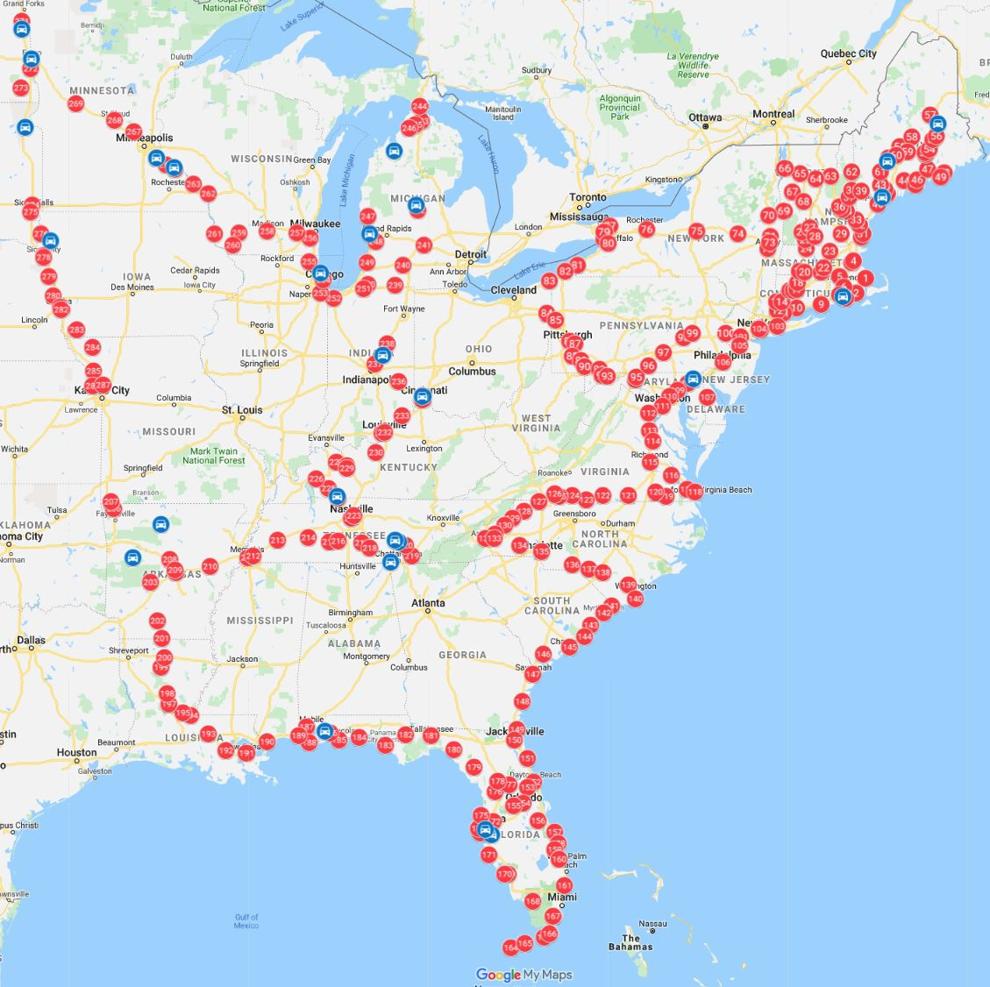 Hurd's list of stops has grown since he first planned his ride close to two years ago. He's visiting friends from the Navy and from high school, though his work has been realized more so through strangers he has met along the way, many of whom have helped fund his trip. Hurd is riding across the country with no steady income and no money in the bank, relying on the kindness of strangers following his growing movement and on revenue from his website.
On 11 separate occasions throughout the last 19 months, Hurd has crossed paths with people who were on their way to attempt suicide, he said. Because of Hurd and his message, they didn't.
On an unplanned trip through northwest Arkansas, Hurd met Tarama Dimmitt, one of the 11 people he said he crossed paths with. He saved her life. She paid for Hurd's Maryville motel room for three nights so the cyclist could stay out of the cold. Hurd said 56 people have shared their suicide attempt stories with him over the course of his journey.
"Even if there's one person out of the whole entire ride that doesn't kill themselves and keeps a bunch of family members from having to go to a funeral and cry every time that day comes up every year," Carr said. "If it was one person he saved: awesome. But so far, it's been quite a few."
The effects of the trip that started as a journey have been two-fold. Hurd has found himself down a full 100 pounds since his first bike ride with Carr, leaving him in the best physical and mental shape of his life, Hurd said. But his ride has developed into more than a personal journey.
More than anything, Hurd wants people to listen — not to him but to each other. And he wants people to talk. That's why he doesn't charge for speaking engagements and why he reaches out to local media at most stops along the way. And that's why, of course, he's riding a bicycle across the continental U.S.
Hurd's primary goal is to help eliminate the stigma surrounding conversations about mental health, the same stigma that nearly cost him his life three times.
"No matter how little you think you're struggling, it's important to talk about it," Hurd said. "And not just to anybody or somebody, but to everybody. But at the same time, we have to have people willing to listen. … I want to be a part of that change."
Over the last 19 months, Hurd himself has changed. His intent has grown from personal to virtuous. His body weight has dropped by 36%. He found God in Ohio in August 2018. He was baptized in the Southwest seven months later. He gave his first public speech in Arkansas this year.
"It's the best thing that's ever happened to me," Hurd said. "As long as we're living and breathing on this earth, there's a purpose for us. We have to be willing to seek it. I'm seeking it on a bike."
Hurd doesn't know what his life would look like had Carr never convinced him to go for a ride more than two years ago. He's pretty sure he wouldn't be here, he said. And he credits much of what he's accomplished in the years and months since to Carr's consistency.
Carr said he feels differently.
"It's all him," Carr said. "He likes to give me credit. All I did was provide him with a bicycle and a destination and a little bit of coaching to keep him from giving up. But really, he could have gave up at any time."
Hurd doesn't view himself as a hero by any means. He barely takes credit for his own 34-state journey across more than half of the U.S. He credits Carr for getting him on a bike and the strangers that support him. He credits those courageous enough to share their stories with him. He credits anyone who listens to and spreads his message.
After 14,000 miles of cycling, he views his own role as the easy part.
"All I've done is pedal," Hurd said.
If you are having thoughts of suicide, call the Suicide Prevention Lifeline at 1-800-273-8255.
Those seeking to donate to Dan Hurd's cause or to learn more about his ride can visit ridewithdanusa.com.