After the success of last week's COVID-19 mass vaccination clinic Jan. 26, the University, Mosaic Medical Center - Maryville and the Nodaway County Health Department are holding their second mass clinic Feb. 4.
Health Department Administrator Tom Patterson said the clinic will function the same way that they did last week where 700 residents — who fit under Phases 1A and Tiers 1 and 2 of 1B — received the COVID-19 Pfizer vaccine out of 500 vials.
President of Mosaic Medical Center - Maryville Nate Blackford confirmed that the hospital was scheduled to receive 500 Moderna vaccines but will be exchanging those for 600 doses of Pfizer vaccines to use at this week's clinic.
"In a perfect world, we would use the same manufacturer every single time," Blackford said. "It is highly unlikely that we will be able to do that."
Blackford explained there have been some minor changes, mostly to improve foot traffic, to maintain social distancing and to increase the amount of people inoculated per minute.
"We are going to go from vaccinating five patients per minute to eight patients per minute, per table," Blackford said.
Blackford also explained that the hospital has improved their identification system to help them identify which patients need to be observed for 30 minutes rather than 15 minutes. He said this was something they did at the first clinic, but there was some confusion on who needed to be observed for a longer time period.
He said people who have had reactions to any vaccine in the past should be observed for 30 minutes for any side effects.
Blackford noted that he anticipated this week's clinic will be the last clinic that they distribute Pfizer vaccines, and going forward, they will distribute Moderna vaccines, but this is subject to change.
He also said that the brand of vaccine that is administered depends on availability and ultimately what the state gives Mosaic - Maryville to inoculate with.
Blackford estimated that this week's clinic will inoculate roughly 750 to 800 people depending on how many extra doses can be pulled from the vials. Last week 200 extra does were pulled from vials. 
According to Missouri's COVID-19 Dashboard, as of Feb. 2, 1,823 doses have been administered in Nodaway County, 1,533 of those being first doses and 290 of them being second doses.
As of Feb. 1, there are a total of 2,525 cases and 33 current cases in Nodaway County, three of which are from the University. As of Feb. 1, there have been 22 deaths
According to the Missouri Department of Health and Senior Services, the state plans to divert roughly 53% of weekly allocated vaccines to select hospitals, and 23% will be given to regionally planned mass vaccination events that are partnered with local vaccination teams and the Missouri National Guard.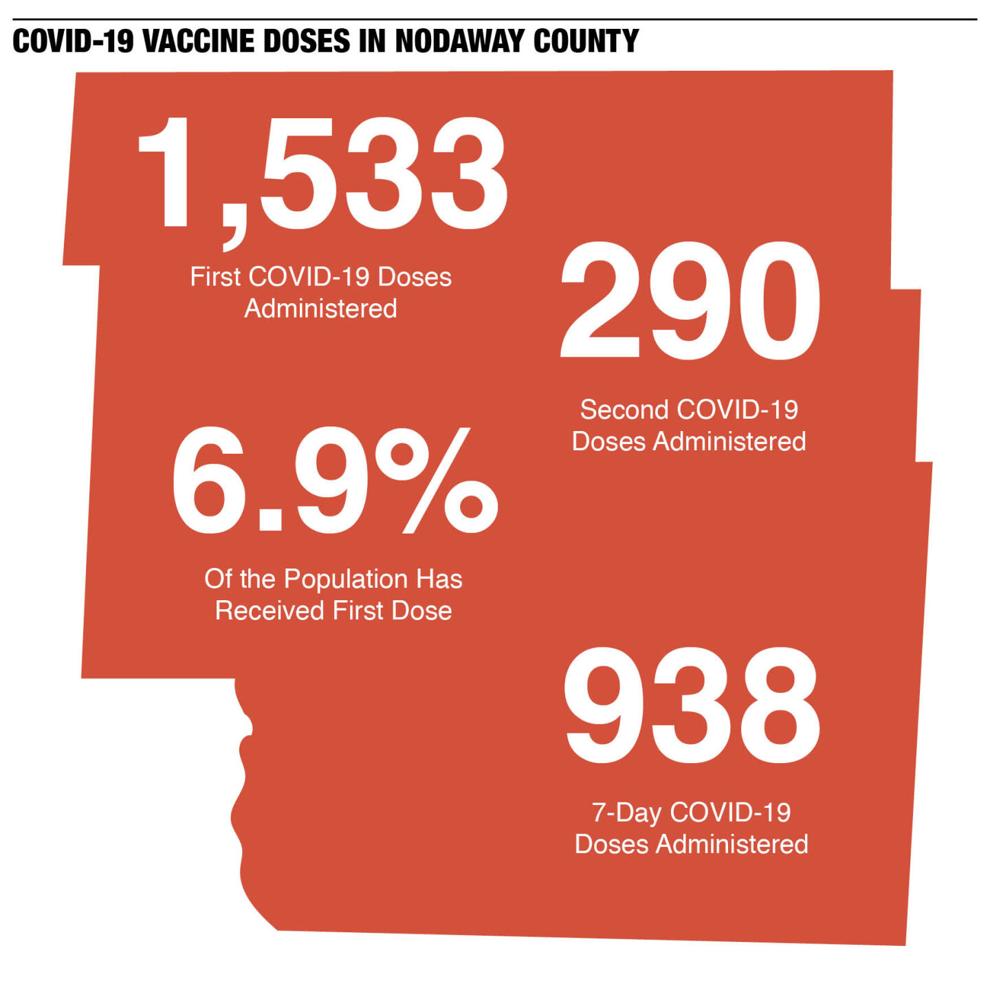 The other 24% of vaccines will be distributed in multiples of 8% to public health agencies, federally qualified health centers and enrolled providers or "community providers" that have requested vaccines.
Also according to the Missouri Department of Health and Senior Services, Mosaic Medical Center in Saint Joseph, Missouri, is on Missouri's February High-throughput Allocation, but Mosaic - Maryville is not.
Blackford explained that as part of the overall Mosaic system, not being listed on the list does not mean Mosaic - Maryville will not receive a portion of the 53%. He said it provides them with a better chance of receiving some kind of shipment of vaccines and, likely, on a more predictable basis.
Patterson noted, as he has in the past, that all of this is subject to change. He said Mosaic - Maryville and the health department can expect to receive shipments of a certain amount and brand of vaccine, but those expectations often change.
"You know, sometimes it's day-to-day," Patterson said. "It's definitely week-to-week."