A suspicious package was found around 11:30 a.m. May 31 in the US Bank parking lot on South Main Street.
Maryville Public Safety arrived on the scene shortly after and blocked off a two-block radius for community safety. Officers also evacuated the homes and businesses in the area.
Maryville Public Safety Sergeant Jeremy Ferris explained the process of securing the area.
"We got a call to US Bank in reference to a suspicious item at the bank," Ferris said. "We evacuated everyone for two blocks radius. We also contacted the ATF and communicated with them."
Though the situation was tense, Ferris said the importance of their jobs for the community.
"Of course we are always on edge, but it's important to keep the community safe so you want to let as many people know and not inconvenience them as much as possible," Ferris said.
As ATF arrived on the scene, Maryville Public Safety worked hand-in-hand with them to diffuse the situation. In addition, the Nodaway County Sheriff's Office and Missouri Highway Patrol were also on the scene.
Bomb-defusing equipment was flown in from Jefferson City for use. Director of Public Safety Keith Wood said because the equipment wasn't readily available, all the officers could do was wait.
"If it is an explosive device, we should all be in a safe zone and out of harm's way," Wood said. "When you don't have the immediate resources to deal with it, which no community our size does, it's a waiting game until you get the resources that are being sent."
Wood said the last time a threat of similar nature was encountered in Maryville was about 10-15 years ago.
Marwan Ouda was detained by Maryville Public Safety and Missouri Highway Patrol on the corner of South Main and First Street.
Detective Ryan Glidden, State Trooper Dale Reuter and Officer Adam Jones stopped Ouda and removed him from the vehicle. During the interaction, Detective Glidden pulled his firearm on Ouda.
Marwan Ouda's wife Christina Ouda said her husband sold a truck to a man in Nebraska and they went to the bank to do the transaction. When they were leaving, Marwan Ouda had some pots in pans in the truck. One of the items was a pressure cooker which alarmed officials when it was left behind in the parking lot.
Christina Ouda said while she thought the actions of law enforcement were drastic, she understood the measures.
"I feel it was a little extreme," Christina Ouda said. "They know us, they could have come to our house and knocked on the door. I felt like this was just a pretty big show. The officer I dealt with was very kind and sweet, but they had guns in our face and they were coming at my car. It was scary and they literally grabbed him out, threw him in handcuffs and didn't tell me why or anything. Eventually, they told us what was going on, but it was very scary and just pretty extreme. It was just an unfortunate situation."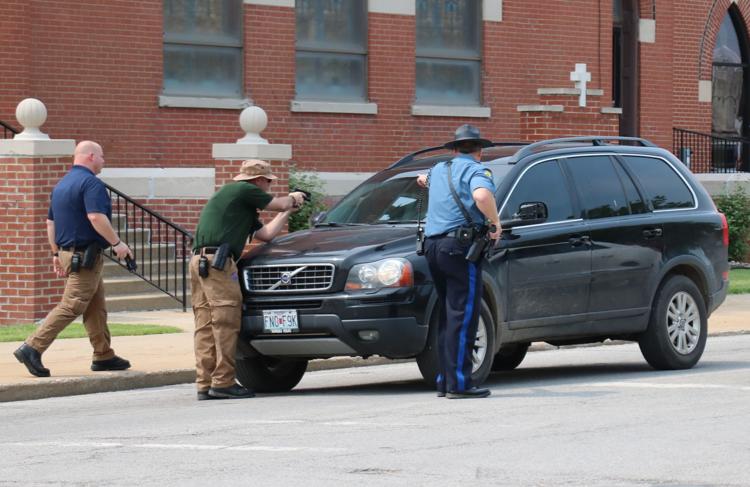 Marwan Ouda was detained, but not arrested. Wood said the arrest and the department's actions were warranted.
"I think it (the arrest) went well," Wood said. "Our concern when the arrest took place was that he could have been driving around with a switch or anything else so at that point we still didn't know. I know they ordered him out of the car twice and I think he got a little hinky with his hands so it had to be escalated just a little bit, but after he was taken into custody, everything was fine."
After a few hours, the Missouri Highway Patrol arrived on scene with bomb-defusing equipment. It was determined through careful inspection that the package was a pressure cooker.
Wood said although the situation was chaotic, the department gained experience for the future.
"It was silly, it was thoughtless, but that's what we deal with," Wood said. "If we are faced with it again, at least we have more practice."