Northwest students are gaining hands-on experience through real-life crisis scenarios in a volunteer and internship program at a local domestic violence and sexual assault shelter.
Through the Children and Family Center-Northwest Missouri, students learn to communicate, advocate and serve victims of domestic violence and sexual assault. Among many other services, volunteers and interns observe and take part in crisis response, including meeting with individuals seeking shelter, answering the 24-hour hotline and spending time with traumatized victims.
The CFC served 220 clients in 2018. Of those 220, 165 were female, 19 were male and 36 were children, all of which were exposed to the trauma of domestic violence or sexual assault.
The local organization, located on Second Street in Maryville, serves victims in five Missouri counties: Worth, Gentry, Nodaway, Atchison and Holt.
Court and Victim Advocate at the CFC Meghann Kosman has been with the organization for 10 years. She said services and support are not limited to any demographic but provide aid for anyone going through domestic violence or sexual assault.
"This is definitely a place for people of any age," Kosman said. "There's a misconception that because we are titled 'Children and Family Center' then we are only for people who have children or families."
Kosman said the CFC doesn't focus on children, since the majority of victims seen are adults, but it ordinarily sees more children when mothers or fathers that have families seek help from the shelter.
Senior Moriah Mullins, a human services major, said her experience at the CFC is preparing her for jobs after graduation.
"One of the really cool things about working here is the difference between day and night," Mullins said. "We have movie nights and other activities that help take the victim's mind off the tragic event and just have some bonding time."
Mullins said she wants to move to Kansas City, Missouri, after graduation and work for an organization similar to the CFC.
Kosman said the CFC is committed to people of all ages and backgrounds seeking assistance and welcomes college-age students and young adults to make use of the services it provides. She said another misconception is someone can only reach out if they are seeking shelter.
"The majority of their clients don't seek shelter but take advantage of other means of support we provide," Kosman said.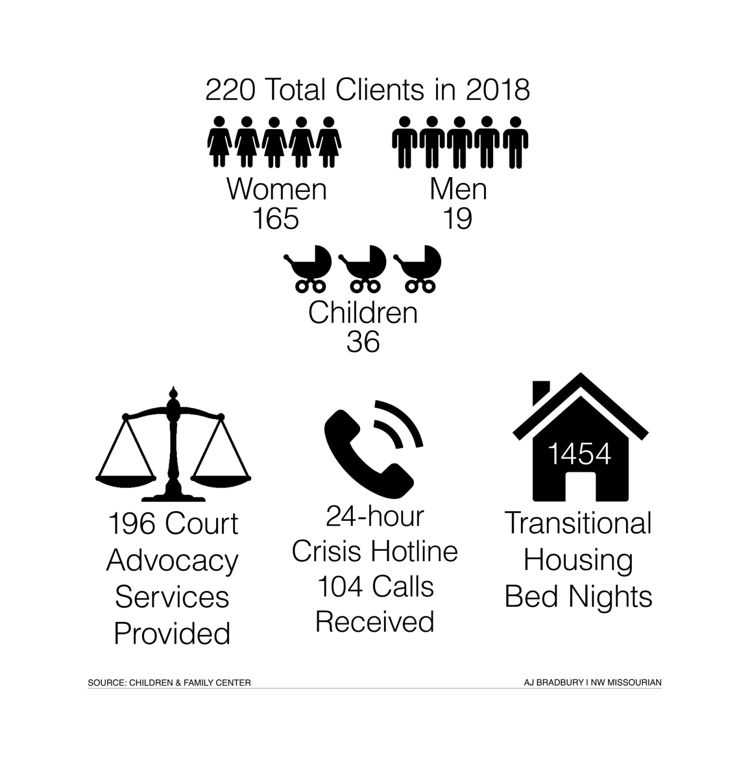 Since 2003, the CFC's services have expanded. They now include a 24-hour crisis hotline, residency shelter, hospital advocacy for sexual offenses, case management, school and community education, crisis management and court advocacy. All services are provided at no cost to victims.
One of the first things the organization does is create a personalized safety plan for victims, which sometimes includes coming to shelter, but not always. Kosman said the CFC advocates for the victims' choices and how they want to handle the situation while drafting safety plans.
In 2018, the CFC was active in 2,063 case management services, 196 court advocacy services and provided victims with 135 different support groups.
According to the CFC, case management includes addressing the basic needs of victims. This can be advocacy through helping find a safe place to stay, securing financial resources, health care, childcare, transportation, finding a job or education and counseling.
If the client wishes to go to court, there are advocates for them through the CFC who are present every step of the way. They provide emotional counsel throughout the process of filing charges, order of protection, having to testify and any other court matters they are overwhelmed by.
"Sometimes they are just struggling because trauma takes a long time to recover from," Kossman said. "It's really a life-long process. … They just want someone to listen to them, to validate them, believe them and help them work through it."
The CFC provided 13 hospital and medical advocacy services in 2018, where advocates are present for emotional support during the lengthy process of a sexual assault forensics exam.
Advocate and Volunteer Coordinator Julia Day co-lead a panel of survivors who have been invited to speak at various locations across the region. Day said they have the opportunity to share their story and raise awareness to the trauma individuals face.
"Being able to see people gain independence and being there to encourage self-worth and helping them realize that ― that has been the most rewarding experience for me," Day said.
Day began as an intern a year and a half ago and made her way up the chain. She worked on part-time staff before earning her position of volunteer coordinator.
"We are all very passionate about seeing personal growth," Day said.
The movement for awareness and care for victims of sexual assault and domestic violence in Maryville began in 1997 when the Family Violence Council formed. According to the CFC, since then, groups of professionals began to fill gaps that lack of services for victims in northwest Missouri created.
CFC went through a series of changes throughout its development, the cornerstone being the purchase of a permanent residence building in 2000.
In 2001, grants provided for the shelter's first full-time victim advocate, and in 2003, the shelter served 103 clients in its first year of full-time operation.
In 2008, the CFC purchased a new facility through grant funding, and the next year, its clientele increased by 51%.
Linda Mattson was hired as the executive director in 2016, and today the CFC's services remain constant with its largest staff ever including one full-time court victim advocate, three part-time victim advocates, a volunteer coordinator, four on-call staff advocates and parent educators.
The CFC received a community service award from the Greater Maryville Chamber of Commerce in 2019 and a certificate of appreciation from Northwest for recognition of valuable contributions to the prevention and response to violence in the Maryville community.
The CFC describes its mission and goals as bringing victims of domestic violence and sexual assault together to provide a safe and nurturing place to learn and grow.
Kosman said each service is provided in hopes of a brighter future.
"Our goal is to empower victims," Kosman said. "We help make permanent changes to end violence in their lives."