The Student Activities Council made several changes to Grocery Bingo in order to accommodate nearly 700 participants Feb. 28 in the Student Recreation Center.
Grocery Bingo is an event where students play games of Bingo, and the winners are given a bag of groceries to take home, free of charge.
Freshman and SAC Special Events Director Britney Poage hoped for a high student turn out.
"We're hoping for around 900 students, hopefully, throughout the pregame and regular Grocery Bingo, if not more," Poage said.
The event hosted 698 students, falling short of SAC's goal.
To accommodate the large student attendance, SAC made adjustments from last semester's Grocery Bingo.
Poage explained the changes implemented by SAC.
"We've added a whole bunch of extra tables, some more space... where people can stand if we fill up the tables," Poage said. "We also moved the groceries up on top of the track, and we bought more than double the amount of groceries this semester."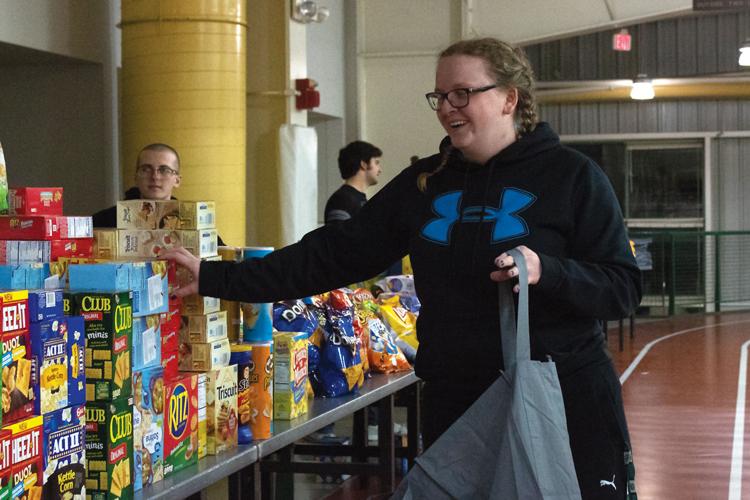 To ensure the groceries were distributed to numerous students, each game ended every 50 winners, and winners could not play again.
SAC also included a pregame before the main event starting at 9 p.m. The Wellness Center lined a portion of the track with games, activities and information around alcohol awareness for students to engage in.
"The idea behind adding the pregame is basically where they [the students] have a different alternative for going out drinking or whatever beforehand," Poage said. "We partnered with the Wellness Center, and they brought in little games or whatever they needed to do — little pamphlets, you know, fun informational stuff against alcohol prevention."
The prize pool was also changed, expanding from groceries to include a parking pass for the 2019-20 school year and a new moped donated by the University Police Department.
"It wasn't something I really decided," Poage said. "It was just UPD was like, 'Hey, do you think it's a good idea? and I said, 'No, that's great.'"
Clarence Green said the moped was a valuable incentive for students to show up.
"We just brainstormed last year for ideas to get people to come to this," Green said. "(The Grocery Bingo) is meant to encourage students away from substance use, you can come here and mingle, get some sweet prizes and enjoy a night on campus."
Sophomore Alex Palzkill, the winner of the moped raffle, said she was caught off guard by the sudden announcement of her victory.
"It was very surprising to say the least," Palzkill said. "It is very exciting and a little overwhelming because there are a lot of things to consider when owning a moped. I ended up gifting it to my roommate who does not have a car and needed one very badly, so she was very grateful."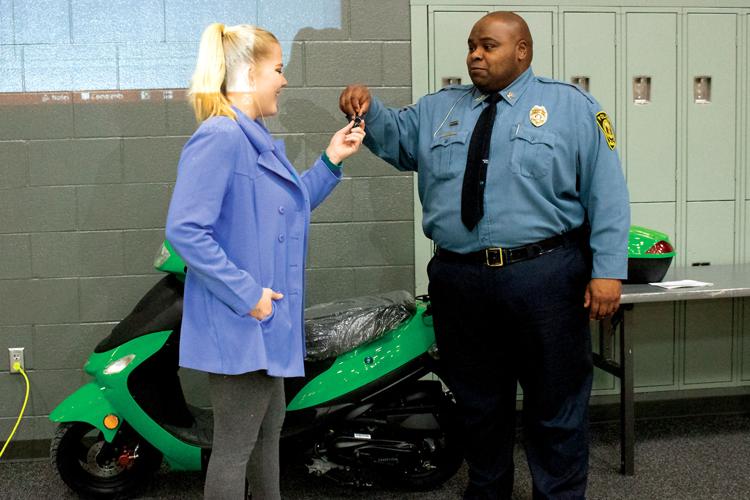 SAC also held other activities alongside the games of bingo and raffles for the moped and 2019-20 parking pass.
Five students won a bag of groceries through answering trivia tweets on the SAC Twitter account @NW_SAC Senior Alek Lanter explained.
"Just a little bit of fun facts (were) thrown in there," Lanter said. "So nothing that people should know, per say, but just fun little tidbits of information."
A dance-off also provided four students with a bag of groceries.
Held between four students, the dance-off took place in the middle of the event. Each student showcased their best dance moves for the students in attendance.
Senior Alia Irvin was one of the four students who busted a move in the dance-off.
"I just love to dance, so I figured I'd participate," Irvin said. "It wasn't bad. Definitely could've had a better song, but I still tried my best."
However, the main source of winners came from the games of bingo.
Several students filled their cards with a bingo and won a bag of groceries, leaving an overall feeling of satisfaction.
Lanter expressed his thoughts on the event.
"I think it went really smoothly," Lanter said. "I came to it last semester as well, and overall, this was a lot more smooth preparation, seems like it was well thought out. Everyone got a bag of groceries it seems like, so everyone's come out a winner."