Over 200 boot and sneaker soles clanged against damp bleachers against the backdrop of an appropriately overcast sky on a somber anniversary. Where normally fingers and toes would grow numb throughout the course of a Bearcat football game, sweat dripped instead onto the stairs as students and community members climbed the stands 58 times, a total of 2,071 steps.
The stairs represented the height of the once 110-story tall Twin Towers; climbing them was a symbol to honor victims of the 9/11 attack on the World Trade Center, especially the 343 firefighters who died trying to save those descending the stairs to escape the fires.
The 9/11 stair climb, though not the first of its kind, was a first for Northwest. More than 80 participants climbed solo or in teams at Bearcat Stadium the evening of Sept. 10.
"Never forget" was a consistent theme throughout the preceding ceremony. University President John Jasinski said it was important to never forget the "honor, valor, courage, service to country and service to humankind" of the first responders.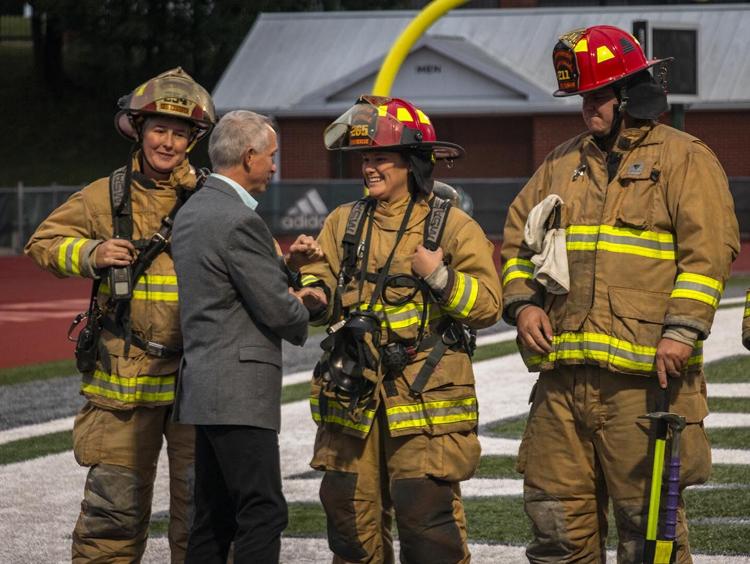 Not forgetting is a complicated ideal for a generation that has no memory of the event to begin with. This year's graduating seniors were only two or three years old in 2001. The majority of this year's freshmen weren't even born yet.
Student Senate President Kirayle Jones did the stair climb with a team of four friends, and he said for those who were too young to have experienced 9/11 and its immediate aftermath, seeking the stories of those who have and keeping them alive is important for the sake of those who died or lost loved ones that day.
"I think we all have a job to do, especially with the internet and access to all of the archives," Kirayle Jones said. "Social media is a big thing, so just retweeting and reposting and just trying to get that word out there so everybody remembers."
On the screen in the stadium, news footage from the day played, depicting the increasing national panic as the country helplessly watched the towers collapse.
Kirayle Jones said he was hesitant coming into the event because of self-consciousness due to "quarantine body," but he said it was mind-changing and was grateful to have participated.
"I wanted to walk to remember those who were able to serve for us, and we'd never forget that," Kirayle Jones said. "They had a lot of courage, something that I don't have, so by doing this, I had to step a little outside of my comfort zone and remember them."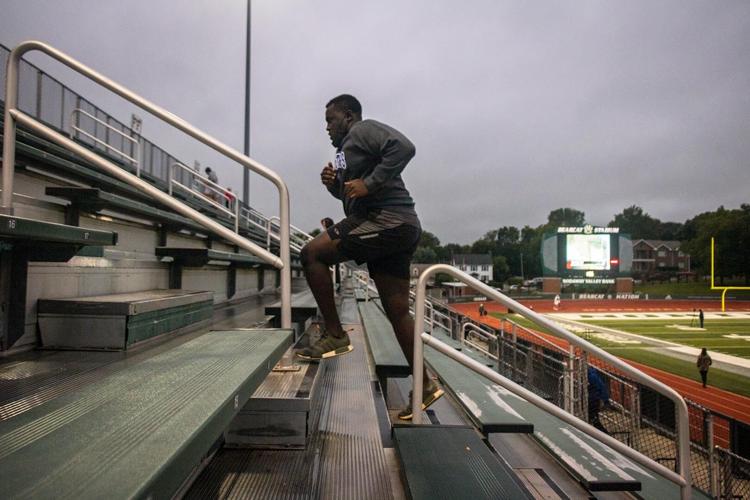 Alongside students, Northwest employees and Maryville community members, several Maryville Public Safety firefighters participated in the stair climb— all of them in full firefighting gear, some carrying hoses.
Director of Partnerships and Placement Jill Brown, who helped host the event, said she was excited for the opportunity to pay respects to the lives lost on 9/11 and bring students together to meet local firefighters.
Maryville Public Safety Fire Chief Phil Rickabaugh opened the event with a ceremony normally held at Freedom Rock on the morning of Sept. 11 each year, which was canceled this year.
In addition to speeches, the playing of the national anthem and saying the Pledge of Allegiance, a bell was rung five times for four rounds, a traditional pattern to symbolize the loss of a first responder or significant community member.
During the climb itself, each participant carried a card bearing the face and name of one of the firefighters who died Sept. 11, 2001, climbing the steps in their memory.
Lt. Angie Jones said she holds tradition at her core. Her father and brother are firefighters, and she joined to continue that tradition. This ceremony, for her, is an equally important tradition for her as a firefighter and citizen.
"I was working full time at the fire station here in Maryville the day of 9/11 … and it's about the people. Firefighters, we're one of a kind. It's a brotherhood, and we're always there for eachother," Angie Jones said.
In order to maintain social distancing, each participant or group had their own staircase to climb repeatedly, which were disinfected between groups. Participants also wore face coverings before and after the stair climb itself.
"To me, I always think events like this are quintessential to what makes this part of the world beautiful," Brown said. "I don't think that it happens in all college towns, in a sense, and so any time you can throw something out there and it resonates with all of your audiences, and it's for a wonderful tribute purpose, that's what makes it cool and unique."
Madeline Mapes contributed to this report.