Northwest's Board of Regents — the governing body that oversees the University's operations and is largely responsible for its sound financial management — could soon have two new members, as Gov. Mike Parson announced the appointment of two additional voting members March 3. 
Parson, a Republican, nominated Stephen Coppinger, an independent from Kansas City, Missouri, and Shanda Durbin, an independent from St. Joseph, Missouri, to the Board Wednesday afternoon, filling two vacant seats on the governing body, one of which sat open for a full year. 
While the Board is meant to be made up of eight voting members and a nonvoting student regent, only six voting regents are actively serving on Northwest's chief governing council, leaving a pair of seats unfilled until Parson's latest nominees are confirmed by Missouri's Senate, as a potential presidential search looms over the University. 
Coppinger fills the seat of former Chair of the Board Marilou Joyner, D-Kansas City, whose term expired Jan. 1. If confirmed, he will serve until 2027. Durbin, if confirmed by the Senate, will serve until Jan. 1, 2023, finishing out the remainder of the term left by George Speckman, an independent from St. Joseph who quietly resigned last March. 
Northwest's Board of Regents bylaws mandate that a new regent should be "immediately" appointed in the event that a regent dies, resigns or is removed from their office — but nearly a year after Speckman departed, Parson had not addressed the vacancy. 
The vacancies have yet to actually affect the Board in its formal processes — only five regents are required to be present for the governing body to officially meet — but the empty seats "can impact" the Board's ability to conduct business, Chair of the Board John Moore, an independent from Raymore, Missouri, told The Missourian. 
Five "yes" votes are required to approve action items concerning the appropriation of money and personnel matters, regardless of how many members are actively serving on the Board, leaving a smaller margin for dissension in a six-member quorum — a potential roadblock that might be exacerbated by the willingness of Regent Jason Klindt, R-Kearney, Mo., to vote against his colleagues. 
"I would sort of describe it as, obviously, at eight (members) we're at full strength," Moore said in a phone interview Feb. 24, before Parson had announced any plans to nominate Coppinger or Durbin. "If we drop down to seven, it has little effect. The closer you get to five, though, the more risk you run."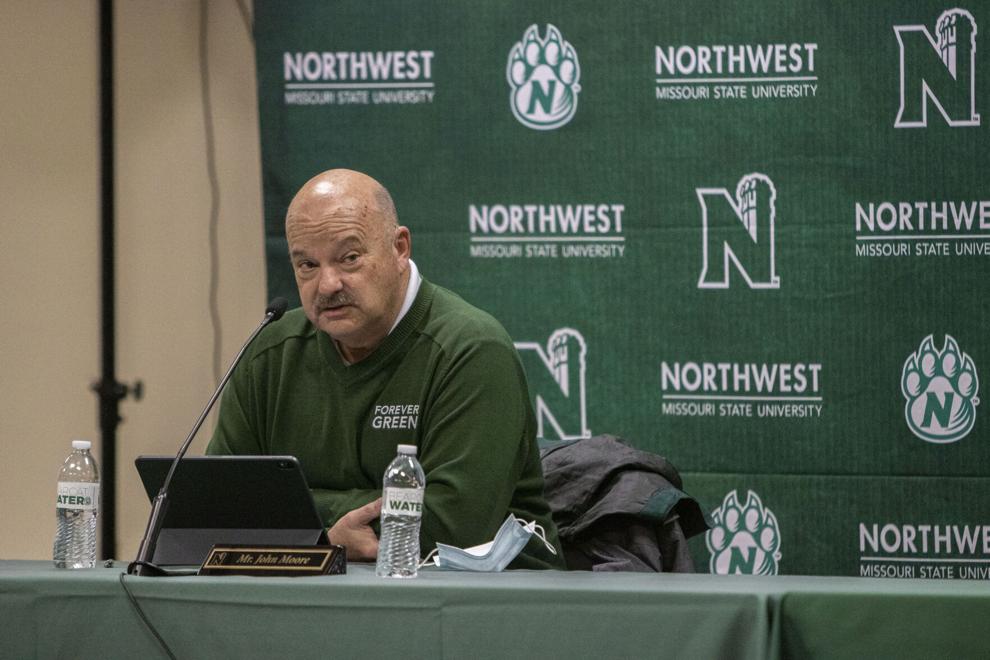 Moore said it's his understanding that there were several applicants-in-waiting hoping to earn one of the governor's nominations to fill the pair of vacancies. But specific prescriptions in the Board's bylaws placed limitations on who those nominees could include one clause that  prevents more than four members from hailing from the same political party. With Klindt; Roxanna Sweeney, R-Liberty, Mo.; Lydia Hurst, R-Tarkio, Mo.; and Mel Tjeerdsma, R-Maryville, all serving as active regents, Parson, a Republican, was not able to nominate a candidate from his own party. 
Additionally, the Board's bylaws require at least two members to live outside Northwest's historic service region, which includes close to 20 counties in the northwest corner of Missouri stretching down near the northern edge of the Kansas City metro area. Moore, the Board's chairman from Cass County, is the only active member from outside the catchment. Durbin, if confirmed, will serve as the second. 
While the Board hasn't felt the procedural impact of the vacancies, Moore said he would still like to see the empty seats filled sooner rather than later "assuming that the quality of candidate would be the same." Kelli R. Jones, the communications director for Parson's office in Jefferson City, said the governor intended on nominating new regents before the end of the spring semester. 
"Our state has around 250 boards and commissions – our recent focus has been on those that are struggling to meet quorum and conduct business," Jones said in an email before Parson announced his nominations. "While the board of regents has two vacancies, the remaining members have been able to meet and conduct business, etc." 
The nominations to the Board will come with a renewed sense of urgency — and perhaps scrutiny — as Northwest could soon face a rare transitional period. University President John Jasinski, who has served in the role since 2009, is a candidate to become the next president at Minnesota State University in Mankato. If selected among four finalists by MSU's Board of Trustees later this month, Jasinski, the 10th president in Northwest's 115-year history, would take over in Mankato July 1, leaving Northwest's Board a four-month window to tab a replacement. 
"I would say the issue of only having six Board members or five Board members would be a bit of a complicating factor if we have to go through that process," Moore said before Parson's announcement. 
Moore said the typical timeline for a university presidential search starts around October and culminates with the appointment of a new leader in early spring, suggesting Northwest would likely follow that model — implemented by MSU this year — if Jasinski were to depart. Instead of immediately searching for a permanent replacement, the Board would more likely name an in-house interim president to lead the University until a monthslong nationwide search is conducted, Moore said, though the chairman confirmed that no serious thought has been given to who the interim candidate might be.
Moore noted that any long term presidential search would not fall squarely on the Board's shoulders but would be spearheaded by a search committee, made up of a wide range of stakeholders and Northwest community members. Still, the prospect of hiring Jasinski's successor could make the current adaptation of the Board — and Parson's recent nominees — the most consequential group of regents in more than a decade.