The University Police Department is continuing wellness checks to provide mental health resources for Northwest students in immediate need and to those who need temporary assistance. 
For the last 25 years, UPD has worked with resources in the community to provide wellness checks on students and faculty. Police Chief Clarence Green said wellness checks often start with someone in need reaching out to UPD via phone or social media. 
Advisers, family members or others can refer someone for a wellness check if they're concerned for someone's well-being. While on-campus personnel are required to report specific crimes such as Title IX violations, they are not required to refer students struggling with their mental health to  UPD. Green said UPD has done 117 wellness checks this calendar year as of Sept. 28. With one Wellness Check done per day, he estimates it's close to 70 since August for this academic year. In the 2017-18 academic year, UPD performed 115 well being checks.
"There are so many outside influences, and the climate of the world in general being paired with being in a new environment is overwhelming," Green said.
First-year University Wellness counselor Hayston Wilson said he feels disappointed that freshmen and other students are unable to make friends through in-person activities like they once could. 
"Northwest lends itself to being a positive social environment," Wilson said. "Now the rug has been pulled out from under students, so to speak."
Wilson was hired following an outcry for more mental health resource funding from the Student Senate last academic year. Wilson said he's grateful they did, because without him, Wellness Services wouldn't be as prepared for the increase in need this year. 
Twenty-five new students requested help from Wellness Services for mental health concerns the week of Oct. 16. With five counselors instead of last year's four, wait times are down from four weeks to two. With closures and fewer in-person activities, students have more time while counselors schedules are filling up. 
Wilson said students no longer have access to outlets that once helped them cope due to COVID-19 distancing measures and closures. He recommends finding "balance" between six categories of a person's life: physical, social, emotional, occupational, intellectual and spiritual. 
"Inventory of the wheel is important. Finding creative strategies to bring the balance up will help you in the long run," Wilson said.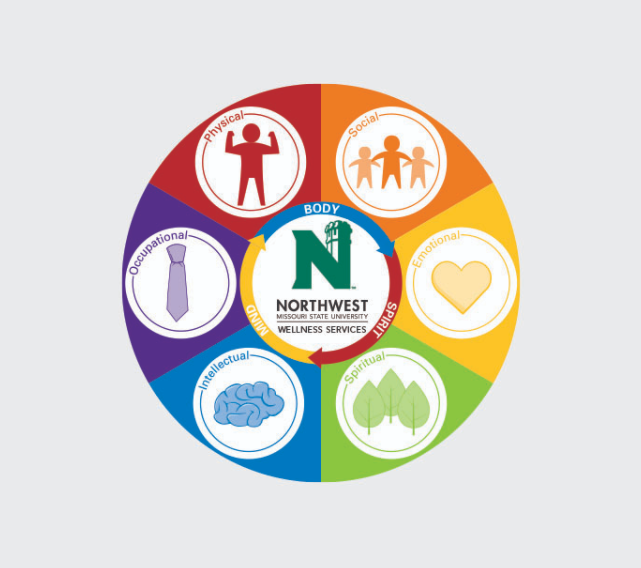 Wilson and Green agree students most often struggle with anxiety, depression or an undiagnosed mental illness.
"Eighteen to 26 is the peak time where mental disorders start showing up, and that's the bulk of our community," Green said. 
Regardless of the issue, when a wellness check is initiated,  UPD has to categorize the risk level of the person in need. Green describes a low risk as a person needing someone to talk to about current struggles in their lives. UPD sees medium-risk cases most often. This is an individual who will be connected to a more permanent resource such as a counselor. 
High-risk students are offered services faster through Wellness Services's triage day, and they are often taken to Mosaic Medical Center for further evaluation and assistance. Once a week, counselors with Wellness Services leave their days free to give assistance to those who can't wait a week to speak to someone. 
Senior Cayla Vertreese was hospitalized due to mental illness her first year at Northwest. She suffers from major depressive disorder and anxiety. Mosaic Medical Center - Maryville held her for her own safety for six days the Thursday before Labor Day weekend. 
UPD Officer Shadoe Miller drove Vertreese to the hospital. He followed up via email when she was released, offering his contact information so she would always have someone to talk to if she found herself in need of help again. 
Since, Vertreese has found ways to help others fighting similar battles. She brought Active Minds to campus. Active Minds is a nonprofit organization supporting mental health awareness and education for young adults. The group launched their "Green Bandana Campaign" to spread awareness and resources on campus. 
The UPD requested 13 bandanas from Active Minds to join the campaign. 
Police departments nationwide have seen a refocus, with additional training for mental health and observing implications it has on crime. UPD is one of many agencies recognizing its role in mental health awareness.
UPD Officer Anthony Williams is a specialist in outreach who trains fellow officers on how to approach a person's needs including what language to use and what to wear when escorting someone to Mosaic. Every member of  UPD has undergone crisis intervention training. 
"They are working on helping to destigmatize mental health along with us and make themselves out to be an approachable support system and resource for students on campus," Vertreese said. 
Anyone interested is welcome to Active Minds' virtual meetings 5:30 p.m. every Wednesday. The group can be found on social media @activeminds_nwmsu or can email them at activeminds@nwmissoui.edu.
Additionally, the Wellness Center holds in-person Wellness Workshops 2 p.m. every Thursday in the J.W. Jones Student Union Meeting Room B along with other activities on their calendar. 
Anyone who struggles with mental health can call the national suicide prevention hotline at 800-273-8255. Students can also reach the Northwest Wellness Center at 660-562-1348.